Table of Contents
Compassionate Communalism: Welfare and Sectarianism in Lebanon 
By Melani Cammett
About the Book
About the Author
In the Media
Scholarly Praise
Additional Information
Where to Purchase
Excerpt
Call for Reviews
Spoils of Truce: Corruption and State-Building in Postwar Lebanon
By Reinoud Leenders
About the Book
About the Author
In the Media
Scholarly Praise
Additional Information
Where to Purchase
Excerpt
Call for Reviews 
Spheres of Intervention: US Foreign Policy and the Collapse of Lebanon, 1967-1976
 By James R. Stocker
About the Book
About the Author
In the Media
Scholarly Praise
Additional Information
Where to Purchase
Excerpt
Call for Reviews
Compassionate Communalism: Welfare and Sectarianism in Lebanon
By Melani Cammett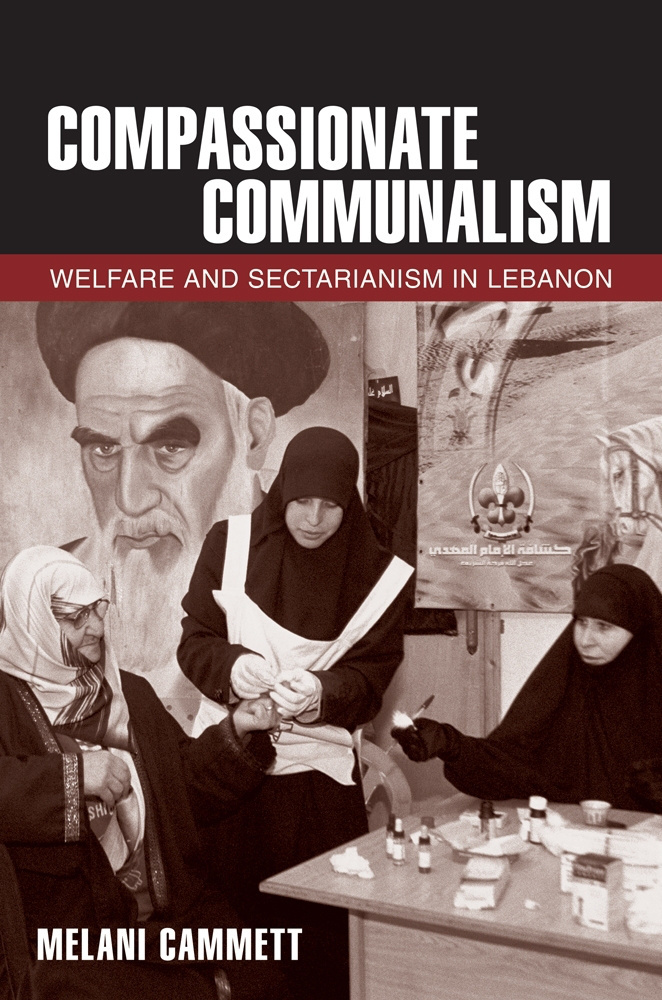 About the Book
In Lebanon, religious parties such as Hezbollah play a critical role in providing health care, food, poverty relief, and other social welfare services alongside or in the absence of government efforts. Some parties distribute goods and services broadly, even to members of other parties or other faiths, while others allocate services more narrowly to their own base. In Compassionate Communalism, Melani Cammett analyzes the political logics of sectarianism through the lens of social welfare. On the basis of years of research into the varying welfare distribution strategies of Christian, Shia Muslim, and Sunni Muslim political parties in Lebanon, Cammett shows how and why sectarian groups deploy welfare benefits for such varied goals as attracting marginal voters, solidifying intraconfessional support, mobilizing mass support, and supporting militia fighters.
Cammett then extends her arguments with novel evidence from the Sadrist movement in post-Saddam Iraq and the Bharatiya Janata Party in contemporary India, other places where religious and ethnic organizations provide welfare as part of their efforts to build political support. Nonstate welfare performs a critical function in the absence of capable state institutions, Cammett finds, but it comes at a price: creating or deepening social divisions, sustaining rival visions of the polity, or introducing new levels of social inequality.
Compassionate Communalism is informed by Cammett`s use of many methods of data collection and analysis, including Geographic Information Systems (GIS) analysis of the location of hospitals and of religious communities; a large national survey of Lebanese citizens regarding access to social welfare; standardized open-ended interviews with representatives from political parties, religious charities, NGOs, and government ministries, as well as local academics and journalists; large-scale proxy interviewing of welfare beneficiaries conducted by trained Lebanese graduate students matched with coreligionist respondents; archival research; and field visits to schools, hospitals, clinics, and other social assistance programs as well as political party offices throughout the country.
About the Author
Melani Cammett is Associate Professor of Political Science at Brown University. She is the author of Compassionate Communalism: Welfare and Sectarianism in Lebanon and coeditor of The Politics of Non-state Social Welfare, both from Cornell. She is also the author of Globalization and Business Politics in Arab North Africa.
In the Media
Read an interview with Melani Cammett on Jadaliyya.
"Overall, Compassionate Communalism is the kind of work on non-state social welfare that fills a gap in the political economy literature. I highly recommend the book for anyone interested in Lebanese and Middle Eastern politics, political economy in weak states, ethnic politics and consocialism."
—Barea M. Sinno, International Affairs (March 4, 2016)
Scholarly Praise for Compassionate Communalism
"This book is a remarkable accomplishment—simultaneously a revealing look at the varied and complex dynamics of ethnic and sectarian politics in Lebanon, a profound reflection on the basic questions of political science—who gets what, when, and how—and an ingenious use of multiple methodologies in the search for nuanced, plausible, and valuable answers.  In examining the on-the-ground dynamics of welfare distribution by several sectarian parties and movements, Melani Cammett shows that the various configurations of political mobilization, participation, and competition shape political patronage in surprisingly predictable patterns—from very narrowly particularistic to very broadly distributive. These findings will prove instructive not only to those interested in politics in the Middle East but also to anyone concerned with the nature of political organization and exchange, as well as admirers of well-constructed social science research."
—Lisa Anderson, The American University in Cairo
"A theoretically compelling, carefully researched, and well-written study of the politics of service system provision by sectarian-based parties, Compassionate Communalism is a must-read for students of service provision, clientelism, and political parties in Lebanon and beyond."
—Ellen Lust, Yale University, author of Structuring Conflict in the Arab World
Additional Information
May 2014
336 Pages
$82.95 (list price)
Cloth ISBN: 978-0-8014-5232-1
$27.95 (list price)
Paper ISBN: 978-0-8014-7893-2
Where to Purchase
Cornell University Press
Amazon
Excerpt
In June 2007, Hamza Shahrour, a twenty-four-year-old Lebanese man, died of heart failure in Beirut. Hamza's death might have been prevented had he received timely medical attention, but the hospital where his family first took him refused to admit him. In Lebanon, examples abound of low-income patients who are turned away from hospital emergency rooms because they cannot cover the costs of treatment, and the Lebanese media periodically feature stories about patients who die in ambulances outside private hospitals that have refused to accept them on financial grounds (Al-Nahar Staff 1998; Balaa 2005). In the case of Hamza Shahrour, however, it was not poverty but sectarian identity that allegedly compelled the hospital staff to refuse to treat him. A Shiʿi Muslim, Hamza was taken to the Rafiq Al-Hariri Hospital, which is officially public but which at various times has been controlled by the Future Movement, a predominantly Sunni Muslim political party and an important force in Lebanese politics. After his death, Hamza's mother lamented, "I wish my son had been a Sunni. Maybe he would be sitting next to me now instead of dying, having been turned away from the Hariri hospital" (IRIN News 2008). This account of Hamza's treatment suggests that the Future Movement allocates social benefits along sectarian lines. But this claim is surprising in light of the history of the Future Movement. For years, the organization was seen as relatively open to all Lebanese, regardless of sect, even though its founder was a prominent Sunni leader. Thus, the interpretation by Hamza's mother suggests that Lebanese citizens view the organization as "sectarian," despite its history of cross-sectarian generosity.
The Future Movement is hardly the only political party in Lebanon accused of discrimination along sectarian lines in recent years. Doctors from the Rasoul al-ʿAzam Hospital, a hospital in the southern suburbs of Beirut run by the  Shiʿi  Muslim  party Hezbollah,  admit that Hezbollah  members and their families receive priority treatment (IRIN News 2008). Although their own welfare institutions are currently far less developed than those of their Sunni and Shiʿa counterparts, Christian political parties  use  connections with religious charities and other provider organizations to ensure that their supporters receive preferential access to social services. Christian leaders with bases of regional support, such as Nayla Moawad or Suleiman Franjieh, both of whom come from important political families in North Lebanon, run welfare networks that are widely perceived by Lebanese citizens to favor their own supporters. Long-standing Christian political parties, such as the Lebanese Forces and Kataeb, whose welfare programs were largely dismantled after the end of the fifteen-year Lebanese civil war in 1990, are resuscitating and building their social service wings at present. Political leaders of these parties openly acknowledge that they must reward their supporters with services as they rebuild party institutions; "We know we need to help our sup- porters, especially now that we are constituting ourselves into a real political party," explained one Lebanese Forces official.
Social welfare, then, not only concerns the ways in which people meet their basic social needs; in Lebanon and in other countries in the Middle East, South and Southeast Asia, and other regions of the Global South, where public welfare functions are underdeveloped and identity-based organizations provide social protection, it is a lens through which to study sectarian and ethnic politics. At its core, sectarianism refers to processes of constructing and maintaining the boundaries of a religious community, demarcating who belongs and who is excluded. Social welfare, too, entails processes of inclusion and exclusion, shaping both the constitution and experiences of membership in a political community. At the national level, for example, access to social services and benefits is at the heart of contests over citizenship, a status that determines one's rights and obligations and their entailments within the polity. Similarly, who benefits from the provision of social services by sectarian organizations—whether based on formal or informal eligibility criteria— effectively constitutes membership in these groups. Through the direct pro- vision of social services or through indirect access to benefits provided by other public and private organizations, these organizations aim to build sup- port, consolidate their control over territory and people, and present them- selves as protectors and guarantors of well-being. A focus on the relationship between provider and beneficiary exposes the kinds of linkages—material and immaterial—that sectarian organizations construct with ordinary people, enabling identity-based groups to lock in their control over social and political life.
In light of standard expectations of sectarian politics in academic and jour-nalistic accounts, the story of Hamza's death told by his mother is tragic but not surprising; sectarian or ethnic groups generally favor "their own"—in access to social services, jobs, the distribution of patronage, or other forms of resource allocation—especially when resources are scarce and a larger, cross-cutting sense of solidarity is absent or underdeveloped (Alesina et al. 2003; Easterly and Levine 1997; Habyarimana et al. 2007; Lieberman 2003; Tsai 2007). Far more puzzling, then, are instances when sectarian organizations purposively serve people from other sects. Sunnis and Christians attest that they receive medical care, financial assistance, and even educational scholarships from Hezbollah institutions,3 and Hezbollah emphasizes that it welcomed Christian business owners and residents in neighborhoods located in the southern suburbs of Beirut, such as Shiyah and Baabda, after the civil war (Harik 2004). Likewise, Shiʿa Lebanese report that they benefit from similar services provided by Sunni institutions linked to political parties and religious charities. Even their harshest critics in Lebanon attest that sectarian parties make deliberate efforts to serve members of out-groups.
This book takes these apparently anomalous cases of cross-sectarian welfare provision as a starting point for studying the broader phenomenon of sectarianism: How does sectarianism affect the efforts of ordinary people to meet their basic needs? This broad concern points to more targeted questions about the behavior of sectarian parties: Why do some sectarian providers dis- tribute welfare goods broadly, even to out-group members, while others concentrate service provision within their associated communities? Similarly, why do sectarian organizations purposively cater to members of out-groups to a greater or lesser degree in different time periods or geographical areas? The book also poses a second set of questions about what it means for organizations to serve their own communities: Even if sectarian organizations primarily serve in-group members, are all treated equally or are some favored over others? Given resource limitations, sectarian organizations are compelled to distribute welfare goods unevenly among different categories of in-group members.
Excerpt from Compassionate Communalism: Welfare and Sectarianism in Lebanon by Melani Cammett published by Cornell University Press. ©2014. All rights reserved.
Table of Contents
Compassionate Communalism: Welfare and Sectarianism in Lebanon – Melani Claire Cammett
List of Figures, Maps, and Tables
Acknowledgments
Introduction
Chapter 1: Welfare and Sectarianism in Plural Societies
Chapter 2: Political Secularism and the Residual Welfare System in Lebanon
Chapter 3: Political Mobilization Strategies and In-Group Competition among Sectarian Parties
Chapter 4: The Political Geography of Welfare and Sectarianism
Chapter 5: Political Loyalty and Access to Welfare
Chapter 6: Sectarian Parties and Distributional Politics
Chapter 7: Welfare and Identity Politics Beyond Lebanon
Conclusion: The Consequences of Welfare Provision by Identity-Based Organizations
Appendixes:

A. List of Elite Interview Respondents and Provider Questionnaire
B. List of Nonelite Interview Respondents and Questionnaire
C. National Survey Questions

Notes
References
Call for Reviews
If you would like to review the book for the Arab Studies Journal and Jadaliyya, please email info@jadaliyya.com
Spoils of Truce: Corruption and State-Building in Postwar Lebanon
by Reinoud Leenders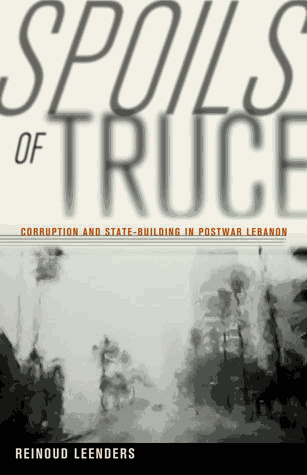 About the Book
In Spoils of Truce, Reinoud Leenders documents the extensive corruption that accompanied the reconstruction of Lebanon after the end of a decade and a half of civil war. With the signing of the Ta`if peace accord in 1989, the rebuilding of the country`s shattered physical infrastructure and the establishment of a functioning state apparatus became critical demands. Despite the urgent needs of its citizens, however, graft was rampant. Leenders describes the extent and nature of this corruption in key sectors of the Lebanese economy and government, including transportation, health care, energy, natural resources, construction, and social assistance programs.
Exploring in detail how corruption implicated senior policymakers and high-ranking public servants, Leenders offers a clear-eyed perspective on state institutions in the developing world. He also addresses the overriding role of the Syrian leadership's interests in Lebanon and in particular its manipulation of the country's internal differences. His qualitative and disaggregated approach to dissecting the politics of creating and reshaping state institutions complements the more typical quantitative methods used in the study of corruption. More broadly, Spoils of Truce will be uncomfortable reading for those who insist that power-sharing strategies in conflict management and resolution provide some sort of panacea for divided societies hoping to recover from armed conflict.
About the Author
Reinoud Leenders is Reader in International Relations with a focus on Middle East Studies in the Department of War Studies at King`s College, London. He is coeditor of Middle East Authoritarianisms: Governance, Contestation, and Regime Resilience in Syria and Iran.
In the Media
Read an interview with the author on Jadaliyya.
"One of the most disturbing legacies of the post-civil war experience in Lebanon has been the persistence of corruption in the country`s sociopolitical institutions. In this well-researched book, Leenders . . . examines the myriad causes of corruption in the country . . . . [and] convincingly demonstrates how Lebanon`s archaic political system perpetuates corruption. . . . Although the book`s focus is on Lebanon, the author`s theoretical arguments can be applied to the study of corruption in many other Arab countries. Summing Up: Highly recommended."
—Choice (June 2013)
"Here is the most remarkable study day on the Lebanese political system and its operation since the end of the Civil War and the Taif Agreement . . . . This reads like a fascinating detective story except that it is real people who find themselves without care and without electricity, millions of dollars disappear into private pockets and a country that participated in sixes and sevens."
— Élizabeth Picard, Journal of the Worlds Muslims and Mediterranean (April 2014)
"Through rich descriptions of select postwar institutions, Spoils of Truce advances our knowledge of corruption beyond existing aggregate survey indicators and anecdotal evidence. The result is a more‐complete understanding not just of the magnitude and dynamics of corruption, but also of how crucial institutions evolved between 1989 and 2005. . . . . The demand for an alternative theoretical framework originates in the intriguing possibilities offered by the book`s carefulinvestigation of corruption cases and how they interact with these struggles. It is above all a testament to Leenders's success in arguing that public institutions deserve a central place even in contexts where they are especially vulnerable to political manipulation."
-–Julia Choucair‐Vizoso, Political Science Quarterly (April 2014)
"…Reinoud Leenders` `Spoils of Truce: Corruption and State-Building in Postwar Lebanon` not only offers an interesting read for the general reader, but would also provide excellent material for students in international and political sciences at bachelor and master level, as well as for researchers, experts, consultatnts and politicians."
— JIRS Editorial Board, Journal of Intercultural and Religious Studies (December 2013)
Scholarly Praise for Spoils of Truce
"At last we have a thorough, insightful study of corruption in an Arab country that is theoretically grounded, empirically rich, and convincing in its fundamental premise that corruption is the inherent by-product of a defective political system. Sadly, Reinoud Leenders`s book is also highly relevant to Arab politics more generally for, like Lebanon, more than 50 percent of the Arab countries rank in the bottom half of the Corruption Perception Index. His insights are eminently transportable."
—Robert Springborg, Naval Postgraduate School, coauthor of Globalization and the Politics of Development in the Middle East
"In using the issue of corruption to address questions about the development and effects of state institutions, Reinoud Leenders usefully highlights the often overlooked role of the Lebanese state in shaping economic behavior. He offers a compelling and richly theoretical argument about the centrality of the Lebanese state in explaining the prominence of corruption in Lebanon and its effects on patterns of economic and political governance. In the process, Leenders has produced the most important work on Lebanon`s political economy in a generation."
—Steven Heydemann, Senior Advisor, United States Institute of Peace
"Spoils of Truce is based on a wealth of information about corruption in postwar Lebanon. Reinoud Leenders convincingly links corruption to the nature of state institutions, thus rehabilitating the study of the state and its role in shaping Lebanese politics."
—Marie-Joëlle Zahar, Université de Montréal
Additional Information
September 2012
312 Pages
$46.95 (list price)
Cloth ISBN: 978-0-8014-5100-3
Where to Purchase
Cornell University Press
Amazon
Excerpt
The Backdrop to This Book
This book presents an assessment of political corruption in postwar Lebanon and offers an explanation for its pervasiveness. In this respect it engages with a growing body of literature on the study of comparative corruption, bribery, rent-seeking, and crony capitalism, primarily in less developed countries (LDCs). Until the late 1970s, social scientists working on corruption in LDCs routinely complained about their colleagues' lack of interest, prompting one of them to talk about a "conspiracy of silence" (Andreski 1978, 347). Such complaints are no longer justified. An overwhelming quantity of studies has transformed the onetime "conspiracy of silence" into a cacophony of views, models, and opinions dealing with corruption. A great deal of this relatively recent academic interest in corruption evolved out of concerns that in many LDCs, efforts to boost "modernization" or "development"—repackaged and made pertinent by the World Bank and the IMF's "structural adjustment programs"—had failed to deliver.2 Against this background, it has increasingly been asserted that corruption raises serious obstacles to economic growth and associated "good governance," and that the phenomenon constitutes a drain on emerging economies.3 Most economists have focused on assessing or demonstrating the economic costs of corruption or—using an inverse logic—highlighting the economic virtues of corruption's assumed antitheses: transparency, accountability, and "good governance." Other analysts have taken a moral or more overtly political interest in the subject, driven by outrage over a host of other disastrous effects attributed to corruption.
In Lebanon, politicians, activists, intellectuals, journalists, and the public at large have echoed such views, primarily in search of an explanation for the country's unsatisfactory economic performance and mounting debt burden since its supposed "recovery" from war in the 1990s.4 In 2004 the Lebanese economist Samir Makdisi succinctly summarized Lebanon's economic slump in reference to a series of indicators showing that "the economy [is] relatively stagnant, fiscal deficits [are] running high, the public debt burden [is] rapidly mounting, the [Lebanese] pound [is] under pressure, and the Central Bank's foreign exchange reserves [are] under pressure" (2004, 107). My research is not designed to support or to take issue with those who blame poor economic performance on endemic corruption, either in Lebanon or generally. Nor do I necessarily agree or disagree with a range of political activists who denounce corrupt politicians when, for example, conflicts of interest and corrupt transactions damage the environment or perpetuate socioeconomic disparities. Such arguments certainly increase the relevance of any study on corruption. Yet I must emphasize that my own interest in political corruption originated in a different set of considerations.
In their zeal to condemn corruption, Lebanon's activists appear intuitively to underscore a way to analyze and understand the fundamental roles and qualities of the Lebanese state.  Challenging corruption can be seen as a first step  toward a reappraisal of state-society boundaries and accepted standards of political behavior. Not coincidentally, the still inconclusive debate in comparative political thought about fundamental questions pertaining to the state has interrogated "the paired opposition" between public and private (Weintraub 1997, 4). A focus on corruption condenses some of these questions by exploring whether, how, and where this supposedly clear dichotomy is maintained when state institutions are being built, altered, and put into operation. It is this background that prompted me to look at the extent and causes of political corruption in postwar   Lebanon.
A focus on political corruption and Lebanon's state institutions promises an added value: in contrast to the lively debates raging in Lebanon, academic research on the country's society, economy, and politics seems to suggest that the state is of little relevance and not worth further analysis. The result, as one Lebanese economist put it, is that "generally speaking, the Lebanese [state] administration is a victim of clichés and remains largely unknown" (Nahas 2005, 109). Studies of Lebanon have pointed out a vast range of interesting aspects of its turbulent politics and political economy, and many of them contributed to my own understanding of the country. But I found no detailed characterization of the contemporary Lebanese state or its institutions, and especially none that covers the postwar period. This relative lack of interest in the Lebanese state also marks much of the literature on Lebanon's sectarian or confessional politics. Thus the Lebanese state is virtually absent in studies evolving out of the school of "consociational democracy," which cast Lebanon, particularly in the prewar period, as one of its major examples in the "Third World."5 This is less of a surprise when we realize that this comparative and essentially normative approach to conflict management rarely showed much interest in the state anywhere, not just in Lebanon.6 In sum, the virtual absence of the state in the study of Lebanese politics may simply suggest that others do not share my research interest in how the state in Lebanon has manifested itself and why. Yet while the literature implies that the Lebanese state was of secondary importance, the fierce political battles over the role of the state indicated quite the contrary. To find guidelines for studying political corruption in postwar Lebanon, I had to look elsewhere. I found some consolation in the fact that Lebanon is not the only country believed to sustain high levels of political corruption.
The Perils and Pitfalls of "Corruptology"
Hard facts are a rare commodity in most research on the politics of developing countries, and fully reliable data on corruption are even harder to obtain. Lebanon is sparsely endowed with information on its political, economic, and social life that in many other countries is often taken for granted. This hampers an investigation into corruption, particularly one that insists on disentangling real manifestations of corruption in full detail. Yet a focus on corruption, typically concealed from the public eye and constituting at least a significant part of Lebanon's omnipresent non-formal economic transactions, can help to address the data gap and, in turn, become the basis of a more detailed, more comprehensive, and better understanding of the country's state-society relations and politics.
This is not to play down the contentious nature of corruption and the problems this may cause the researcher. Indeed, no indicator of corruption goes uncontested. Moreover, on the one hand, state officials and politicians do not like to advertise shady deals that others may classify as corruption. Their opponents and critics, on the other hand, may have a clear interest in exaggerating reports of corruption or fabricating them altogether in an attempt to discredit rivals. The tasks for the researcher on political corruption are made even more difficult as he or she (or his or her informer) is confronted not only by the standards regarding verifiable analyses prized by academic colleagues, but also by real or potential actions (including threats, intimidation, violence, or libel suits) taken by politicians, senior officials, and their sympathizers who feel called to account. Indeed, at least a dozen Lebanese whistleblowers about real or alleged corruption have been subjected to such sanctions.
Readers accustomed to countries where the rule of law is commonly upheld may suggest that, in order to circumvent the problems associated with politically informed slander and untrustworthy allegations, research on corruption is better limited to cases that have been proved in court. Anyone familiar with Lebanon's largely defunct judiciary and legal process will know that putting one's faith in the Lebanese courts, for research purposes or indeed with the aim of seeking justice, is not a viable option. Perhaps most tellingly, the number of politicians and/or state officials brought to trial on corruption charges is negligible; actual convictions have been even less frequent. This is not for lack of relevant legislation. The country's Penal Code (art. 351) makes corruption and related misconduct a criminal offense. In December 1999 the Lebanese Parliament amended a largely defunct law, the "Illicit Wealth Law" (Legislative Decree 38 of 18 February 1953, commonly referred to as the law on "where did you get this from?"—min ween lika haida?), purportedly to ensure more effective enforcement of existing anti- corruption legislation. It obliged ministers and senior public servants to declare their personal wealth prior to taking up and immediately after leaving office. In addition, the Lebanese constitution (art. 80) allows for establishing a Supreme Court, composed of members of Parliament and senior judges and invested with the authority to revoke the political immunity of presidents, ministers, and members of Parliament and try them for offenses ranging from treason to corruption. Yet a host of factors—including loopholes within existing legislation, persistent political interference in the judiciary, judicial mismanagement and inefficiency, and indeed judicial corruption—has consistently worked against the use of these legal tools (Taqi ad-Din et al. 1999; Takieddine 2004; Mugraby 2000; UNDP 2001; World Bank 2005a; CDL 12 March 1998).
In the absence of one comprehensive and reliable indicator of corruption, I concur with David Kang's observation that only "a variety of indicators can give us a sense of the size and pattern of corruption" (2002, 19). In the period under study, many allegations have been raised in a wide range of sources: local and regional media, a few books, reports by NGOs, private consultancy agencies, and the World Bank, and reports prepared by various ministries, the state's auditing and inspection agencies, lawyers, and, albeit to a lesser extent, the judiciary. I make use of all these sources, in addition to unstructured interviews and available state documents. Yet even when immense caution is taken in interpreting and contextualizing such sources, data obtained from informers and written sources are still likely to reflect the always controversial and often risky nature of debating corruption. For this reason, all the corruption cases referred to in this book come with such obligatory adjectives as "allegedly" and "reportedly," thereby testifying to the sorry state of "corruptology" as a science. In addition, the names of directly accused politicians and officials have largely been withheld.
Excerpt from Spoils of Truce: Corruption and State-Building in Postwar Lebanon by Reinoud Leenders published by Cornell University Press. © 2012. All rights reserved.
Tabel of Contents
Spoils of Truce: Corruption and State-Building in Postwar Lebanon – Reinoud Leenders
Acknowledgements
List of Abbreviations
Chapter 1: Corruption: A Window into the State of Postwar Lebanon
Chapter 2: Assessing Corruption
Chapter 3: Public Institutions and Bureaucratic Organization
Chapter 4: The Political Settlement of the Second Republic
Chapter 5: The Politics of State-Building and Corruption
Chapter 6: Corruption and the Primacy of Politics
Epilogue
References
Call for Reviews
If you would like to review the book for Arab Studies Journal and Jadaliyya, please email info@jadaliyya.com
Spheres of Intervention: US Foreign Policy and the Collapse of Lebanon, 1967-1976
By James R. Stocker
About the Book
In Spheres of Intervention, James R. Stocker examines the history of diplomatic relations between the United States and Lebanon during a transformational period for Lebanon and a time of dynamic changes in US policy toward the Middle East. Drawing on tens of thousands of pages of declassified materials from US archives and a variety of Arabic and other non-English sources, Stocker provides a new interpretation of Lebanon`s slide into civil war, as well as insight into the strategy behind US diplomatic initiatives toward the Arab-Israeli conflict. During this period, Stocker argues, Lebanon was often a pawn in the games of larger powers. The stability of Lebanon was an aim of US policy at a time when Israel's borders with Egypt and Jordan were in active contention.
Following the June 1967 Arab-Israeli War, the internal political situation in Lebanon became increasingly unstable due to the regional military and political stalemate, the radicalization of the country's domestic politics, and the appearance of Palestinian militias on Lebanese territory. US officials were more deeply involved in Lebanese affairs than most outside the region realized. After a series of internal crises in 1969, 1970, and 1973, civil war broke out in Lebanon in 1975. The conflict reached a temporary halt after a Syrian military intervention the following year, but this was only an end to the first stage of what would be a sixteen-year civil war. During these crises, the US sought to help the Lebanese government in a variety of ways, including providing military aid to the Lebanese military, convincing Arab countries to take measures to help the Lebanese government, mediating Lebanon's relations with Israel, and even supporting certain militias.
About the Author
James R. Stocker is Assistant Professor of International Affairs at Trinity Washington University. https://jrstocker.wordpress.com
Scholarly Praise for Spheres of Intervention
"As we survey the current turmoil in the Middle East, we are all the more in need of careful, dispassionate, and insightful historical scholarship on US interactions with that region, and particularly
with the small but pivotal nation of Lebanon. James R. Stocker gives us that, and more. Spheres of Intervention is a richly researched, perceptive, and skillfully crafted book about a diplomatic relationship that has powerfully shaped Middle Eastern politics down to our own day. Resourcefully mining recently declassified US government documents, and incorporating Arabic- and French-language sources seldom found in Anglophone accounts, Stocker provides the most comprehensive and up-to-date treatment we have of official US involvement in the Lebanese civil war of 1975–1976."
—Salim Yaqub, University of California, Santa Barbara, author of Containing Arab Nationalism: The Eisenhower Doctrine and the Middle East
"Spheres of Intervention is a necessary and very valuable contribution to our knowledge about Lebanon`s recent history, Lebanese-American relations, and US Mideast foreign policy. This book is a must-read for those with a special interest in Lebanon and for historians of US policy in the Middle East. In the first book to take extensive advantage of the declassified US diplomatic cables of the period, James R. Stocker fills an important gap in our understanding of Lebanon's foreign relations during the decade and a half leading to its collapse in 1975."
—Paul Salem, Vice President for Policy, Middle East Institute, author of Bitter Legacy: Ideology and Politics in the Arab World
"Before the collapse of the state in Iraq, Syria, Libya, and Yemen there was Lebanon`s descent into prolonged and costly civil war. James R. Stocker has meticulously examined the record of US involvement in Lebanon's drift toward war in the years 1967–1976. He rightly concludes that Lebanon per se was rarely central in the thinking of American policymakers, especially Henry Kissinger. But what the United States did or did not do in the surrounding region had important spillover effects in Lebanon. The unwillingness of the United States to tackle the Palestinian issue, which was of key importance to the Lebanese, meant that it was very hard to stabilize Lebanon once the civil war began in earnest in 1975. This is a sobering account of the destruction of a country on the margins of American grand strategy. Today's crises in the Middle East have far too many resemblances to the story told so authoritatively in these pages."
—William B. Quandt, author of Peace Process  
Additional Information
May 2016
296 Pages
$45.00 (list price)
Cloth ISBN: 978-1-5017-0077-4
Where to Purchase
Cornell University Press
Amazon
Excerpt
On Martyr's Day, November 11, 2010, speaking live over an Internet video connection, Hizbullah secretary general Hassan Nasrallah gave a history lesson. At the time, the Special Tribunal for Lebanon investigating the murder of Lebanese prime minister Rafiq Hariri was expected to soon issue criminal indictments for numerous suspects, including Hizbullah members. In his speech, Nasrallah repeatedly asserted that the tribunal was a US and Israeli plot to undermine the stability of Lebanon. Then, announcing that he was addressing his opponents in the March 14 coalition, particularly the Christian youth, the party leader proceeded to trace the origins of contemporary US policy back to the days of Henry Kissinger. In June 1976, Kissinger sent a response to an open letter written by Maronite Christian politician Raymond Edde. Edde's letter had accused Kissinger of attempting to destroy and partition Lebanon. In his response, according to Nasrallah, Kissinger explained that Lebanon's formula of coexistence threatened US interests in the region, which depended on "sectarian states" such as Israel. For this reason, Kissinger allegedly wrote, the United States had manufactured the Lebanese Civil War. This admission, Nasrallah proclaimed, should be "taught in the educational curricula in Lebanon and the Arab world" and "printed and circulated so that every Lebanese man, child and old man reads it." After all, he continued, "this is America and this is the American policy."
Soon after his speech, reporters and political opponents of Hizbullah in Lebanon pointed out that the Kissinger letter was not real, but rather a 1976 satirical piece published in the pages of al-Hawadith, a now-defunct Beirut-based leftist newspaper. A few days later, the author of the fake letter, journalist Salim Nasar, told the story of its creation. At the height of the Two Years' War, just a few days after the Syrian military intervention in June 1976, Nasar was at his home in the mountains. A journalist from al-Hawadith came to Nasar's house, needing material for the latest edition of the paper and carrying editions of several local papers to discuss. In one of these was Edde's open letter. Nasar then decided to write a response based on what he thought Kissinger would answer. However, thirty-five years later, Nasar still insisted that the information that he put in the fake letter came from Lebanese officials and a former White House translator, and that Nasrallah's characterizations of US policy in his speech were "100% true."
The interesting part of this story is not whether the Hizbullah leader had all the details correct in his speech. Rather, it is that it illustrates how widespread the viewpoint is that the United States played an important role in Lebanon's nearly sixteen-year-long civil war. Not only did a major Lebanese political figure tout this letter as a real historical document, but he also weaved it together with current political developments into a larger narrative of the history of US-Lebanese relations. The fact that the letter's author confirmed Nasrallah's analysis, even as he acknowledged that the document was made up, suggests not just the influence of Hizbullah in contemporary Lebanon but also the power of the narrative itself. Many who have spent time in Lebanon have heard some version of this interpretation of US policy. But with a few exceptions, most Western accounts of the Lebanese Civil War ignore this narrative and its implications.
Rather, accounts of Lebanese history in the years between 1967 and 1976 usually portray a period of destabilization culminating in civil war. Internal tensions, already running high in the aftermath of the 1967 Arab-Israeli War, erupted in January 1969 following an Israeli attack on the Beirut airport. Within a few months, the Lebanese army clashed with Palestinian militias present on Lebanese territory, sparking a crisis that would last until November, when an agreement was signed in Cairo between the Lebanese government and the fedayeen, as the militants were known. The country was again thrown into crisis by clashes between Christian militias and fedayeen in the spring of 1970. The political conflict dragged on throughout the summer, abating only after the Palestinians were defeated in September 1970, not by the Lebanese security forces, but by the Jordanian army, hundreds of miles away. Fighting broke out again in May 1973 as the Lebanese army confronted the fedayeen once more. Finally, the country entered a continuous state of conflict from April 1975 until the achievement of an Arab-brokered peace accord in October 1976. These eighteen months of bloodshed, often called the Two Years' War, set the stage for nearly fifteen more years of civil war in Lebanon.5 Estimates of the number of lives lost during 1975 and 1976 alone range between twenty-five thousand and forty thousand.
These years were also a transitional period in US relations with the Middle East. After Israel's victory in the 1967 war, the Johnson administration refused to press Israel to withdraw from territory it had occupied without some concessions from Arab states. In January 1969, President Richard Nixon took office, marking the start of an era in which the United States would become more deeply involved in the Arab-Israeli conflict than under any previous US administration. During 1969 and 1970, under Secretary of State William Rogers, the State Department launched two diplomatic efforts to broker a settlement to the Arab-Israeli conflict, as well as another failed attempt in 1971. Beginning in 1971, US Middle East policy was increasingly dominated by National Security Advisor Henry Kissinger, who sought to prevent any new diplomatic initiatives. This changed after a regional war broke out in October 1973. Kissinger, now secretary of state, undertook his own diplomatic initiative, which achieved two initial disengagement agreements between Israel and the Arab states in the first half of 1974. Following Nixon's resignation later that year, Kissinger continued to pursue Middle East initiatives during the administration of Gerald Ford, achieving a second disengagement agreement between Egypt and Israel in September 1975. This agreement brought Egypt decisively into the US orbit, while excluding the Palestinians and the Syrians. Ford's electoral defeat in November 1976 put an end to the Kissingerian period of Middle East diplomacy, leaving behind a region transformed but still far from at peace.
This book examines the intersection of these two processes: the collapse of the Lebanese state and the evolving US role in the Middle East. At its core are two related arguments. First, US policy toward Lebanon was sub- ordinated to strategies toward the Cold War and the broader Middle East. During this period, both strategies would undergo changes that would have a great impact on US-Lebanese relations. At least during the early part of the period, Lebanon was still seen as a strategic asset for the United States within the broader context of the Cold War and regional politics. Over time, as Kissinger took over the reins of Middle East policy from the State Department, Lebanon became more marginalized, particularly as the United States became involved more deeply in mediating between Israel and the Arab countries following the October War. Lebanon would only resume its  importance after conflict broke out in 1975, though this time in a negative manner: no longer viewed as an asset, Lebanon had now become a potential threat to US interests in the Middle East that needed to be isolated from broader regional affairs.
Second, the United States played a role in the process of Lebanese state collapse. Throughout this period, US policymakers attempted to walk a fine line between contributing to Lebanon's stability and taking sides in a complex conflict that involved many different sects, ideologies and nationalities. This was not easy. Numerous parties within Lebanon solicited US support, including money, weapons, diplomatic assistance, and promises of military intervention. Most of the time, US officials refused their entreaties, but not always. The United States intervened in internal Lebanese politics in a variety of ways, from providing assistance to the Lebanese state to helping Lebanese militias arm themselves. Through these actions, US officials hoped to have an impact on the balance of power in the country. Beyond this direct role, US policies toward the Middle East, particularly toward the Palestinians, also indirectly contributed to the crisis.
This study sheds light on a number of disputed aspects of the history of US foreign policy and of Lebanon's national history, including the role of Lebanon in US Middle East policy, the impact of US policy on the Lebanese state, and the origins of the Lebanese Civil War. Three main questions drive the book's narrative: First, what factors motivated US policy toward Lebanon during this period? Second, how did US policy relate to the origins and outbreak of the Lebanese Civil War? Third, once the conflict broke out, how did the US react to it? The answers to these questions are complicated, but in short, while there is no evidence to support conspiracy theories like Nasrallah's, US behavior did, in more subtle and indirect ways, profoundly shape Lebanon's internal politics in the late 1960s and 1970s.
Excerpt from Spheres of Intervention: US Foreign Policy and the Collapse of Lebanon, 1967-1976 by James R. Stocker published by Cornell University Press. ©2016. All rights reserved.
Table of Contents
Spheres of Intervention: US Foreign Policy and the Collapse of Lebanon, 1967-1976 – James R. Stocker
Acknowledgments
Introduction: "This is the American Policy"

US Interests in Lebanon
Causes of the Lebanese Civil War
The Course of the Conflict, 1975-76

Chapter 1: Sparks in the Tinderbox: The United States, the June War, and the Remaking of the Lebanese Crisis

Lebanese Domestic Tensions on the Eve of the June War
The United States and Lebanon in the 1960s
Lebanon's Six Day War
Pepsi-Cola Hits the Spot
The Beirut Airport Raid

Chapter 2: Compromise in Cairo: The Nixon Administration and the Cairo Agreement

"Trying to Be Helpful"
The August Attacks and the Rogers Plan
October Crisis and the Cairo Agreement

Chapter 3: From Cairo to Amman: The United States and Lebanese Internal Security

Post-Cairo US Assistance to Lebanon
Implementing the Cairo Agreement
The Kahhale Ambush and the Exodus from the South
Causes of the Calm

Chapter 4: Plus ça change: International Terrorism, Détente, and the May 1973 Crisis

The New International Terrorism
A New Request for Support
The Israeli Raid on Beirut and the May Crisis
The Aftermath

Chapter 5: Reckoning Postponed: From the October War to the Civil War

The October War and the Start of Negotiations
Lebanese Domestic Politics after the October War
Diplomacy on the Rocks

6. Disturbing Potential: The United States and the Renewed Conflict

The Outbreak of Conflict
The Military Cabinet and Syrian Mediation
Sinai II and the Resumption of Violence in Lebanon
The January Cease-Fire

Chapter 7: Reluctant Interveners: The Red Line Agreement and Brown's Mediation

The Constitutional Document and Shifting Alignments
The Non-Negotiation of the Red Line
The Brown Mission and the PLO
From Election to Intervention

Chapter 8: Taking Its Course: The Syrian Intervention and Its Limits

Reacting to the Syrian Intervention
Assassinations and Evacuations
The New US-Syrian Dialogue
The Second Syrian Military Offensive and the End of the Conflict
Red Line Redux?

Epilogue: The Cycle Continues
Notes
Index
Call for Reviews
If you would like to review the book for Arab Studies Journal and Jadaliyya, please email info@jadaliyya.com