[This Engaging Books belongs to ASI and MESPI's year-long effort to mark, interrogate, and reflect on the Arab uprisings by producing resources for educators, researchers, students, and journalists to understand the last decade of political upheaval historically and in the lived present. To check out other publications and events from the Ten Years On project visit The Arab Uprisings Project and MESPI.
Engaging Books is a monthly series featuring new and forthcoming books in Middle East Studies from publishers around the globe. Each installment highlights a trending topic in the MENA publishing world and includes excerpts from the selected volumes.This installment involves a selection from Georgetown University Press on the theme of the Arab Uprisings. Other publishers' books will follow on a monthly basis.]
ENGAGING BOOKS SERIES
Georgetown University Press Selections
On the Arab Uprisings
Table of Contents
Tunisian Revolutions: Reflections on Seas, Coasts, and Interiors
By Julia Clancy-Smith
About the Book
About the Author
Additional Information
Excerpt
Call for Reviews
Arab Fall: How the Muslim Brotherhood Won and Lost Egypt in 891 Days 
By Eric Trager
About the Book
About the Author
In the Media / Praise
Additional Information
Excerpt
Call for Reviews
Shocks and Rivalries in the Middle East and North Africa
 Edited by Imad Mansour and William R. Thompson
About the Book
About the Author
Scholarly Praise
Additional Information
Excerpt
Call for Reviews
Radical Arab Nationalism and Political Islam
 By Lahouari Addi
Translated by Anthony Roberts
About the Book
About the Author
Scholarly Praise
Additional Information
Excerpt
Call for Reviews
 By Julia Clancy-Smith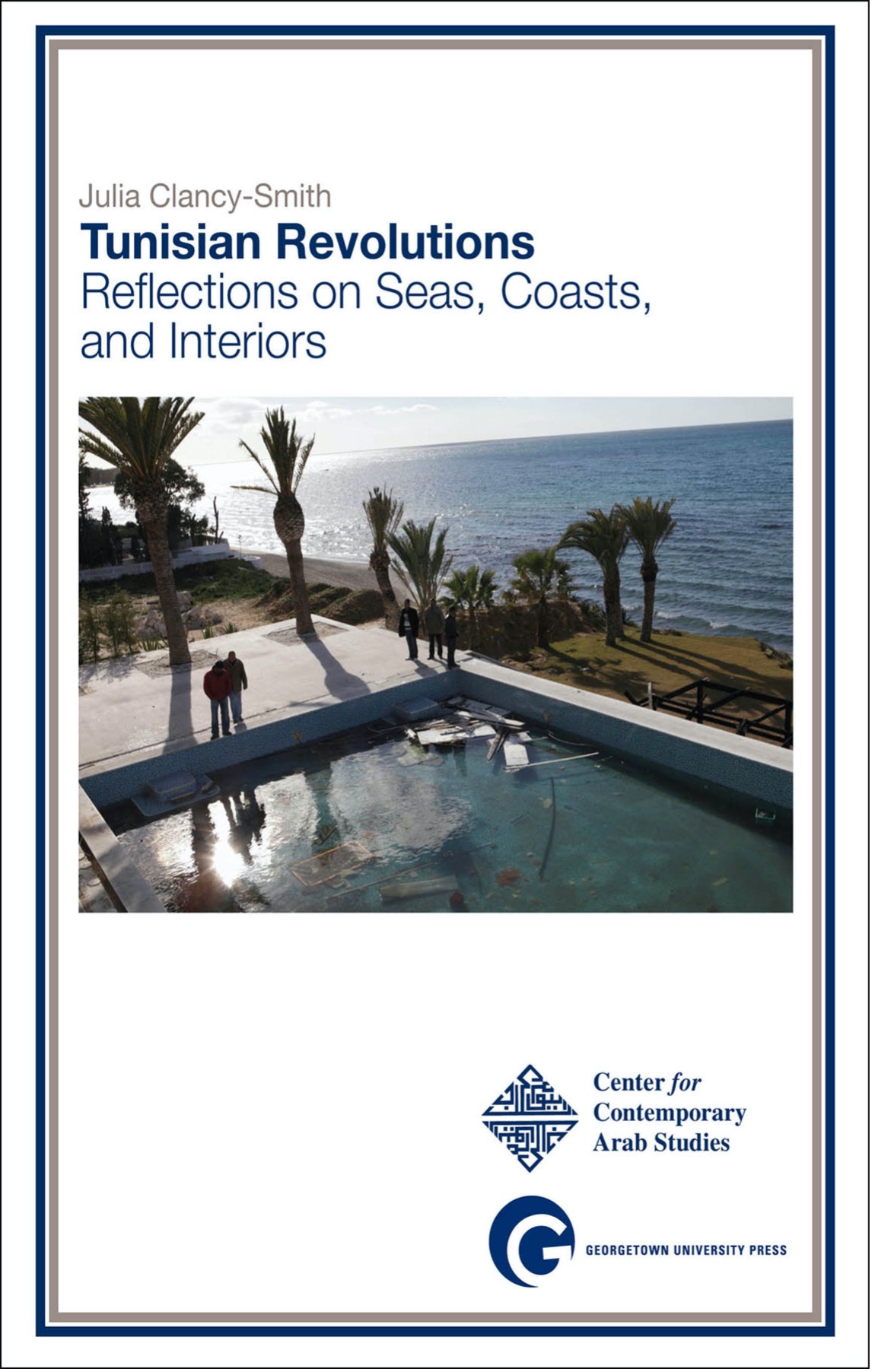 About the Book
In December 2010 an out-of-work Tunisian street vendor, Mohamed Bouazizi, set himself on fire and precipitated the Arab Spring. Popular interpretations of Bouazizi's self-immolation presented economic and political oppression by the Ben Ali regimes as the root causes of widespread social despair that triggered the Tunisian revolution. Yet as Julia Clancy-Smith points out, Tunisia's long history of organized political activism and protest movements suggests a far more complicated set of processes. Proposing a conceptual framework of "coastalization" vs. "interiorization," Clancy-Smith examines Tunisia's last two centuries and demonstrates how geographical and environmental and social factors also lie behind that country's modern political history. Within this framework Clancy-Smith explores how Tunisia's coast became a Mediterranean playground for transnational elites, a mecca of tourism, while its interior agrarian regions suffered increasing neglect and marginalization. This distinction has had a profound impact on the fate of Tunisia and has manifested itself in divisive debates over politics, the state, and religion as well as women's socio-legal status that have led to a series of mass civic actions culminating in revolution. Clancy-Smith proposes a fresh historical lens through which to view the relationship between spacial displacements, regionalization, and transnationalism.
About the Author
Julia Clancy-Smith is professor of history at the University of Arizona. She is the coauthor of The Modern Middle East and North Africa: A History in Documents and author of Mediterraneans: North Africa and Europe in an Age of Migration and Rebel and Saint: Muslim Notables, Populist Protest, Colonial Encounters.
Additional Information
November 2014
52 pp.
$12.95 (list price)
ISBN: 9781626162310
Excerpt
The port de plaisance (yacht basin) in the city of Munastir abuts a promontory that still bears the skeletal outlines of a nineteenth-century Italian fabricca (fish-rendering factory); not far away are the remains of Punic, Roman, and Byzantine—as well as medieval Islamic, Spanish, and Ottoman—fortresses, businesses, and residences. Clearly, places such as this in the heartland of Africa Proconsularis, as the Roman Empire called its first African colony, have attracted other empires as well as commercial and pleasure interests for millennia. Looming over the promontory today is a five-star tourist complex. When I visited the port of Munastir, now a seaside resort, with a colleague from the University of Tunis in 2009, I noted with satisfaction that the customers for the well-appointed hotels, cafés, and bars were Tunisians as well as "internationals." But it had not always been this way. Four decades ago (when I resided in Tunisia as a Peace Corps teacher), the country's hotel clientele had been almost exclusively French; the "locals" labored as waiters, cooks, maids, and other staff members. Nevertheless, from the late 1970s on, the tourist industry offered women some of the country's first professional management positions; and today, this sector is one of the University of Tunis's most popular majors for both women and men.
The extraordinary expansion of Tunisia's middle class—among the largest in the Arab world—starting in the late 1980s has put family meals and vacations in the country's countless shoreline resorts within reach of many, but not all, of its citizens. Indeed, the emergence of this middle class was intimately tied to international tourism as well as to worker remittances, the country's phosphate industry, and the relocation of light manufacturing from Europe to Tunisia. Needless to say, Tunisia's tourist industry has deeply distinguished it from its Maghribi neighbors to the east and west. One can hardly imagine a vacation advertisement like the following one for Libya even before the 2011 war: "Visitez Tarablis, pays de mer et de lumière" (Visit Tripoli, country of sea and light).
However, Munastir's yacht basin also yielded other data. Most of the luxury vessels in port for winter appeared to be owned by transnationals, judging by their flags and names. Moreover, if one goes slightly inland, the olive groves (whose origins in the distant past can only be imagined) suggested another, quite sinister view of global investment capitalism cum travel industry. Grids of productive trees had been auctioned to the highest bidder and slated for destruction to make way for new villas built for the high-end transnational yachting class. But the 2008–9 global financial and economic crisis and subsequent political unrest severely depressed the tourist industry, which suffered a calamitous drop after the uprisings early in 2011.
As was also true for Carthage and Sidi Bou Saʿid, Munastir had become a potent symbol of the Ben ʿAli regime's excesses even before the country's Jasmine Revolution of 2010–11 because of the palatial compound there occupied by Mohamed Sakher al-Materi, the president's son-in-law. Indeed, luxurious seaside palaces and real estate claimed by the extended Ben ʿAli–Trabelsi clans were among the first political targets after Ben ʿAli's hasty departure in January 2011. Soon thereafter, the National Commission of Investigation into Corruption and Malfeasance (Commission nationale d'investigation sur les affaires de corruption et de malversation) began its work, opening an initial five thousand dossiers into widespread, systemic graft centered upon Mediterranean real estate and the business of tourism.
This essay argues for a longue durée approach to Tunisia's unfinished revolutions. As a small excerpt from a larger project in progress, it raises five seemingly disparate questions in search of a coherent framing narrative:
When and why did Tunisia become a Mediterranean playground for transnational elites, while its "interior" (the south, border, and central regions) suffered increasing neglect and marginalization?
Where and what is the "interior," and how can environmental history deepen understandings of social movements, power, and divergent regionalizations?
How did women and gender configure two fundamental identities pro-moted by the newly independent Tunisian state—secular modernity, and a unique Mediterranean personality?
Why was Tunisia, whose prospects for democratic pluralism had seemed the brightest among postcolonial Maghribi states, governed by a populist, single-party regime from 1956 until 1987, and subsequently by a brutal kleptocracy that plundered national resources and further gutted civil society?
Finally, if the demands, symbols, targets, and practices of today's mass civic actions draw deeply upon the past, what historical torque do the precolonial and colonial eras exert?
The intent here is less to propose definitive answers to these five questions than to imagine alternatives to the linear nationalist narratives that for the most part continue to serve as the default "container" for North African histories in the contemporary period. Of late, historians and social scientists have come to problematize many conventional (and comfortable) analytical units used in their professions, notably the ideas of the nation-state and of empire. Related concepts—such as distance, scale, and region—have also come under intense scrutiny, generating new thinking on transnationalism and territorialization. Following that lead, this essay explores the historical implications of "coastalization," the progressive (and ultimately unsustainable) concentration of anthropogenic pressures and activities on increasingly vulnerable seas, oceans, and coastal environments worldwide. Some of the greatest threats to the Mediterranean—fossil fuels, pollution, and tourism—have converged upon Tunisia with exceptional force. The ecological crisis in the Gulf of Gabes has earned it the sobriquet "the shore of death" because of its unprecedented outbreaks of environmentally induced illnesses, disappearance of species, and habitat destruction. And the Tunisia–Lampedusa crossing for refugees and/or workers seeking a haven in Europe has become not only a major global human trafficking highway but also a passageway to a watery grave.
For the most part, research on coastalization is mainly driven by the "hard" and interdisciplinary sciences, notably ecology studies, which focus upon urgent contemporary problems, such as hyperurbanization and/or transglobal migrations, and their diverse, often unanticipated, environmental consequences. However, the prehistories of coastalization and its imbrication with states, dominant cultures, and social processes remain largely of secondary interest. For the Maghrib, the shifts of political and economic clout to the Mediterranean or Atlantic coasts have eclipsed ancient inland cities, such as Constantine, or royal centers of Moroccan legitimacy, like Fez and Meknes, to the benefit of Rabat, Casablanca, Tangier, and Algiers. For Tunisia, the notion of coastalization might appear the least useful, historically speaking. The core of Ifriqiyah (and before that Carthage), which often encompassed eastern Algeria and the maritime zones of western Libya, has for the better part of two millennia remained on the littoral, principally in the Tunis–Carthage–Cap Bon triangle, adjacent to the Sicilian Channel and the central Mediterranean. Nevertheless, the "interiors" also mattered to the state and ruling elites, to the wealth and health of cities, to religious authorities and dissidents, and to trans-sea trade and commerce.
In this essay coastalization represents both an analytical perspective and a heuristic principle that beckon scholars of Mediterranean histories to paradoxically travel far from the alluring, relatively well-documented littoral and into the social worlds of the agriculturalist, farmer, and pastoralist of the semiarid zones before, during, and after colonialism. This perspective/principle reveals how projects, both state-driven and otherwise—such as congresses, transnational education, women's rights, tourism, and international games, beginning in the colonial period (1881–1956)—tipped the balance toward the Mediterranean and away from the plains, mountains, and oases. At the same time, analyzing the transformations of the past two centuries within a framework that is both historical and environmental suggests the complex convergences that produced what is now unsatisfactorily labeled "globalization." It should be explicitly stated from the outset that the present essay concentrates on topics and time periods that have attracted less scholarly attention or were eclipsed by the colonial and/or nationalist narratives.
Call for Reviews
If you would like to review the book for the Arab Studies Journal and Jadaliyya, please email info@jadaliyya.com
By Eric Trager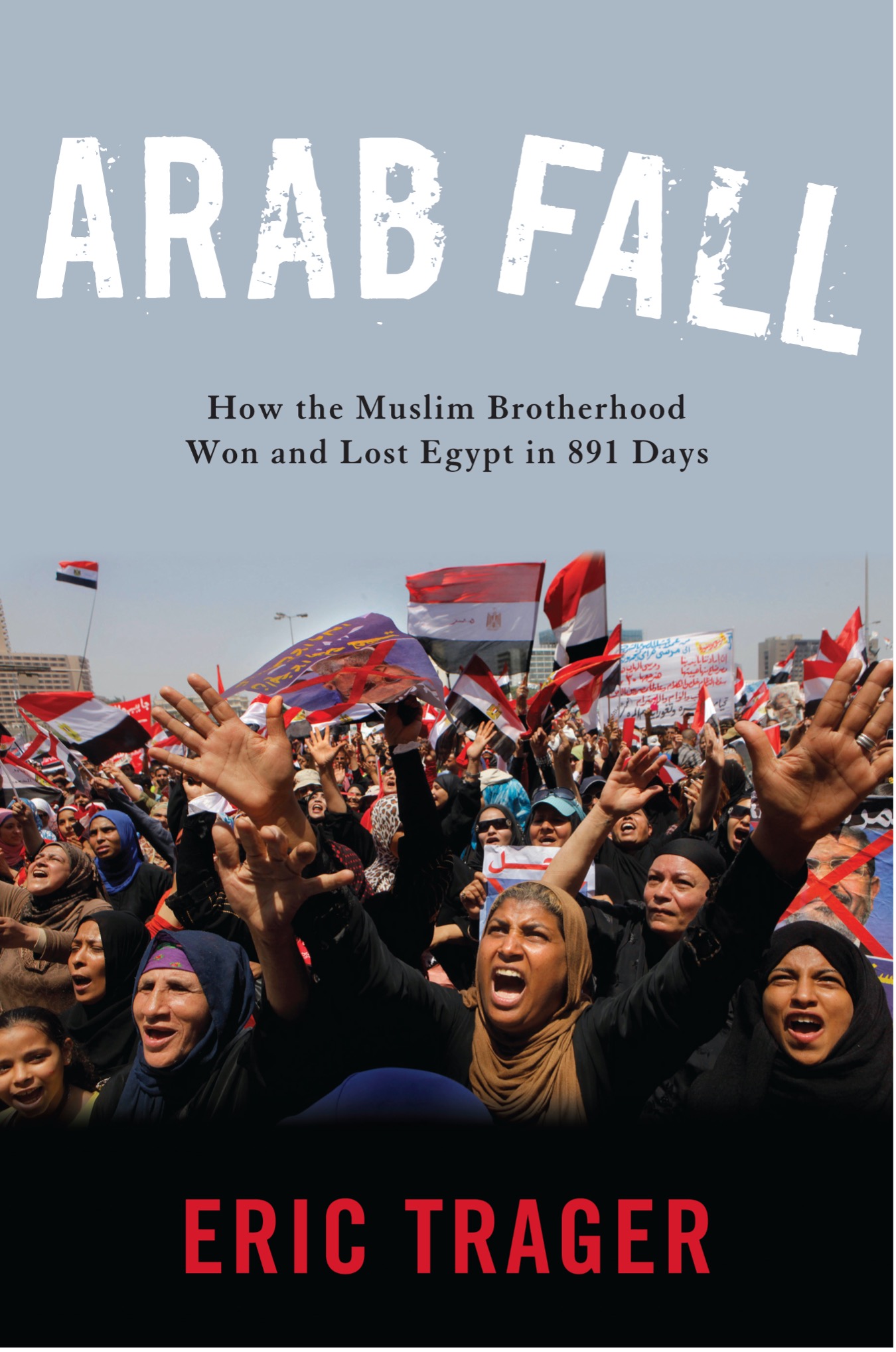 About the Book
How did Egypt's Muslim Brotherhood win power so quickly after the dramatic "Arab Spring" uprising that ended President Hosni Mubarak's thirty-year reign in February 2011? And why did the Brotherhood fall from power even more quickly, culminating with the popular "rebellion" and military coup that toppled Egypt's first elected president, Brotherhood leader Mohamed Morsi, in July 2013? In Arab Fall, Eric Trager examines the Brotherhood's decision making throughout this critical period, explaining its reasons for joining the 2011 uprising, running for a majority of the seats in the 2011–2012 parliamentary elections, and nominating a presidential candidate despite its initial promise not to do so. Based on extensive research in Egypt and interviews with dozens of Brotherhood leaders and cadres including Morsi, Trager argues that the very organizational characteristics that helped the Brotherhood win power also contributed to its rapid downfall. Arab Fall concludes with an assessment of the current state of Egyptian politics and examines the Brotherhood's prospects for reemerging.
About the Author 
Eric Trager is the Esther K. Wagner Fellow at the Washington Institute for Near East Policy, where his research focuses on Egyptian politics. His writings have appeared in the New York Times, Wall Street Journal, Foreign Affairs, and elsewhere.
In the Media/Praise for Arab Fall
Opinion Journal: Why Egypt's Revolution Failed
How did the Egyptian Muslim Brotherhood Win and Lose Power in 891 Days?
The Rise And Fall Of Egypt's Muslim Brotherhood: An Interview with Author Eric Trager
"The book's wealth of detail may challenge the lay reader, but it is indispensable not just for its account of how the Brothers failed so disastrously at governing Egypt but also equally for its analysis of how Washington failed so completely to understand them."—Wall Street Journal
"Eric Trager is Washington's go-to expert on Egypt, the Arab Spring, and the rise and fall (and possible rise again) of the Muslim Brotherhood. Clear-eyed, incisive, and authoritative, Trager specializes in making sense of a maddeningly complicated crisis, and he does so without sacrificing scholarly rigor in the process. "Arab Fall" is an indispensable book about a tumultuous period in the history of a hugely important country, and in the history of the Brotherhood, a group that has profoundly shaped the world in which we live today."—Jeffrey Goldberg, The Atlantic
Additional Information
October 2016
296 Pages
$32.95 (list price)
ISBN: 9781626163621
Excerpt
On June 24, 2012, I stood among many thousands of Islamists in downtown Cairo's Tahrir Square, awaiting the results of Egypt's first- ever fair and free presidential election.
The mood was extremely tense. Ten days earlier, the Supreme Constitutional Court dissolved Egypt's freely elected, Muslim Brotherhood–dominated Parliament. The Brotherhood believed that the state institutions were conspiring to keep it from power and feared that the presidential elections results would be rigged against its candidate, Mohamed Morsi. So it mobilized its cadres from all over Egypt to Tahrir Square and told them to prepare for battles with security forces if former prime minister Ahmed Shafik was named the winner.
"If Shafik wins, I will be a dead man," one Muslim Brother told me as he set up his Tahrir tent a few days earlier. "I will fight to the end."
Elsewhere in the square, pro-Morsi Salafists marched in formation, carrying white cloths that were meant to represent burial shrouds. "This is my coffin," one of them told me, pointing to the cloth in his hands. "We win or we die."
Two hours later, however, those dire pronouncements were quickly forgotten. The elections commission declared Morsi the winner, and Tahrir Square exploded in celebration. Chants of "Allahu akbar!"—"God is great!"—rang out across downtown Cairo as many of  Morsi's supporters thrust themselves to the ground in prayer.
For the Muslim Brother hood, it was a moment of profound ecstasy. Founded in 1928, the Brotherhood had struggled in Egypt's opposition for more than eight decades—often under severely repressive circumstances. The "Arab Spring," however, radically changed the organization's fortunes. Only seventeen months after the mass uprising that toppled longtime dictator Hosni Mubarak in February 2011, a Muslim Brother was now Egypt's president. And while the Brotherhood still anticipated a power struggle with the country's military, it nevertheless saw Morsi's presidency as an unprecedented opportunity to establish an "Islamic state" in Egypt, which it would use as a foothold for establishing a "global Islamic state."
That did not ultimately happen.
One year later, the country was in crisis again. Morsi's autocratic edicts and failed governance catalyzed a mass movement against him, as well as a mutiny within the state's institutions. The crisis climaxed on June 30, 2013, when millions of Egyptians poured into the streets to demand his ouster. Morsi, however, refused to negotiate a political resolution, and with each passing day the situation on the ground deteriorated further.
Outside the presidential palace, uniformed police officers joined the anti-Morsi protesters and declared that they wouldn't return to work until the president was toppled. In Tahrir Square, protesters waved banners calling for Morsi and other top Brother hood leaders to be hanged. And at its protest site in northern Cairo, the Brotherhood tried to intimidate the opposition by organizing its cadres into makeshift vigilante units, equipping hundreds of Brotherhood youths with helmets, shields, batons, and in some cases iron pipes.
"We will stay until Morsi has full power," one Muslim Brother told me. "Or we die."
Meanwhile, as deadly clashes between Morsi's supporters and opponents escalated throughout the country, many feared a civil war was imminent.
On the evening of July 3, four days after the anti-Morsi uprising began, I stood in the lobby of downtown Cairo's Semiramis Intercontinental Hotel, right next to Tahrir Square, awaiting a major announcement from the military. When Defense Minister Abdel Fattah al- Sisi appeared on air and declared Morsi's toppling, I could hear the surrounding streets explode in celebration. As I headed outside to observe the festivities, I noticed a middle-aged man—probably a hotel worker—pump his fist in victory.
"Allahu akbar!" he whispered to himself, smiling.
**************
How did the Muslim Brotherhood rise to power so rapidly after Egypt's 2011 Arab Spring uprising? And why did it fall from power even more quickly, culminating in the popular uprising and military coup that toppled Morsi in July 2013?
To be sure, the Brotherhood's post-Mubarak story unfolded in an extremely fluid political environment. At every point during the Brotherhood's rapid rise and dramatic collapse, a complex set of factors impacted its decision making, as well as that of Egypt's other relevant political actors, including the military, judiciary, Salafists, non-Islamist political parties, revolutionaries, "remnants" of the Mubarak regime, and the private media establishment, among others. But as I argue in this book, the Brotherhood's particular organizational structure, which was designed to pursue a very specific set of political goals, conditioned it toward certain behavioral tendencies. More to the point, the very characteristics that helped the Brotherhood win power so quickly also contributed to its downfall.
So what kind of organization is the Brotherhood? Unlike Egypt's other political forces, the Brotherhood is neither a protest movement nor a political party, though it has occasionally behaved like both. It is first and foremost a vanguard—a rigidly hierarchical organization that seeks to transform Egyptian society, the Egyptian state, and ultimately the world according to its highly politicized interpretation of Islam. Specifically, it seeks to promote its interpretation of Islam as an "all-embracing concept" within the society, achieve sufficient support so that it can establish an Islamic state in Egypt, and use this Islamic state as a foothold for establishing a global Islamic state, or neocaliphate. As Hazem Kandil notes, the Brotherhood equates participation in its organization with Islam, claiming that it "is sacred because what it represents is sacred—that is, Islam. Without the movement, there can be no return to Islamic rule."
To ensure that its members are fully committed to pursuing and implementing this theocratic project, the Brotherhood maintains a strict system of recruitment and internal promotion. Joining the Muslim Brother hood entails a five-to- eight-year indoctrination process, during which every Muslim Brother is steeped in the Brotherhood's politicized interpretation of Islam, vetted for his belief in the organization's ideology, and closely monitored for his obedience to following Brotherhood leaders' orders. This system is designed to engender a uniformity of purpose, ideology, and—when commanded by leaders—activity among the Brotherhood's rank and file. As a result, the typical Muslim Brother sees himself as a foot soldier for the organization—meaning, again, that he sees himself as a foot soldier for Islam.
The Brotherhood further promotes its unity of purpose and action by maintaining a rigid nationwide chain of command. The Brotherhood's hundreds of thousands of members are organized in five-to-ten- person cells known as usar, or "families," which receive orders from the Brotherhood's leadership in Cairo and execute them locally. This pyramidal structure enabled the Brotherhood's leadership to direct its cadres in virtually every Egyptian neighborhood for a wide range of purposes, including operating social services, organizing political protests, and mobilizing electoral campaigns.
The Brotherhood thus won Egypt's post-Mubarak elections thanks to its unparalleled organizational infrastructure. Indeed, during every post-Mubarak election, none of the Brotherhood's competitors could count on a similarly committed membership or possessed the Brotherhood's well-oiled, nationwide chain of command.
But, at the same time, the Brotherhood's particular organizational characteristics meant that it was deeply insular—and this became a tremendous liability once it achieved power. After all, the Brotherhood equates its organization with Islam. It therefore regards outsiders with tremendous suspicion and casts its political opponents as enemies of Islam. Moreover, the Brotherhood sees its hierarchical, nationwide chain of command as the proper mechanism for implementing its theocratic vision, which means that it cannot integrate other political and societal factions effectively. This exclusivism alienated many Egyptians, as well as many within Egypt's sprawling bureaucracy, which was a major factor in its rapid fall from power.
The Brotherhood's totalitarianism was another cause of its downfall. Its hierarchical organizational culture, in which internal dissenters are banished and external critics are often viewed as enemies of Islam, meant that it was poorly prepared for governing in the more competitive political environment that followed Mubarak's ouster. Indeed, rather than accepting checks on his power or compromising with his opponents, Morsi tried to obliterate them during his yearlong presidency. As a result, many Egyptians regarded Morsi as a new dictator—and a very weak one at that—and this fueled the escalating protests that culminated with his ouster in July 2013.
Call for Reviews
If you would like to review the book for the Arab Studies Journal and Jadaliyya, please email info@jadaliyya.com
Edited by Imad Mansour and William R. Thompson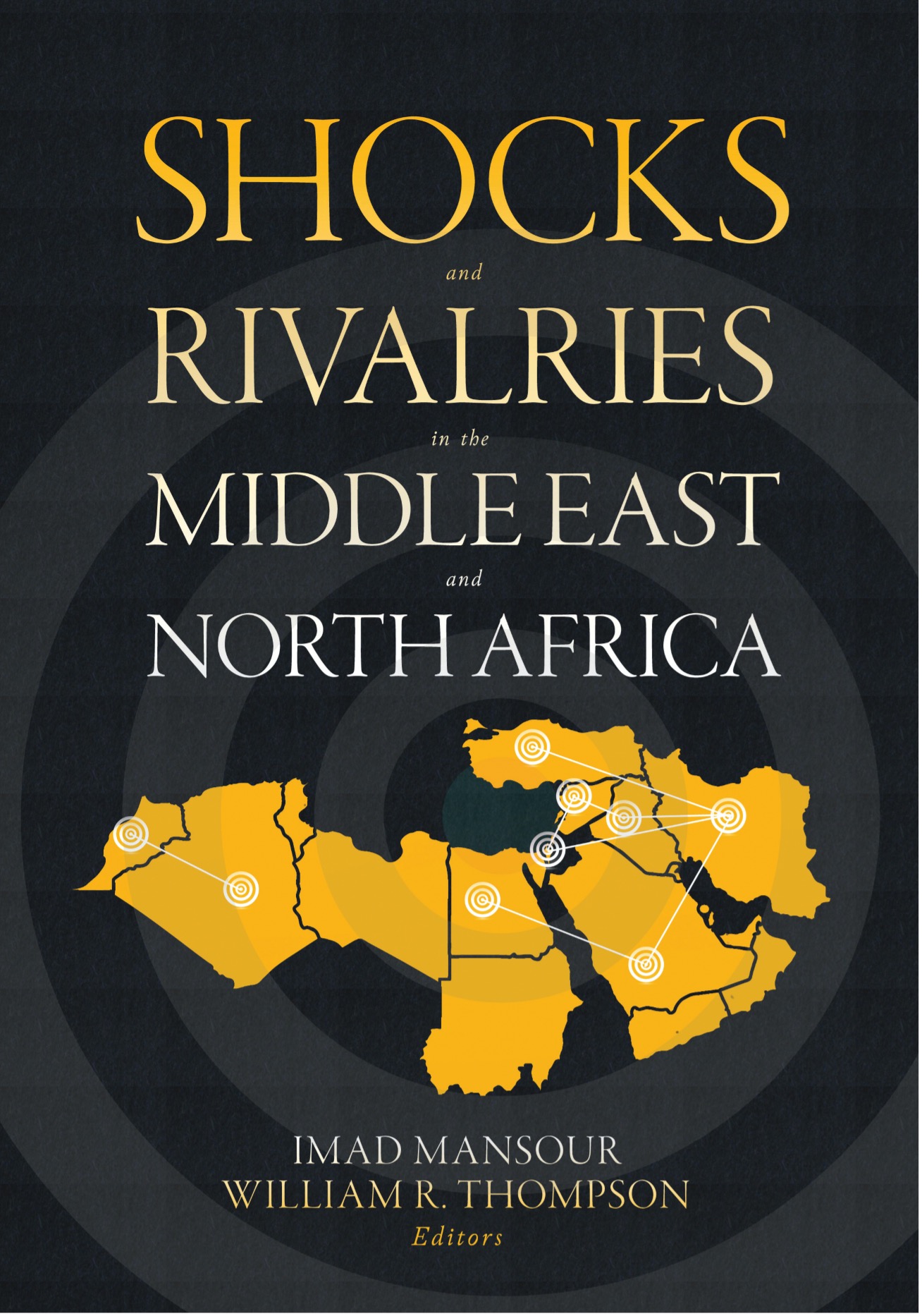 About the Book
MENA has experienced more internal rivalries than any other region, making a detailed analysis vital to understanding the region's complex political, cultural, and economic history. The first book to examine issue-driven antagonisms within groups of Middle East and North Africa (MENA) states and their impact on relations within the region, the essays within Shocks and Rivalries in the Middle East and North Africa break the MENA region down into a collection of systems that exemplify how state and nonstate actors interact around certain issues. The state groupings studied in this volume include Israel and Iran; Iran and Saudi Arabia; Iran and Turkey; Iran, Iraq, and Syria; Egypt and Saudi Arabia; and Algeria and Morocco. The volume also considers how shock events, such as internal revolts and regional wars, can alter interstate tensions and the trajectory of conflict. Through this approach, contributors shed rare light on the origins, persistence, escalation, and resolution of MENA rivalries and trace significant patterns of regional change.
 
About the Editors
Imad Mansour is an adjunct professor in the Department of Political Science at McGill University and a nonresident scholar at the Middle East Institute (Washington, DC). He is the author of Statecraft in the Middle East: Foreign Policy, Domestic Politics and Security.
William R. Thompson is Distinguished Professor and Donald A. Rogers Professor of Political Science Emeritus at Indiana University, editor in chief of the Oxford Research Encyclopedia of Politics, and an affiliated professor at the University of Washington.
Scholarly Praise for Shocks and Rivalries
"A strong combination of theory and detailed case studies that deepens our understanding of shocks and rivalries in a region that we too often assume that we know more [about] than we do."—Paul F. Diehl, Ashbel Smith Professor of Political Science, University of Texas at Dallas
"In the MENA conflict-laden region, zooming in on inter-state rivalries is indeed required and welcome. Successfully marrying in-depth regional knowledge and comparative disciplinary rigor, this book's eleven contributors use more than 7 systematic MENA cases to analyze such rivalries and especially the impact of abrupt changes. The result is a dynamic analysis, both conceptually-driven and empirically-based, of a region plagued by static approaches."—Bahgat Korany, Fellow of the Royal Society of Canada, American University in Cairo
Additional Information
June 2020
256 pages
$44.95 (list price)
ISBN: 9781626167681
Excerpt
This edited volume introduces explicit analysis of state-to-state rivalries in the international relations of the Middle East and North Africa (MENA). In the past two decades, international relations (IR) scholars have made significant advances in analyzing rivalries. This statement may sound strange. Surely we are all aware of the existence of rivalries. After all, they have been around as long as there have been Sumerian city- states, thousands of years ago. But that is the point. We are well aware of the existence of inter-state rivalries, but we have been quite slow in addressing them as rivalries per se. Part of this process of making their study more explicit involves specifying which relationships qualify and which ones do not. We define an interstate rivalry as encompassing dyads of states that regard each other as competitive, threatening enemies. We can identify which relationships count because decision- makers acknowledge in various ways who they select as prominent adversaries. They refer to them frequently in foreign policy speeches, and they orient their military preparations to cope with their threats.
As soon as we begin focusing on rivalry behavior, one fact jumps out clearly. Most of the conflict in international politics is recidivist in nature. If one counts all the possible dyadic ways to connect an ensemble of states, only a small number of the dyads are responsible for most of the conflict. Rivalries, then, are the best place to understand why conflict occurs and persists. This is all the more the case in the MENA, which has more contemporary experience with rivalries than any other region. Thus, it is a good regional theater for testing propositions as well as describing significant patterns of regional change.
For MENA- dedicated studies, it is common to find loosely defined concepts of rivalry used in studying regional conflict and various forms of security relations (Halliday 2012, chap. 6). Rivalry is often described as pertinent to understanding regional politics (Law-son 2016). In explaining rivalries and their effects, some place emphasis on "the international dimension," that is, external politics (Phillips 2016, 3); others place emphasis on material and ideational factors (Mabon 2013). However, very few works on the MENA provide theoretically driven analyses and engage rivalry as a distinct fi eld of study. In this volume we explicitly engage rivalry as an empirical phenomenon from a theoretical perspective. Moreover, we seek to contribute to theory building in the field of rivalry analysis from the complexity and descriptive "thickness" of regional politics.
It is not enough to simply identify which states are rivals and describe their interactions. We must also understand the dynamics of rivalry origins, maintenance, escalation, and termination. Some of these dynamics are found in many cases. For instance, rivalries tend to emerge from disputes over borders and relative position. Some of it is, of course, idiosyncratic. In the Middle East a good example is the way in which the extended Hashemite family looms large in the earlier history of the region's rivalries; familial relations, hence, are often analyzed in how they affected the politics of Iraq, Jordan, Saudi Arabia, Syria, and other states born in the twentieth century. Thus, MENA has provided plenty of such idiosyncratic causes of rivalry. This volume is different in that it allocates more attention to the general factors of MENA rivalries while simultaneously probing the course of specific rivalries.
Furthermore, an important complementary goal for this volume involves stressing the role of shocks (as abrupt and jarring changes to an equilibrium or status quo) in understanding how rivalries and rivalry fi elds (as networks of interdependent rivalries) undergo transformation. We think that the impact of political shocks on rivalries remains seriously understudied. The MENA is not only an arena with a large number of dyadic and multiple-actor rivalries; it also has experienced quite a few shocks, especially at the regional level, with varied effects. These effects will be explored in our propositions. Thus, in our volume one effect that is highlighted is the contributory role of shocks in beginning and ending rivalries. Moreover, an important contribution of our volume is explicating how shocks affect fluctuations in interstate rivalry and rivalry field dynamics in between the onset and termination of these adversarial relationships.
RIVALRIES AND SHOCKS
The more formal study of rivalries emerged from the realization that militarized interstate disputes were not randomly distributed across time and space. Some pairs of states (dyads) engaged in them serially and disproportionately compared to other dyads. Thus, the initial identification of enduring rivalries tended to be carried out by isolating the spatial and temporal density of conflict. Enduring rivalries were pairs of states that participated in X militarized interstate disputes within a specified period. Such an approach singles out the pairs of states that were involved in the most conflict. But that implies that rivalries must fight when it is not clear that all do clash conspicuously or frequently. An alternative approach emerged that focuses on inventorying decision-maker perspectives about who their interstate enemies were. Some of these strategic rivalries were characterized by frequent militarized interstate disputes, and some were distinctive in rarely coming to physical blows despite ample, if fluctuating, displays of hostility.
Both approaches to identifying rivalry exist today, with most empirical analysts using one approach or the other. Neither approach can claim to be liability free. Enduring rivalries begin and end when sufficient conflict breaks out and stops. Relationships with off-and-on hostilities tend to be slighted. A focus on enduring rivalries also tends to emphasize dyads in which very powerful states fight very weak states, however briefly. Whether these highly asymmetrical relationships should count as rivalries similar to the more protracted contests between more symmetrical powers continues to be debated.
Identifying strategic rivalries is a more subjective game and requires knowing more about foreign policy attitudes and interactions than is sometimes knowable by analysts. For instance, Egypt and Israel were once very clearly enduring rivals fighting wars in four consecutive decades, and then they stopped fighting each other. From an enduring rivalry perspective, the rivalry ended some four decades ago. From a strategic rivalry perspective, however, neither side seems to rule out the possibility of a return to conflict. The rivalry thus de-escalated after the Camp David Accords without terminating.
While there is certainly considerable overlap in the rivalries identified by either perspective, the consequent identifications are not the same. One needs to choose which approach seems more appropriate. Nonetheless, both approaches attempt to isolate conflict recidivists. That is, a disproportionate amount of interstate conflict is generated by a very small group of states that feud with each other repeatedly. It follows, then, that we need to look more closely at the recidivists to best understand why conflict persists in the ways that it does. That means more than merely identifying rivalries. We also need to better understand their origins, dynamics, and endgames….
Call for Reviews
If you would like to review the book for the Arab Studies Journal and Jadaliyya, please email info@jadaliyya.com
By Lahouari Addi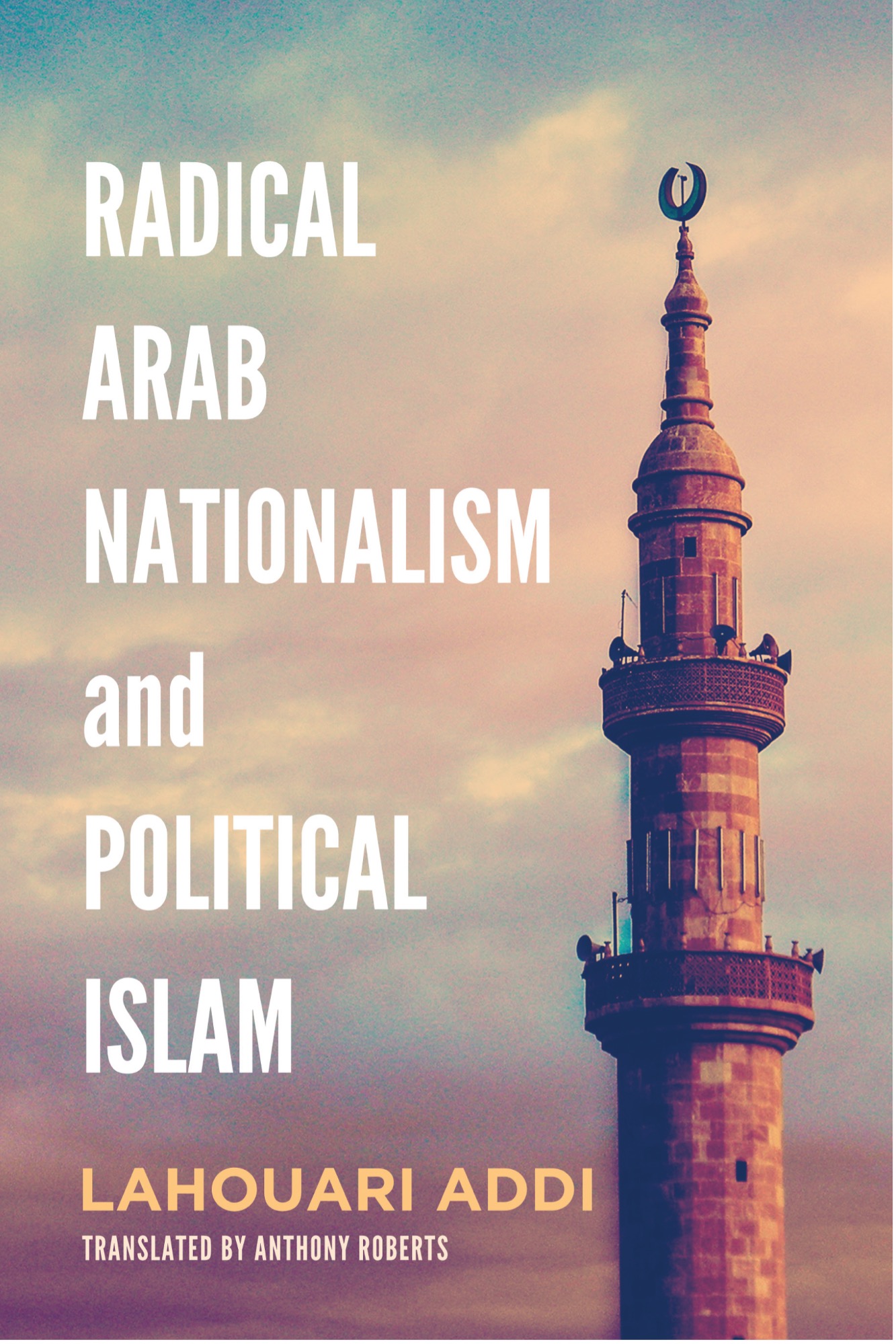 About the Book
In Radical Arab Nationalism and Political Islam, Lahouari Addi attempts to assess the history and political legacy of radical Arab nationalism to show that it contained the seeds of its own destruction. While the revolutionary regimes promised economic and social development and sought the unity of Arab nations, they did not account for social transformations, such as freedom of speech, that would eventually lead to their decline. But while radical Arab nationalism fell apart, authoritarian populism did not disappear. Today it is expressed by political Islam that aims to achieve the kind of social justice radical Arab nationalism once promised.
Addi creatively links the past and present while also raising questions about the future of Arab countries. Is political Islam the heir of radical Arab nationalism? If political Islam succeeds, will it face the same challenges faced by radical Arab nationalism? Will it be able to implement modernity? The future of Arab countries, Addi writes, depends on this crucial issue.
About the Author
Lahouari Addi is a professor at the Institut d'Études Politiques at the University of Lyon, and research fellow at the Centre de Recherche en Anthropologie Sociale et Culturelle in Oran, Algeria. He is the author of numerous books and articles on North Africa and political Islam, including Deux anthropologues au Maghreb: Ernest Gellner et Clifford Geertz and L'Algérie et la Democratie.
Scholarly Praise for Radical Arab Nationalism and Political Islam
"An elegant and singularly useful book, addressing ideas and events of relevance to students of nationalism, religion, Islam, the Arab world, and the Middle East more broadly."—Middle East Journal
"An important contribution to the extensive literature on the political uses of Islam . . . Offers a path toward a fruitful rethinking of Islam."—Journal of North African Studies
"Insightful and wide-ranging analysis . . . A valuable perspective on contemporary Arab politics."—H-Net
Additional Information
July 2017
287 pages
$34.95 (list price)
ISBN: 9781626164505
Excerpt
The analysis offered in this book focuses on a couple of ideologies that are both twins and rivals: Radical Arab nationalism and Islamism, both of which began with popular upheavals to change the status quo. The text demonstrates how the two ideologies are anchored in the histories and cultures of societies aspiring to modernity, with all their frustrations and contradictory expectations. The Arab world carries the burden of a rich religious past; because of this, it must face the complex question of secularization, which nationalism had thought to outflank with economic development directed by a state reduced to the status of a mere administrative framework. Islamism's response to this is to Islamize secularization, affirming that the separation of religion and state is heresy. Yet it offers no plan for government and its popularity is the consequence of radical nationalism's progressive weakening and failure ever since the late 1960s. Radical Arab nationalism was triumphant since it took over in the 1950s and 1960s in Egypt, Iraq, Algeria, Syria, Yemen, and Libya, until its confidence was shattered by military defeat in June 1967 at the hands of Israel. Since then it has been challenged directly by Islamism, which presented itself as both its heir and its adversary. The fall of Hosni Mubarak in Egypt in 2011, the collapse of Muammar Gaddafi's Libyan regime in 2011, and the more recent destruction of Syria illustrate the erosion of legitimacy of regimes that had promised economic modernization and social emancipation. To understand why radical Arab nationalism moved from triumph to decline in a matter of decades, we must study its beginnings and in a more general way return to the historic origins of the Arab states that set themselves up as monarchies and republics in consequence of their particular historical conditions. The disintegration of the Ottoman Empire brought about a form of protonationalism, which gave birth to conservative monarchies under the benevolent care of European powers in exchange for their support for anti- Ottoman policies. The urban elites of Syria and Lebanon were not, to begin with, hostile to the monarchical form of the Arab state to which they aspired. They supported the "Arab revolt" directed by Sharif Hussein in the hope that it would lead to a single Arab state encompassing the Fertile Crescent. But this dream was crushed by the colonial ambitions of Britain and France, and it has been betrayed by the new dynasties of Iraq and Jordan. These monarchies, as well as that of Saudi Arabia, came into being between 1920 and 1930; they were shaped to support the Europeans in their struggle against the Ottoman Empire. For reasons linked to their own conservative nature and their alliances with the colonial powers that protected them, they were a disappointment to the nationalists, who had borrowed their own concepts and methods from European liberal ideology.
This historical matrix is important if we are to understand the later evolution of the Arab world, which responded in different ways to contact with the all-conquering Europe of the nineteenth and twentieth centuries. While the monarchies were content to ensure the existence of formally independent Arab states, the nationalists proclaimed their will to reform society and catch up with the West, going so far as to adopt liberal values before moving away from them in defiance of Europe. Arab nationalism has a history of its own and its distant origins lie in the reaction to Bonaparte's expedition to Egypt in 1798, which was a severe shock to many among the elite, who were forced to acknowledge just how far ahead Europe was in military, economic, and scientific terms. By a slow and some-times contradictory process, liberal ideas penetrated the Arab world, and eventually, in the second half of the nineteenth century, they merged with a general rejection of the Ottoman Empire and then evolved toward open hostility to the European powers following the 1916 Sykes–Picot Agreement. Th e struggle against colonial dominion led to the installation of republics that were politically opposed to the West. Paradoxically, they were closer to it in terms of ideology than the conservative monarchies, which resembled the absolutist model that had dominated Europe before the revolutions. From this point of view, the republican elites, many of them military, were the distant heirs of the liberal tendency of the late nineteenth century; they had become radicalized by borrowing their ideological language from German idealism and their rhetoric of "Arab socialism" from revolutionary Marxism. Gamal Abdel Nasser, Houari Boumediene, and Hafiz al-Assad were all closer to the Prussian or Soviet models than that of the caliphate.
In fact, the Arab world created two types of state as a result of its contact with the West: one based on the tradition represented by monarchy, whose political interests chimed with those of the Western powers, and the other affirming its republican character and its desire to end foreign domination in the region. The split between these two competing projects led to extreme tensions in the 1960s and 1970s (leading to bitter conflict between Egypt and Saudi Arabia over Yemen, between Algeria and Morocco over the Western Sahara, and between Iraq and Kuwait) and only settled down aft er the political weakening of the various republican regimes which, after the military defeat by Israel in 1967, ceased to denounce the monarchies. The monarchies were even asked for financial help with the rebuilding of the Egyptian and Syrian armies, when regional heads of state met in Khartoum in 1968. Once the pan-Arabist project had been dropped by the revolutionary colonels, the monarchies felt a greater sense of security, which was further strengthened by Egypt's tilt toward the western camp aft er the death of Nasser. The rejection by Anwar Sadat, Nasser's successor, of Arabist rhetoric and the opening of the Egyptian economy to private capital flowing from Saudi Arabia and the Gulf Emirates as well as from the West heralded the failure of radical Arab nationalism. This was to be challenged, from the 1970s onward, by Islamism—an ideology that for years had been encouraged and used as a weapon by the monarchies. If the Islamists in Egypt and Algeria have gained in popularity since the deaths of Nasser and Boumediene, it is because they accused their successors of having enriched a minority by signing agreements with the International Monetary Fund (IMF). In the case of Egypt, there is the added denunciation of the peace treaty signed with Israel—which cost Pres-ident Sadat his life.
Thus, the regimes of the republics, forced on the defensive and mired in economic failure, comprehensively lost their political battle with the monarchies. Moreover, the post-1973 oil price increases raised the latter to the level of major regional powers. At the time of the so- called Arab Spring uprisings, which began in Tunisia in December 2010, the monarchies gave their support to the rebellions—thereby taking their revenge upon regimes that had accused them a few years earlier of betraying the Arab peoples. In the long term, the regimes of the republics turned out to be more fragile than the mon-archies where political opposition seemed less threatening. How may we explain this fragility of regimes that claimed to originate with the people and that had sworn to modernize their countries for the good of their underprivileged social classes? Th e July 1952 coup d'état in Egypt, carried out by the Free Officers, led to the seizure of power by military Arab nationalists in several other countries of the region. They had the look of a deep- seated movement of authoritarian modernization, which should have accelerated national construction and created the political and economic conditions for genuine social and cultural progress. Many academic studies have seen in them a form of Bonapartism, determined as they were to sweep away the archaic aspects of society and the shackles of dependency created by an economy based on the export of agricultural products and raw materials. With Nasser, Egypt undertook reforms that were just as bold and wide- ranging as those of Muhammed Ali, 150 years earlier, in an international environment that was far more favorable than that pre-vailing in the nineteenth century. So why did Nasser's political and economic program, which had the people's overwhelming support, fail to succeed and keep its promises? This question lies at the heart of this book, which attempts a critical analysis of radical Arab nationalism and of Islamism, the political ideology that opposes it. The hypothesis set forth here is that radical Arab nationalism, which gave birth to the republics, viewed modernization as a technical and administrative task on the premise that the state, controlled by military men, was the sole agent for change.
Call for Reviews
If you would like to review the book for the Arab Studies Journal and Jadaliyya, please email info@jadaliyya.com