[This Essential Reading is the "Palestine Mandate" installment of a focused series on "The Left in the Middle East." Encompassing a broad range of entry points to researching and teaching the left, the series emphasizes communist and socialist components, while allowing authors to define the specific parameters of said emphasis in their installment.
The Essential Readings series is curated by the Middle East Studies Pedagogy Initiative (MESPI) team at the Arab Studies Institute. MESPI invites scholars to contribute to our Essential Readings modules by submitting an "Essential Readings" list on a topic/theme pertinent to their research/specialization in Middle East studies. Authors are asked to keep the selection relatively short while providing as much representation/diversity as possible. This difficult task may ultimately leave out numerous works which merit inclusion from different vantage points. Each topic may eventually be addressed by more than one author. Articles such as this will appear permanently on www.MESPI.org and www.Jadaliyya.com. Email us at info@MESPI.org for any inquiries.]
This listing of essential readings deals with the left in and during the Palestine Mandate (1918–1948). The highlighted texts are multilingual, primarily Arabic, English, and Hebrew, in addition to a couple in French and German. Texts in Yiddish have not been included though by rights they should be. In the early 1920s, Yiddish was still the lingua franca of the Jewish settler community in Palestine. The inclusion of both Arabic and Hebrew texts, in addition to English, is deliberate to avoid the pitfalls, all too common, of privileging a one-sided narrative.
A Cautionary Tale
There is an abundance of publications dealing with the communist movement in Palestine. The initial impulse was to submit a list of books and articles which ought not be included in a reading list.  This however was not a practical endeavour. The numbers of such works are overwhelming.   The main manufacturers of knowledge on this topic are mainstream scholarly and journalistic works published since the 1950s, primarily in the United States and Israel. These are overwhelmingly written within a Cold War framework. As must be, the texts are of varying quality. Some contain what have become near dominant narratives, though invariably located within an ideological framework of east versus west—the east, conspiratorial and aggressive, and the west, the defender and protector of native people's wellbeing and liberties. In much of this scholarship, local communist parties are denied agency. Accordingly, these parties and their members are mere tools utilized by the Kremlin in its persistent attempts to undermine and subvert Western interests.
As an example of this Cold War literature, I will restrict myself to one of the most often-quoted texts. In 1953 G S Yisraeli published a Hebrew-language book in Tel Aviv dealing with the communist movement in Palestine. It was an extensive work relying heavily on materials gathered by Sherut Yediot (SHAI), the Hagana and the Jewish Agency's information gathering and intelligence department during the British Mandate in Palestine. This text became a primary reference for most subsequent works. In 1956, the same author—now writing under the name Walter Z Lacquer—authored an English-language book. This new text incorporated the information published previously in the Hebrew book and added new sections on communist movements in adjacent Arab countries. Lacquer's volume was an openly Cold War endeavor. Its wide coverage ensured that it reached a large readership in Western academia during a period when the United States was replacing the United Kingdom as the main foreign power in the region. US policy makers viewed the strident nationalist mobilizations in Iran, Egypt, Iraq, Jordan, Lebanon, and Syria in terms of a Kremlin plot. Lacquer and works which derive their authority from his text need to be read, if read they must be, with this caveat in mind.
Simultaneously, an Arab nationalist school of writing repeatedly sounded warnings to the effect that, in the aftermath of the Anglo-French partition of Bilad al-Sham, the influx of Russian and East European Jews to Palestine brought with it the danger of Bolshevism and anarchy. These writings reproduced the most lurid Western portrayals of the allegedly moral and material evils and depredations of Bolshevism—and communism more generally—and imported Western-style anti-Semitism into the region. This took concrete form with the birth of an organized Arab nationalist movement in the mid-twentieth century, which viewed local communist parties as their ideological foes. Prominent ideologue of the Arab Nationalist Movement (ANM) Al Hakam Darwaza's 1961 book best illustrates this trend.
Two works stand out among the broader set of early publications for seemingly subscribing to a left-of-centre perspective. The first, Musa Khalil's 1974 Arabic-language article in a Beirut-based Palestinian journal. Judging by its footnotes, the text is grounded in extensive research in the UK archives, meetings with members of the Palestine Communist Party (PKP), and readings of both Palestinian communist publications and Comintern publications (especially INPRECORR). The second work that stands out is Joel Beinen's 1977 article published in a radical US-based periodical. He relies on Hebrew sources, primarily Yisraeli/Lacquer. Its footnotes list no Arabic sources, and scarcely any party or Comintern ones. It makes no mention of two Arabic-language works which preceded it by a couple of years, (Khalil's 1974 and Hani Hourani's 1976 articles in Shu'un Filastiniyya) and privileges an Israeli reading of the communist movement in Palestine. This text became the primary reference for a non-Arabic, non-Hebrew reading public. It coalesced with Arab nationalist writings to create an impression of the communist movement in Palestine as a "Jewish phenomena" rather than a joint internationalist enterprise.
G S Yisraeli, MOPS-PKP–MAKI. Korot Hamiflaga Hakomonistit Beyisrael 1919-1953 [MOPS PKP MAKI: The History of the Communist Party in Israel 1919-1953] (Tel Aviv: 1953).
Walter Z Lacquer, Nationalism and Communism in the Middle East (London: 1956).
Al Hakam Darwaza, al-Shuyu'iyya al-Mahaliyya wa-Ma'rakat al-'Arab al-Qawmiyya [Local Communism and the Arab National Struggle] (Beirut: Dar al-Fajr al-Jadid, 1961).
Musa Khalil, "al-Hizb al-Shuyu'i al-Filastini 1919-1948" [The Palestine Communist Party 1919-1948], Shu'un Filastiniyya , no. 39 (November 1974): 111–42.
Hani Hourani, [The Haifa Journal 1924-1926: A Reading in the Politics of the PCP]. Shu'un Filastiniyya, no. 58 (June 1976):
Joel Beinen, "The Palestine Communist Party 1919-1948," Middle East Research & Information Project, no. 55 (March 1975): 3–17.
Part One: History
Many among the Jewish immigrants who heeded the calls of the Zionist movement, abandoned the social struggle in Europe and headed to British-ruled Palestine had been members of various socialist organizations in Russia and Eastern Europe. The Zionist movement itself, at this formative stage, projected a socialist vision and characterized Jewish workers as the backbone of the settler-colonial project. Many of them regarded the 1917 Bolshevik Revolution and Lenin's state-building project with approval, even admiration. Jewish Marxist factions in Palestine attempted at an early stage to affiliate with the newly established Comintern in Moscow. The best source for this early period is Mario Offenberg's 1975 German-language study, which covers the 1919–24 period. In 1924, the Comintern having satisfied itself that one of the several small groups of Jewish communists in Palestine conformed to its "21 Conditions" of membership in the Communist International, officially recognized the Palestine Communist Party (Palestinische Komunistische Partei in Yiddish, abbreviated PKP).
Mario Offenberg, Kommunismus in Palästina: Nation und Klasse in der antikolonialen Revolution (Meisenheim: Anton Hain, 1975).
Fred Halliday, Review of Mario Offenberg, Middle East Report and Information Project, no. 56 (April 1977).
"Letter from Executive Committee of the Communist International to the Workers of the Union of Jewish Communists (Poale Zion)," 26 August 1921.
Anita Shapira, "The Left in the Gdud Avoda and the PCP until 1928," in Zionism: Studies in the History of the Jewish Community in Palestine, ed. Daniel Capri & Gedalia Yegov (Tel Aviv: Massada Publishing, 1975).
Suliman Basheer, Communism in the Arab East 1918-1928 (London: 1980).
*Also see Arabic edition: al-Mashriq al-'Arabi fi al-Nazariyya wa-l-Mumarasah al-Shuyu'iyya 1918-1928 (Beirut: Matba'at al-Sharq al-Ta'awuniyya, 1977).
Musa Budeiri, The Palestine Communist Party: Arab and Jew in the Struggle for Internationalism, second edition (Chicago: Haymarket, 2010).
Mario Kessler, "The Comintern and the Left Poale Zion 1919-1922," The Australian Journal of Jewish Studies 24 (2010): 116+.
Eli Tzur, "The Silent Pact: Anti-Communist Co-operation between the Jewish Leadership and the British Administration in Palestine," Middle Eastern Studies, 35, no. 2 (April1999): 103–31.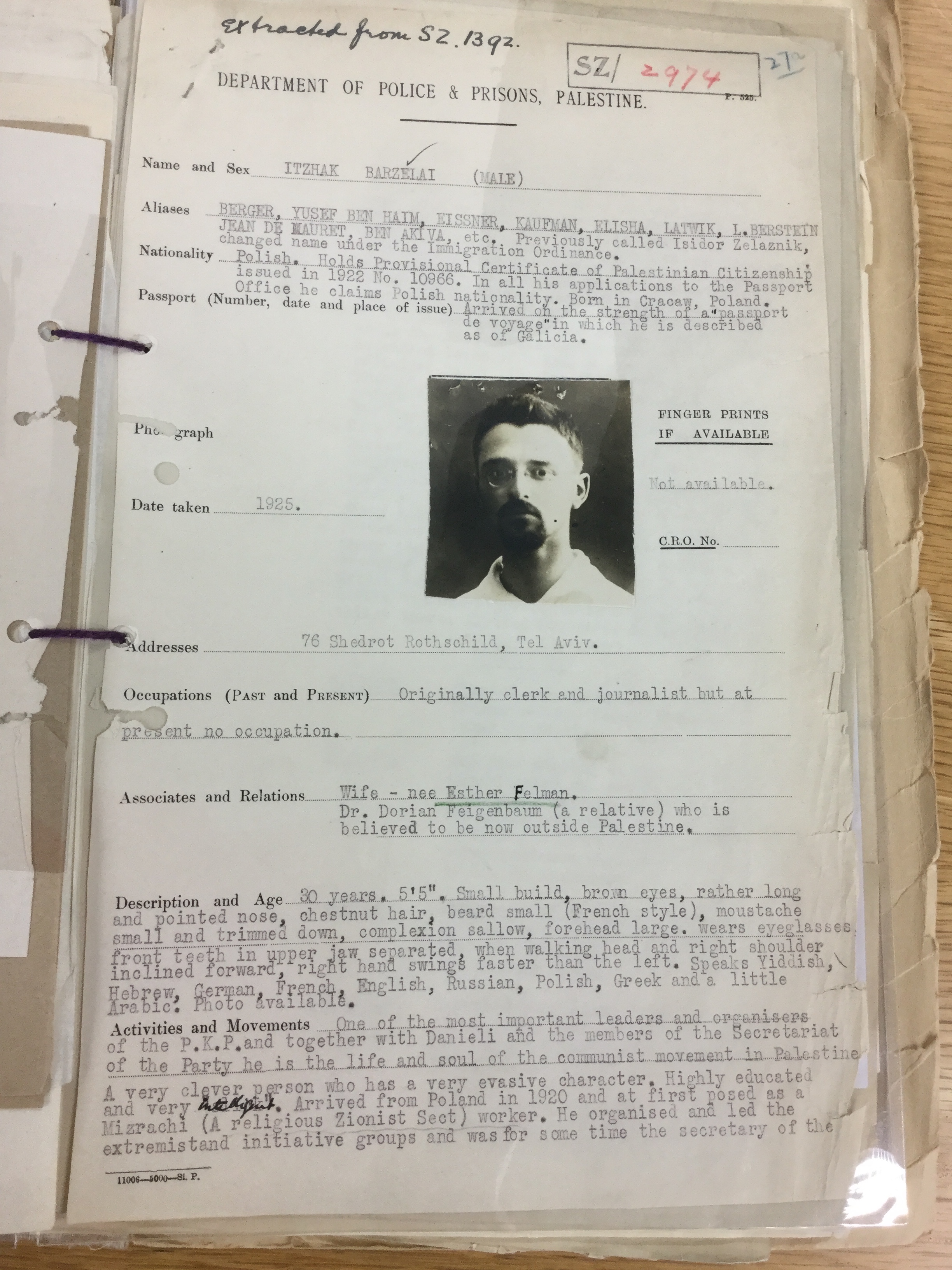 [Excerpt of Police file Joseph Berger Barzilia. One of founders of PKP. The National Archives (TNA), United Kingdom.]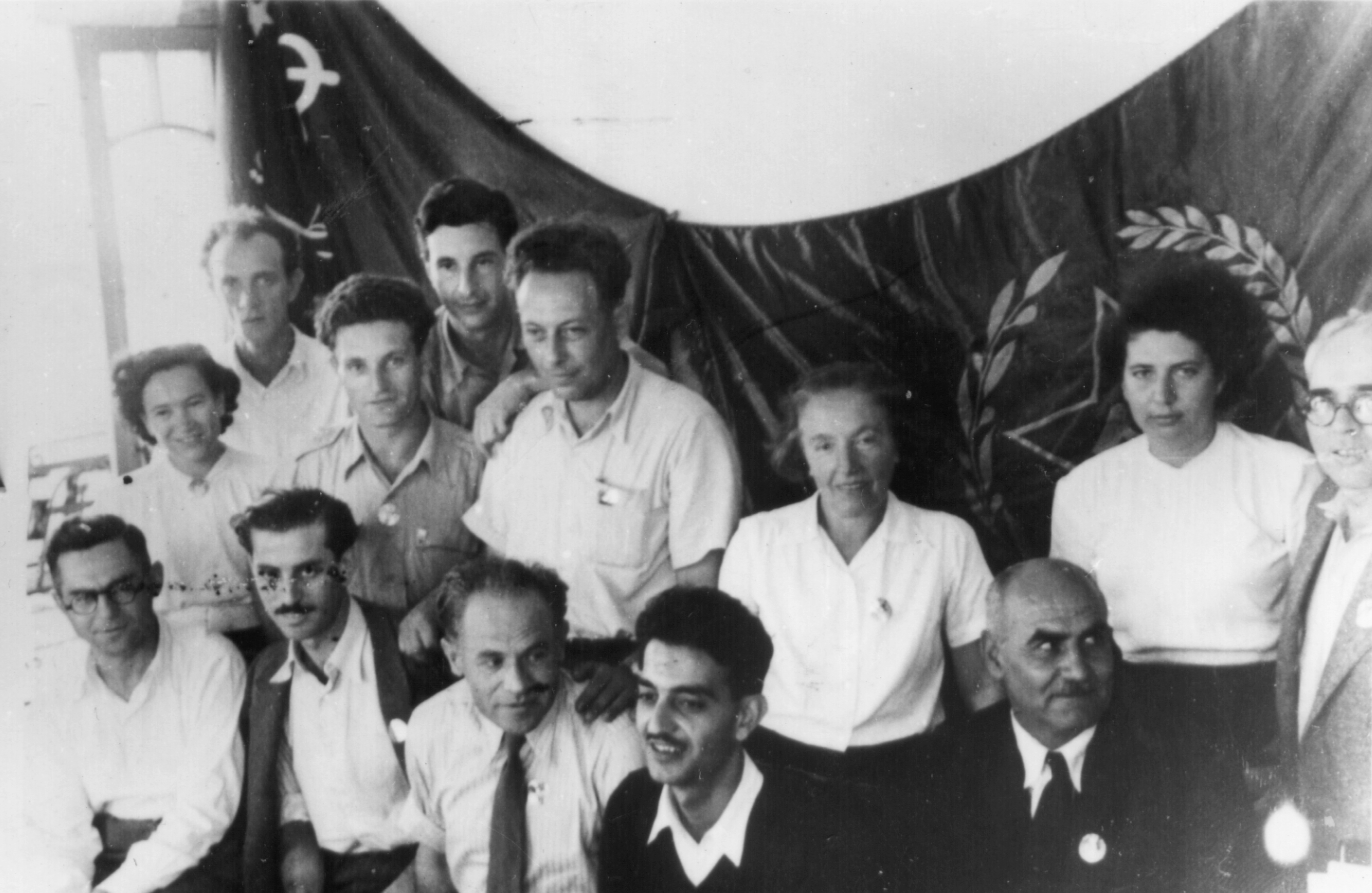 [Members of The Communist Party of Israel, also known as MAKI, in Haifa, 23 October 1948. All persons in the photograph were active in the PKP and the NLL. Seated (right to left): George Garabadian, Emil Habibi, Shmuel Mikunis, Towfic Toubi, Meir Vilner. Standing (right to left): Mordechai Biletski, Esther Vilenska, Pnina Feinhaus, Alyosha Gozansky, Wolf Ehrlich, Abraham Feigenboim, Eliyahu Drukman, Ruth Lubitsch. Haifa, 23 October 1948. Photo by Kobi Kastan. Private collection of Yoram Gozansky.]
Part 2: Documents
In the mid-1920s a communist party whose membership was wholly Jewish, in a country whose population was ninety percent Arab—the overwhelming majority of whom engaged in agriculture—directed its primary efforts at organizing the small Jewish working class. The Comintern for its part made persistent demands the party base itself among the native inhabitants of the country. As the earlier enthusiasm and expectation of a European proletarian revolution began to ebb, Lenin started to look for the "weak chain" in the world capitalist order and professed to see it in the colonies of the major European powers. This entailed engagement with national and anti-colonial liberation movements, which found theoretical and institutional expression in the Second World Congress of the Comintern (July–August 1920). The Arabization of the party in Palestine and forging alliances with the Arab national movement in Palestine was a natural corollary of this strategy.  Notwithstanding, these strategies remained hostage to the twists and turns of Comintern policy—which was itself tuned primarily to European political developments and to the imperatives of Soviet power.
Leon Zahavi, Lehud O Beyahad: Yehudim Ve'Aravim Be mismakhey Hakomintern 1919–1943 [Apart or Together: Jews and Arabs in Palestine According to Documents of the Comintern 1919–1943] (Jerusalem: Keter, 2005).
*Also see 2005/2006 Arabic edition: Sawiyya aw 'Ala Infirad: al-Yahud wa-l-'Arab fi Filisatin Hasab Watha'iq al-Komintirn.
Maher Sharif, Filastin fi al-Arshif al-Sirri li-l-Komintirn [Palestine in the Secret Archive of the Comintern] (Damascus: Dar al-Mada li-l-Thaqafa wa-l-Nashr, 2004).
Ivor Spectre, The Soviet Union and the Moslem World 1917-1958 (Seattle and London: 1959),  127–40, 156–78. (This volume includes documents of 7th conference of PCP, 1931)
*Also see 1961 Arabic edition.
Elias Murqus, al-Umummiyya al-Shuyu'iyya wa-l-Thawra al-'Arabiyya: al-Kifah Didd al-Imbiriyaliyya, al-Wihda, Filastin: Watha'iq 'Am 1931 [Communist Internationalism and the Arab Revolution: The Struggle Against Imperialism, Unity, Palestine. The 1931 Documents] (Beirut: Dar al-Haqiqa, 1970).
Y Frankel, Hatnu'a hakomonstit v ha Yishuv b Eretz Yisrael 1920-1948 [The Communist Movement and the Yishuv in Palestine 1920-1948: Collection of Communist Documents] (Jerusalem: Acadamon, 1968).
National Liberation League, Tariq Filastin ila al-Hurriyya: Muthakarat NLL to UN August 1947 [Memo Submitted by the NLL to the UN: Palestine's Path to Freedom, 1947] (Jaffa).
"Leaders of the Palestine Communist Party Give Evidence to UNSCOP," 15 July 1947.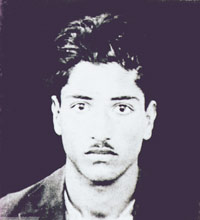 [Radwan al-Hilu (Musa), leader of PKP 1934–43. Central Zionist Archives (CZA), Jerusalem.]
Part 3: Memoirs
Several Arab and Jewish members of the communist movement have written memoirs. These vary in coverage and quality and need to be read with a certain degree of critical scepticism. Some are straightforward accounts of lifelong political activity and adherence to communism. Some are written after their authors had long left the ranks of the communist movement, and thus cast a critical view on past activity through the prism of the authors' contemporary realities. Human nature being what it is, most are self-centred and self-promoting highlighting the authors' central role while neglecting the part played by others. At the same time, most seek to undertake small (and not so small) corrections to the historical record.
Yosef Barzilai, "Jerusalem August 1929," The Jerusalem Quarterly, no. 46 (Spring 1988).
*Also see original Hebrew version in KESHET (1965).
Joseph Berger, Shipwreck of a Generation: The Memoirs of Joseph Berger (London: Harvill, 1971).
Ruth Lubitz,  Baharti Lihyot Bema'avak [I Choose a Life of Struggle] (Tel Aviv: Shahar, 1985).
*Also see 1987 Arabic edition published in Tel Aviv.
Pnina Feinhaus, Memoirs, ed. Yafeh Gavish (Maki, 1993). (HEBREW)
Nachman List, "And the Comintern was Right," The Jerusalem Quarterly, no. 46 (Spring 1988).
*Also see original Hebrew version in KESHET.
Boulous Farah, Min al-'Uthmaniyya ila al-Dawla al-'Ibriyya [From Ottomanism to the Hebrew State] (Nazareth: al-Sawt, 1985).
*Also see 2009 Hebrew edition translated by Udi Adiv and published under the title From Ottomanism to the Hebrew State: The Story of a Palestinian Communist and Patriot 1910-1991.
Musa Budeiri, Shuyu'in fi Filastin: Shadhaya Tarikh Mansi  [Communists in Palestine: Fragments of A Forgotten History] (Ramallah: Muwatin, 2013).
Musa Budeiri, "Interview: Najati Sidqi and the Arabisation of Palestinian Communism," Birzeit Research Review, no. 2 (Winter 1985/86).
Odeh al-Ashhab, Memoirs, Pages from Palestinian Memory series (Birzeit University, 1999).
Hanna Abu Hanna, ed., Muthakarrat Najati Sidqi [The Memoirs of Najati Sidqi] (Beirut: 2001) 
Maher al-Sharif, ed., Tariq al-Kifah fi Filastin wa-l-Mashriq al-'Arabi: Mudhakkarat al-Qa'd al-Shuyu'i Mahmoud al-Atrash al-Moghrabi. [The Path of Struggle in Palestine and the Arab East: Memoirs of the Communist Leader Mahmoud al-Atrash al-Moghrabi] (Beirut: 2015)
Dalia Karpel, "Simha Tazbari: A Revolutionary Life," Haaretz, 8 December 2004.
*Published in English and Hebrew.
Part 4: The League of National Liberation 1944–1948.
The Arab-Jewish communist party imploded in 1943. While the Jewish members splintered into several factions, prominent party leaders like Simcha Tzabari and Meir Slonim refused to join the group led by Shmuel Mikunis & Meir Vilner, which presented itself as the legitimate Palestine communist party. With the dissolution of the Comintern in 1943, there was no longer a Moscow centre to grant or withhold legitimacy. The Arab membership of the movement, whose numbers had started to rise starting with the years of the 1936–39 Arab Revolt, now attracted a new kind of membership from among the lower-middle class and educated, in contrast to the peasants-turned-labourers who had been the mainstay of the party since its inception. They set up what became in 1944 a national communist organization under the name of League of National Liberation ('Usbat al-Taharrur al-Watani, abbreviated in English as NLL). This turned out to be a much more successful project of building an organization comprised of both Arab workers and educated urban youth than the PKP had ever been. In this sense, "Arabization" finally came to pass, but at the cost of the internationalist composition of the party. Radwan al Hilu (Musa), the Comintern-appointed PKP secretary since 1934, was not part of the new endeavor and shunned political activity. His withdrawal from political activity symbolized the loss of contact with Moscow and the end of the of the internationalist character of the party.
Musa Budeiri, "Iqrar bi-l-Dhanb! Emil Tuma wa-l-Taqsim al-ladhi Lam Yahduth" [Mea Culpa! Emil Tuma and the Partition of Palestine which Never Happened] Bidayat, no. 18/19 (Winter 2017/2018).
Illana Kaufman, "Communists and the 1948 War: PCP Maki and the NLL," Journal of Israeli History 33, no. 2 (2014): 115–44. 
Abigail Jacobson, "Between Ideology and Practice, National Conflict and Anti-Imperialist struggle: The NLL in Palestine," Nations and Nationalism 25 (2019): 1412–31. 
Musa Budeiri, "Chapter 6," The Palestine Communist Party: Arab and Jew in the Struggle for Internationalism, second edition (Chicago: Haymarket, 2010).
Y Porath, "The National Liberation League 1943-1948, Asian & African Studies (1968).
Omar Hilmi al-Ghoul, "Usbat al Taharrur al Watani fi Filasteen: Nashatuha wa Tataworaha wa Dawruha" [The National Liberation League: Its Founding, Development, and Role 1943-1948] (Beirut: 1987).
Al Ghad, 1945-1947 [Cultural journal of League of Arab Intellectuals edited by Mukhlis Amro].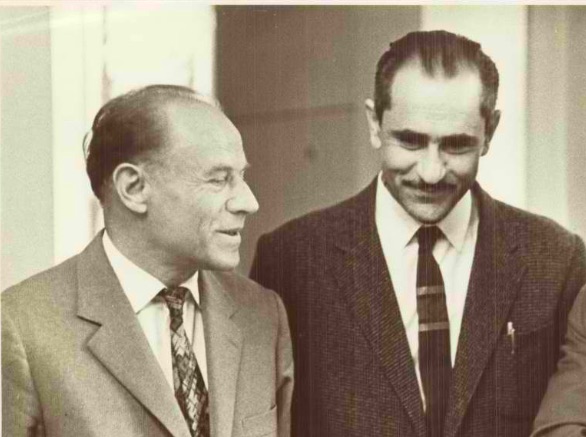 [Left: Shmuel Mikunis, General Secretary of United Arab-Jewish Communist Party. Right: Emil Tuma, leader of the NLL prior to 1948, whose membership in the Israeli Communist Party in 1949 was predicated on submitting a self-criticism for his previous opposition to partition in 1947/8.]
Part 5: The Communist Movement in the Gaza Strip
The NLL was active in the southern part of the country prior to the expulsion and collapse of Arab society during the 1948 war, which both created the Gaza Strip as an administrative territory and resulted the influx of tens of thousands of destitute refugees. The Arab communists in the strip maintained their independence, continuing to consider themselves the PCP. Since 1948 their history and their fortunes have been closely linked to that of the various sections of the Egyptian communist movement and the vagaries of Egyptian rule.
Muein Bseisu, Dafatir Filastinyya [Palestinian Notebooks] (Beirut: 1978).
Abdel Kader Yassin, Hizb Shuyu'i Dahruhu illa al-Ha'it: Shahada Tarikhiyya 'an al-Harka al-Shuyu'iyya fi Qita' Gazza 1948-1967 [A Communist Party with its Back to the Wall: An Historical Testimony on the Communist Movement in the Gaza Strip 1948-1967] (Beirut: 1978)
Abdul Aziz al 'Uti, Rihlat al-'Umr: Min Shatt Ghazza ila al-Sahra' al-Jafr [The Journey of A Lifetime: From the Shores of Gaza to the Desert of al-Jafr] (Amman: 2012)
Abdul Rahman Awadallah, Min Fayd al-Dhakira [An Overflow of Memory] (Ramallah: 2008).
Part 6: The Trotskyist Movement in Palestine
The few communists in Palestine who adhered to a Trotskyist position were never more than a fringe of a fringe. Already in the mid-1930s, Mordechai Stein published a Hebrew journal HAOR, and an Arabic version AL NOUR with the aid of an Arab assistant Abdul Rahim al-Iraqi. There is no evidence that they succeeded in winning more than a handful of adherents. In the 1940s, a small Jewish group constituted itself as a branch of the Fourth International (est. 1938). Beyond publishing a few leaflets, police records do not indicate any discernible activity. Jabra Nicola was a member of the Fourth International secretariat and later a member of a small Arab-Jewish group Socialist Organization of Israel (est. 1962 and better known by MATZPEN, the name of its publication). He had earlier been active in the 1930s and 1940s in the ranks of the PKP and later in The Israeli Communist Party (est. 1947, and better known by MAKI). Nicola was the most prominent party member to switch allegiance.
On the history of the Trotskyist movement in Palestine, see al-Munadil, no. 15 (1972), a Beirut-based Arabic periodical.
"The Trotskyist Position in Palestine: Against the Stream," Fourth International 9, no. 3 (May 1948).
"La Situation en Palestine: These du Groupe Trotskyste en Palestine en 1948" [The Situation in Palestine: Thesis of the Trotskyist Group in Palestine in 1948], Quatrieme Internationale, no. 6/7 (1948).
*Also see Arabic version published as "al-Wada' fi Filastin: Mawdu'at al-Tajamu' al-Trutski al-Filastini," al-Munadil, no. 15 (1972).
Jabra Nicola, "Theses on the Revolution in The Arab East," 1972.
Moshe Machover, "Obituary: Comrade Jabra Nicola (1912-1974), Matzpen, no. 73 (March/April 1975).
*Originally published in Hebrew and translated into English by the author.
Ran Greenstein, "A Palestinian Revolutionary: Jabra Nicola and the Radical Left, Jerusalem Quarterly 46 (2011): 32–48.
Tony Cliff (Yigal Gluckstien), "The Middle East at the Crossroads," Fourth International 7, no. 2 (February 1946).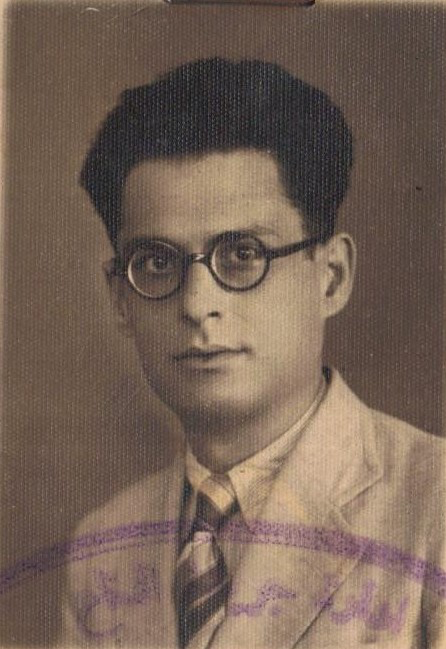 [Jabra Nicola, writer and journalist, Palestinian Arab Trotskyist, and member of PKP, MAKI, and MATZPEN. In the 1960s, he was a member of the Executive Committee of the Fourth International. Personal archive of Elias Nicola.]
Part 7: The Labor Movement                                                                                 
The PKP's initial effort at organizing was within the ranks of recently arrived Jewish workers. This was its natural milieu. It saw its task as the preparation for the proletarian revolution, but it faced formidable obstacles. The organizing imperative of the dominant trend with the Zionist movement sought to mobilize labor as the mainstay of its settlement program. It raised the slogan of "Hebrew labor" and purposely eschewed the recruitment of Arab workers, reinforcing its ideological stance by calling for the "conquest of labor." The party formed a workers' faction (fraktzia) which attempted to radicalize the Jewish workers' union, the Histadrut (est. 1920), from within. It failed. Among the Arab peasants recently turned laborers it made little headway. The PKP split in 1943 and the establishment of an Arab "national communist" party led to the successful establishment of a communist-led Arab labor organization, the Arab Workers Congress (AWC). The rapid growth of Arab labor during the World War II years provided a base for the NLL's activities and the AWC endowed it with a popular image.
Bulous Farah, "Al Harakah al Umaliyah al Arabiyah al Filastiniyah: Jadaliyat Ba'thuha wa Soqutiha" [The Arab Palestinian Labour Movement the Dialectics of Its Rise and Fall] (Haifa: 1987).
Musa Budeiri, "Tatawwur al-Haraka al Ummaliyya fi Filastin: Muqadima Tarikhiyya wa-Majou'at Wath'iaq" [The Development of the Arab Labor Movement in Palestine: An Historical Introduction and Collection of Documents 1919-1948] (Beirut: 1981).
Zachary Lockman, Comrades and Enemies: Arab and Jewish Workers in Palestine 1906-1948 (Berkeley: University of California Press, 1996).
Simha Tzabari, Tnu'out Havoda da Ha'Aravit be Eretz Yisrael batkufa haMandat haBriti [The Arab Labor Movement in Israel during the British Mandate: Collection of Arabic Newspaper Reports] (Tel Aviv: Tel Aviv University, 1975).
British Resident (Thomas Hodgkin), "Who is Prosperous in Palestine?" Labour Monthly, no. 7 (1936).
Part 8: Recent Writings
The communist movement in Palestine fathered numerous communist organizations both Arab and Jewish in Israel, Jordan, Gaza, and in the semi-autonomous Palestinian enclave under Israeli control (i.e., the West Bank). This is covered in an article which presents an overview of the communist movement from its inception right up to the present (Budeiri 2019). Two more works (Locker Biletski and Ben Zaken) present a novel theoretical perspective faulting the communists for offering "no insight in the specificity of settler colonialism" on the one hand, and for being part of a hegemonic "cultural Eurocentric implant" divorced from native reality.
Musa Budeiri, "Class and Nation: Arab and Jewish Communists in Palestine" in Communist Parties in The Middle East: 100 Years of History, ed. Laura Feliu & Ferran Izquierdo-Brichs (London: Routledge, 2019).
Amir Locker Biletski, "Colonialism and Imperialism in Communist Thinking in Palestine Israel 1919-1965," Settler Colonial Studies 8, no. 3 (May 2017): 384–99.              
Avner Ben Zaken, "From Universal Values to Cultural Representation," in 1929: Mapping the Jewish World," ed.  Hasia R. Diner & Gennady Estraikh (New York: 2013).
Musa Budeiri, "Reflections on A Silenced History: The Palestine Communist Party and Internationalism," Jerusalem Quarterly, no. 49 (Spring 2010).
*Also see Arabic translation: "Ta'amulat fi Tarikh Maktum: al-Hizb al-Shuyu'i al-Filasitini wa-l-Umumiyya," Majallat al-Dirasat al-Filastiniyya, no. 92 (Autumn 2012).
Avner Ben Zaken, "Kommunism Ka Imperialism Tarbouti: Ha Zikah bein Hakommunism Eretz Yisraeli Lkommuniusm Ha'Aravi". [Communism as Cultural Imperialism: The affinities between Eretz-Israel communism and Arab communism 1919-1948] (Tel Aviv: 2006).
Part 9: Arab Nationalist Critiques of the Communist Movement in Palestine
The natural antagonism between communists and nationalists is a given. This was sometimes suspended, but the Palestine cause has always been a bone of contention. This erupted publicly in the late 1950s when Egyptian president Gamal Abdul Naser became the primary nationalist symbol of the Arab struggle against Israel. The underlying issues continue to simmer. Vulgar reproductions of Cold War literature have long been abandoned however, at least in the serious scholarly literature. More pertinent critiques start with the PCP's volte face after the USSR declared its support for partition in mid-1947. The communists are accused of shouldering responsibility for the Nakba, some going as far as to accuse them of actual participation in Israel's violent birth—citing arms transfers from Eastern Europe—while other critiques chart the history of communist collaboration with the nascent Israeli state after 1948 to the detriment of the aboriginal Arab inhabitants.
Ahmad Saadi, "Communism and Zionism in Palestine Israel: A Troubled Legacy," Holy Land Studies 9, no.2 (2010).
Adel Manaa, "Chapter 3: Arab Communists Between Nakba &Independence," in Nakba wa-Baqa': Hikayat Filastiniyyin Dhallu fi Hayfa wa-l-Jalil 1948-1956 [Nakba and Survival: The Story of the Palestinians Who Remained in Haifa and the Galilee 1948-1965] (Beirut: Institute for Palestine Studies, 2016).
*Also see Hebrew edition and forthcoming English edition.
Mahmoud Muhareb, "Dawr al-Hizb al-Shuyu'i al-Isra'ili fi al-Nakba" [The Role of the Israeli Communist Party in the Nakba] USTOUR, no. 9 (December 2018).
Hunaida Ghanem, "al-Hizb al-Shuyu'i fi Isra'il bayn al-Qawmiyya wa-l-Dawla" [The Communist Party in Israel between Nationalism & the State], Majallat al-Dirasat al-Filastiniyya, no. 112  (Autumn 2017).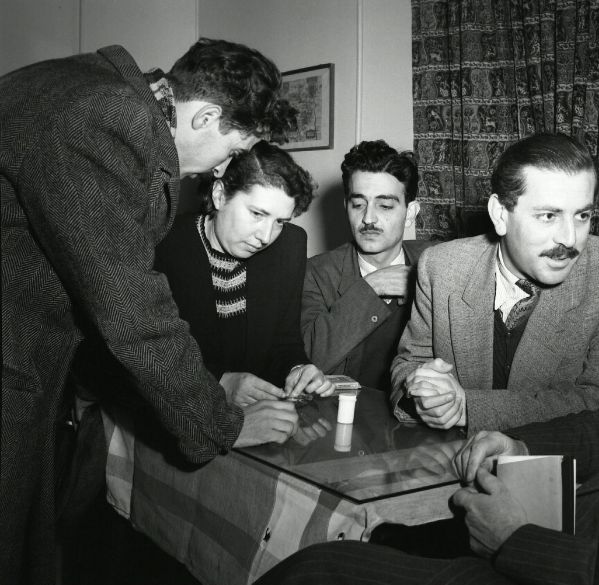 [Leaders of The Israeli Communist Party (MAKI) in the early 1950s. Left to right: Ether Vilenska, Emil Habbibi, and Towfic Toubi. Both Vilenska and Habbibi were PKP members. Toubi was an NLL member, with PKP connections as a student.]