[Engaging Books is a monthly series featuring new and forthcoming books in Middle East Studies from publishers around the globe. Each installment highlights a trending topic in the MENA publishing world and includes excerpts from the selected volumes.This installment involves a selection from Brill Publishers on the theme of Muslim Minorities. Other publishers' books will follow on a monthly basis.]
 Table of Contents
State, Religion and Muslims: Between Discrimination and Protection at the Legislative, Executive and Judicial Levels
 Edited by Melek Saral and Şerif Onur Bahçecik
About the Book
About the Author
Additional Information
Where to Purchase
Excerpt
Call for Reviews
Islam in Post-Communist Eastern Europe: Between Churchification and Securitization
By Egdūnas Račius
About the Book
About the Author
Additional Information
Where to Purchase
Excerpt
Call for Reviews
On the Margins: Jews and Muslims in Interwar Berlin
By Gerdien Jonker
About the Book
About the Author
Additional Information
Where to Purchase
Excerpt
Call for Reviews
Muslims at the Margins of Europe: Finland, Greece, Ireland and Portugal
 Edited by Tuomas Martikainen, José Mapril, and Adil Hussain Khan
About the Book
About the Author
Additional Information
Where to Purchase
Excerpt
~~~~~~~~~~~~~~~~~~~~~~~~~
State, Religion and Muslims: Between Discrimination and Protection at the Legislative, Executive and Judicial Levels
Edited by Melek Saral and Şerif Onur Bahçecik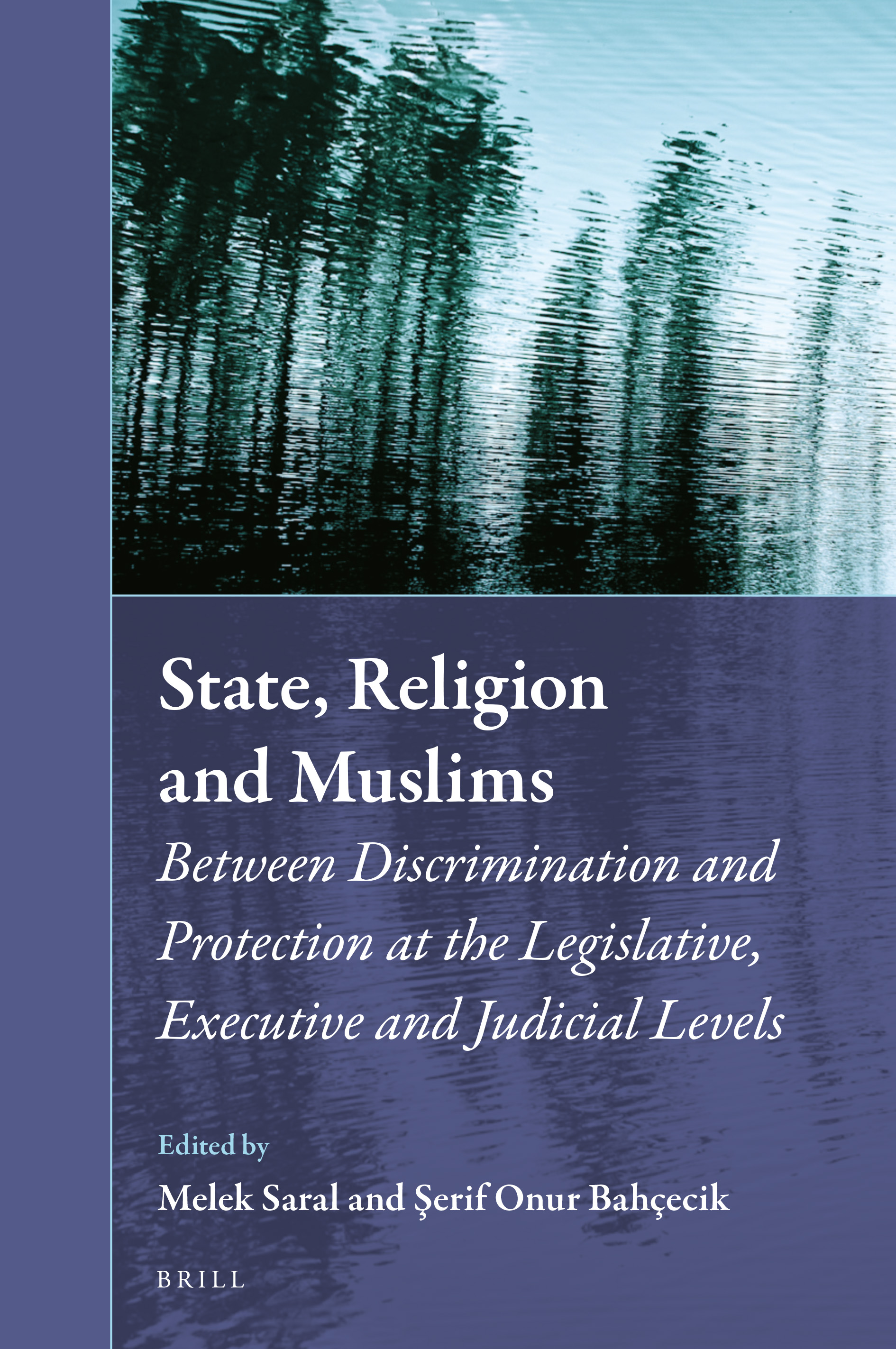 About the Book
State, Religion and Muslims: Between Discrimination and Protection at the Legislative, Executive and Judicial Levels brings together academics from different disciplines and offers an in-depth analysis of discrimination in specific areas of life which affects Muslims in Western countries. The volume undertakes a comprehensive examination of the discriminatory practices across 12 countries while situating them in their institutional frameworks.
Exploring critical aspects of discrimination against Muslims – in areas such as education, employment, exercise of religion, state relations with religious communities as well as hate crime and hate speech – the volume shows the prevalence of individual, structural and institutional discrimination against Muslims living in Western countries.
Contributors are: Amina Easat-Daas, Andrea Pin, Beesan Sarrouh, Camille Vallier, Dieter Schiendlauer, Eva Brems, Ineke van der Valk, Ksenija Šabec, Maja Pucelj, Mario Peucker, Mosa Sayed, Nesa Zimmermann, Niels Valdemar Vinding and Safa ben Saad.

About the Editors
Melek Saral is a research fellow at SOAS, University of London. Melek received her Ph.D. from the University of Munich in the field of political science. She studied political science, law, and history at the University of Munich, the University of Bradford, and the European University Institute.
Şerif Onur Bahçecik is working as assistant professor at the Department of International Relations, Middle East Technical University, Ankara, Turkey. He holds a PhD degree from Carleton University, Canada in political science.

Additional Information
March 2020
Hardback (xiv, 620 pp.)
ISBN: 978-90-04-42145-5
E- ISBN: 978-90-04-42151-6
Price: €138 / US$166
Where to Purchase
Excerpt
"Muslims Between Discrimination and Protection at the Legislative, Executive and Judicial Levels in Western Countries" – Melek Saral
Since 9/11 Islam and Muslims have gained an increasing public visibility in the Western world, partially based on growing fear of terrorism at the international level. This visibility was also strengthened by the media coverage on Muslims in most of the Western countries representing Muslims as enemies and a public problem (Amiraux, 2005; Amman and Göle, 2004). In parallel with the increasing public visibility of Muslims and Islam in the Western countries, practices that disadvantage and discriminate against Muslims – including those who view themselves in a cultural and/or religious context as Muslims and those who are perceived as Muslims by others in society because of their cultural or ethnic background – have become a distressing problem through- out the Western world (Meer and Moodod, 2009). The FRA (European Union Agency for Fundamental Rights) Report "Muslims in the European Union: Discrimination and Islamophobia" published in 2006 illustrates how the discriminatory practices against Muslims affect them in employment, education and housing. The participants of a high-level meeting about tackling discrimination against Muslims in the EU, organised by the European Commission in December 2018 also pointed out the increasing discrimination against Muslims and the lack of adequate recognition of the seriousness of discrimination and of racism against Muslims (European Commission, 2018). The recent flow of refugees from Muslim countries to Europe has also strengthened negative attitudes against Muslims and fuelled the problem of discrimination. In line with prevailing attitudes towards migrant populations, Muslims have been targeted in policy areas such as internal security, education and social policy. Many Muslims living in Western countries now face multiple forms of discrimination, including verbal harassment, hate speech, violent attacks and religious profiling (OSCE 2017). Perhaps more worryingly, with the rise of far-right movements and the electoral gains of populist politicians in many western countries, a discriminatory attitude towards Muslims is becoming part of the global discourse.
The increasing tendency to discriminate against Muslims should be paid a special attention as its effects are far reaching, never limited only to the victims of the unequal treatment but extend beyond individual treatments. It is inevitable that discriminatory practices experienced in one field of life will affect other fields of life, for instance a victim of a discriminatory treatment in education will also be disadvantaged in employment. Moreover, the damages caused by the unequal treatments will have influence on other members of the family and even the society at large. As Makkonen puts it "discrimination and its causes and effects form a vicious circle that is hard to stop once it is set in motion" (Makkonen, 2012, p. 39). Additionally, the fact that the protection of rights and the elimination of discrimination is vital to democratic society, makes it necessary to identify discriminatory patterns affecting Muslims living in Western countries. Thus, there is a need to address this troubling tendency to understand the phenomenon of discrimination against Muslim populations across different countries.
The academic and policy communities have not been indifferent to the rise of discrimination. Scholars inquired into the causes of this phenomenon and reports have been published to highlight the situation of Muslim communities. These studies have rightly focused on the social, economic and political conditions that have given rise to this problem. However, legislative guarantees of equality and anti-discrimination laws do not always ensure protection from discriminatory acts and policies. In fact, the majority of the Western countries have laws prohibiting direct and indirect discrimination. Basically, grave discriminatory acts occur in spite of existing laws and regulations in international legal standards, and through the policies of the state. Even if the states don't desist from actively preventing the enjoyment of rights they might lack in executing policies that eliminate discrimination based on race, religion or sex in various fields of life. Moreover, guarantees of equality enshrined in the laws rarely elaborate on the meaning of equality or discrimination. In most cases courts are left to give meaning to the concepts. The interpretation of the judiciary in determining what differences are relevant in comparing the equality or inequality of individuals and groups lead to a spectrum of different results in some cases resulting in discrimination of victims (Shelton, 2009, p. 262).
The existing literature on discrimination mostly is characterized by intertwined terminology applied in the research on this field. As a result there is a vast variety of studies focusing on Islamophobia (Esposito and Kalın, 2011; Schenker and Abu-Zayyad, 2006; Allen, 2010; Bleich, 2012; Helbling, 2012), on anti-Muslim racism (Fekete, 2004; Meer and Moodod, 2009), cultural racism (Meer and Moodod, 2008) and on religious discrimination (Amiraux 2007). The majority of the literature analyses a particular aspect of discrimination looking at certain areas (Zaniniddinov, 2016) such as employment (Kaushal, Kaestner and Reimers, 2007; Vicker, 2016), education (Aroian, 2012) or daily life (Livengood and Stodolska, 2004). Annotated Legal Documents on Islam in Europe published by Brill marks another important piece of literature which consist of an annotated collection of current legal documents affecting the status of Islam and Muslims in Europe. The project gives a comprehensive overview about texts of legislation, including relevant secondary legislation, as well as significant court decisions regarding the religious dimensions of being Muslim in Europe. While the above-mentioned literature addresses some specific areas, there are no comprehensive analyses of how discrimination occurs at executive, legislative and judiciary level and how this impacts the lives of Muslims living in Western countries. No systematic study has discussed the dis- criminations against Muslims across various fields (including education, employment, exercise of religion, state relations with religious communities and hate crime and hate speech), as well as at different levels (including executive practices, legislative actions, policies, and judicial decisions).
This volume draws together academics from various disciplines and offers an in-depth analysis of discrimination in specific areas of life which affects Muslims in Western countries. The volume undertakes a comprehensive ex- amination of discriminatory practices against Muslims at the legislative, executive and judicial levels while situating them in their institutional framework.

Call for Reviews
If you would like to review the book for the Arab Studies Journal and Jadaliyya, please email info@jadaliyya.com
Islam in Post-Communist Eastern Europe: Between Churchification and Securitization
By Egdūnas Račius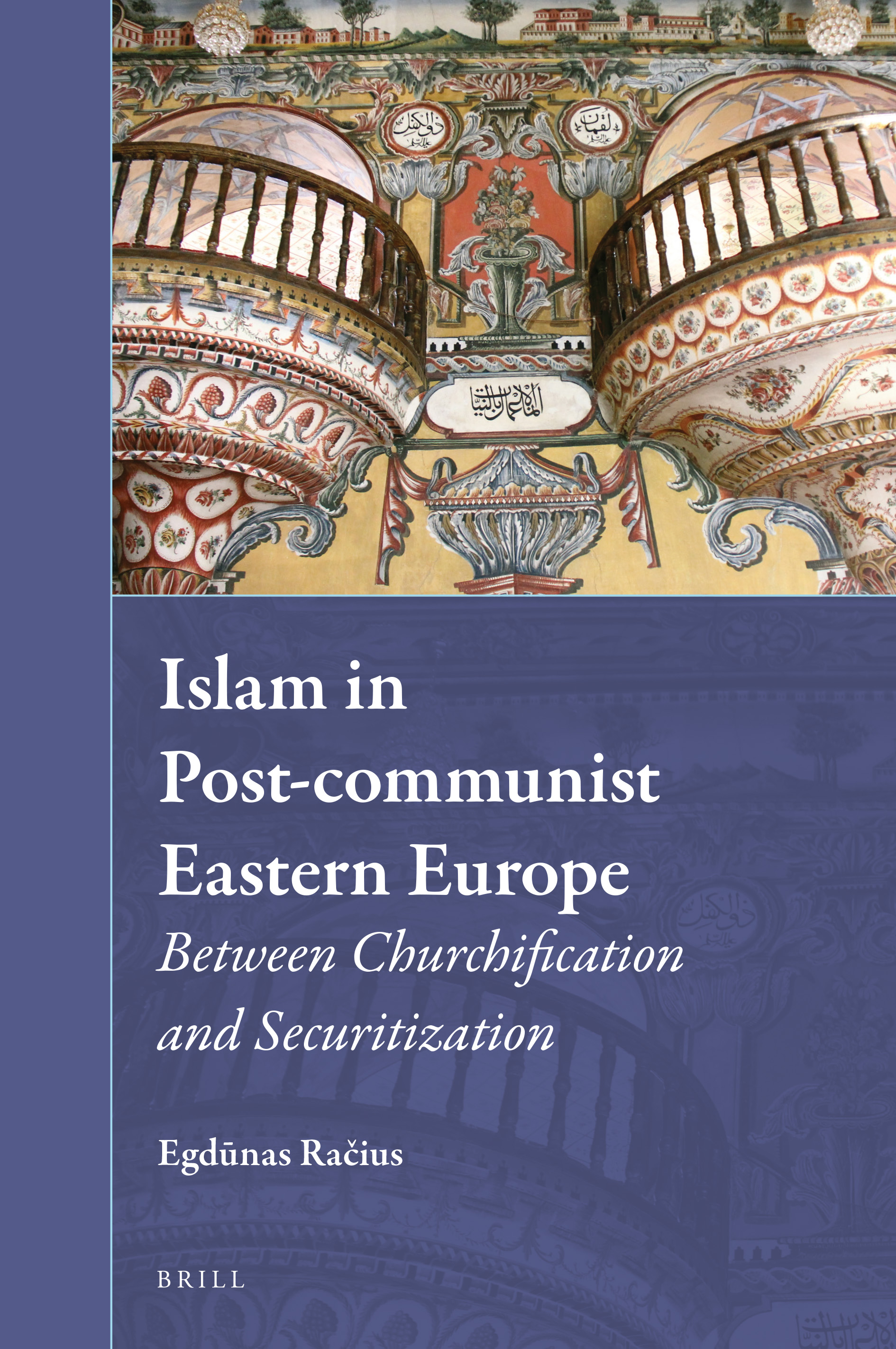 About the Book
In Islam in Post-communist Eastern Europe: Between Churchification and Securitization Egdūnas Račius reveals how not only the governance of religions but also practical politics in post-communist Eastern Europe are permeated by the strategies of churchification and securitization of Islam. Though most Muslims and the majority of researchers of Islam hold to the view that there may not be church in Islam, material evidence suggests that the representative Muslim religious organizations in many Eastern European countries have been effectively turned into ecclesiastical-bureaucratic institutions akin to nothing less than 'national Muslim Churches'. As such, these 'national Muslim Churches' themselves take an active part in securitization, advanced by both non-Muslim political and social actors, of certain forms of Islamic religiosity.
About the Author
Egdūnas Račius, Ph.D. (2004), University of Helsinki, is Professor in Islamic Studies at Vytautas Magnus University, and Senior Researcher in the project Post-secular Condition at Vilnius University, Lithuania. His research focuses on Eastern European Muslim communities. He is the author of Muslims in Eastern Europe (Edinburgh University Press, 2018).

Additional Information
May 2020
Hardback (viii, 250 pp.)
ISBN: 978-90-04-42534-7
E-ISBN: 978-90-04-43052-5
Price: €99 / $119
Where to Purchase
Excerpt

Introduction: "What? The Churchification of Islam; Where? In Eastern Europe"
While initiating a book project on muftiates in the European lands of the former empires (Račius and Zhelyazkova, 2017), it did not cross my mind to think of the institution of the muftiate (or however it is referred to in local settings) as an ecclesiastical structure. Though I accepted the muftiate's administrative function, I thought of it mainly as a power base for the Muslim community, comprising both spiritual and administrative capacities. However, with time, and particularly during the research for my book on Muslims in Eastern Europe (Račius, 2018a), it increasingly dawned on me that the institutionalization (as a continuous process rather than a one-time legislative act) of Islam in some post-communist countries of the region embraces features akin to nothing less than its churchification. I shared my impressions and an emerging wish to explore this in more detail with colleagues in the region. Most of them found it worth an effort and encouraged me to embark upon the task. This book is the result and product of the efforts of several years devoted to answering the question of whether the governance of Islam in post-communist East- ern Europe is infused with the intent of the institutional (if only, functional) churchification of Muslim religious collectivities in the region.
Admittedly, the term "churchification of Islam" so far is not commonly used in Anglophone academic or other literature and still remains an exotic, politically and otherwise sensitive, neologism. But the strategy and the process based on it that the term designates are, as shown by the sources used in this book, one or another way recognized, described, and analyzed by numerous researchers of Islam in Europe. Sometimes they are referred to as ecclesification (or ecclesiastification, as Jørgen S. Nielsen prefers it (Vinding, 2018: 50, 57)) and their end-state is seen as formation of "Muslim churches." Ecclesification, however, should not be seen as a synonym of churchification. Put simply, ecclesification of any religion implies creation (top-down, by outside lay forces, such as the State, or bottom-up, by inside actors) of a clerical class or stratum that monopolizes the right to perform and lead religious rituals and to interpret holy texts and religious signs. The process (and strategy, if it is top-down, e.g. State-pursued) of ecclesification, however, may stop short of churchification, which comes to its fruition when a religious collectivity ultimately turns into a hierarchically structured ecclesiastical-bureaucratic institution staffed and served by clergy. In other words, while churchification is hardly possible without ecclesification, ecclesification should not, at least in theory, necessarily end in churchification.
In the German-speaking realm, the German-language equivalent of the concept "churchification of Islam," "Verkirchlichung des Islam," has not only been coined but has also been widely used in German, Austrian, and Swiss academia and media (Tezcan, 2016; Şahin, 2017: 102; Engelhardt, 2017: 15, 140; Schmid et al., 2014: 15; Hunger and Schröder, 2016: 230; orf, 2017). In German-language texts, churchification of Islam in the form of "Verkirchlichung des Islam," is seen by its users, who advocate either for or against churchification of Islam, as a controversial term, and is used almost exclusively in connection with state-religion relations and intra-communal dynamics in Muslim communities in Germany, Austria or Switzerland (Akgün, 2015). In the Francophone realm, no direct equivalent of the term "churchification of Islam" appears to have been used so far; however, the term "Église musulmane" (a Muslim Church), still seen as a polemical, appeared as early as the 1980s (Rouzeik, 1988; Etienne, 1989) and is used to this day (Tincq, 2016), particularly in connection with the governance of Islam in France. A Russian equivalent of the term, "oцерковление ислама," though a technically grammatically correct neologism, has hardly been used yet either. Nonetheless, I dare to suggest that the term "churchification of Islam" describes best a seminal feature of the governance of Islam in a range of Eastern European countries explored in this book.
But how is this "churchification of Islam" to be understood? The general term "churchification" may imply that the religion under research (in this case, Islam) is being turned (either from within, by its own followers or from outside, for instance, by political authorities, or both, from within and outside) theologically into a Christian-like system of religious beliefs and rituals—in other words, its Christianization. Or it may suggest that the religion under investigation is being turned (either from within, by its own followers or from outside, for instance, by political authorities, or both, from within and outside) institutionally into a church-like religious (ecclesiastical-bureaucratic) structure, as defined and analyzed by the sociology of religion from Weber and Troeltsch on. Though the first alternative may also occur in practice (particularly in local forms of folk religiosity in religious borderlands), any possible tendencies within Islam of getting closer to Christianity (through some syncretic beliefs and practices), undeniably having taken place in Muslim diasporic com- munities (and particularly, in Eastern Europe), remain outside of the scope of the analytical gaze of this book. It is solely the second understanding of churchification which is the focus of the present research. Needless to say, this book confines itself to an analysis of the institutional, structural, and functional churchification of just one religious tradition, that of Islam, and is limited both time- (the current post-communist period) and space-wise (Eastern Europe).
Call for Reviews
If you would like to review the book for the Arab Studies Journal and Jadaliyya, please email info@jadaliyya.com
On the Margins: Jews and Muslims in Interwar Berlin
By Gerdien Jonker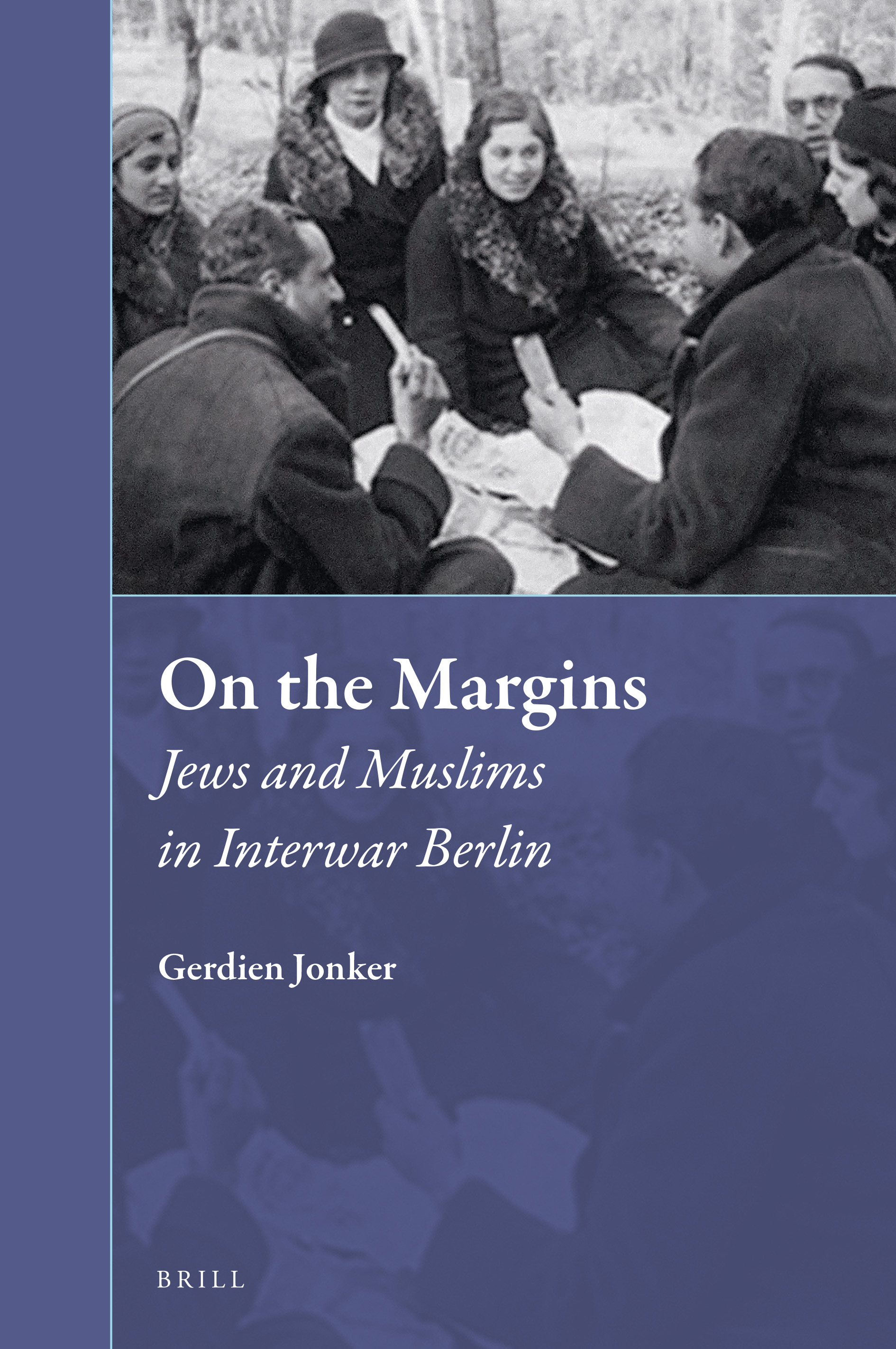 About the Book
This study addresses encounters between Jews and Muslims in interwar Berlin. Living on the margins of German society, the two groups sometimes used that position to fuse visions and their personal lives. German politics set the switches for their meeting, while the urban setting of Western Berlin offered a unique contact zone. Although the meeting was largely accidental, Muslim Indian missions served as a crystallization point. Five case studies approach the protagonists and their network from a variety of perspectives. Stories surfaced testifying the multiple aid Muslims gave to Jews during Nazi persecution. Using archival materials that have not been accessed before, the study opens up a novel view on Muslims and Jews in the 20th century.

About the Author
Gerdien Jonker, Ph.D. (1993), Groningen University, is senior researcher at Erlangen University. She has written a number of publications on Muslims and Jewish encounters in the interwar period, including The Ahmadiyya Quest for Religious Progress: Missionizing Europe 1900-1965 (Brill, 2016).
Additional Information
January 2020
Hardback (xviii, 254 pp. (with 19 ill.))
ISBN: 978-90-04-41873-8
E-ISBN: 978-90-04-42181-3
Price: Open Access – Hardback: €99 / $119
Where to Purchase
Excerpt
This book is a spinoff from my previous one, The Ahmadiyya Quest for Religious Progress. While conducting research on the Lahore-Ahmadiyya Muslim reform movement, which was operating in Berlin during the interwar years, I came across a curious photograph. Taken in Berlin in 1935, it depicts a group of boys and girls standing and kneeling on a Persian carpet, which, judging from its size, was a prayer mat. The children are frozen, as if in a still-life, in a garden with a meadow and some shrubbery. Their ages range from about six to sixteen and they look exactly like children did at that time and in that place. The boys are wearing short trousers and wide collars and the girls have ribbons in their bobbed hair. They tilt their smiling faces to the camera. A vaguely proprietorial looking man in a three-piece suit is posing next to the carpet with his hands casually shoved into his back pockets. The caption reads, 'Muslim children receive religious instruction from the Imam of the Berlin Mosque, Dr S.M. Abdullah'.
Through my research I already knew Dr Abdullah. I had learned that his predecessor had built a mosque in Berlin in 1924, that he had invited the Berlin population to join hands between 'East and West', and that, when taking his place in 1928, Abdullah had encouraged intellectual exchange and intercultural marriage. In the photographs featuring the mosque community, I had noted an increase in mixed couples with babies in their arms. Now, for the first time, I wondered whether those children were still alive.
Although unable to trace any of the children in the actual photograph, during my research I was able to establish contact with some of their descendants in a wide range of geographical places, including Warsaw, Stockholm, Woking, Jerusalem, Mumbai and Cape Town. With some, I conducted lengthy email exchanges in which they shared their memories and sent me letters and photographs. Others I was able to meet. During those visits I was shown the various heirlooms they kept in their homes and listened to their stories. Four times I faced the towering task of making an in-depth analysis of a collection of papers and documents.
There is a growing literature on the shared interests of Jews and Muslims in the twentieth century, in places ranging from the Russian Empire and Baltic Sea countries to Morocco and Palestine. In such different regions, under particular historical circumstances, Jews and Muslims saw themselves 'as groups with intertwined histories, cultures, beliefs, even blood'. Nonetheless, finding references to Muslims in Jewish family archives and vice versa in Berlin in the interwar years, came to me as a surprise and, after my first such discovery, I deliberately started to look for more. The search brought to light a small network that covered a series of overlapping circles. Although Jews and Muslims in interwar Europe have been studied independently, with each new find it became increasingly evident that the relationships between them had been overlooked. In this study, I propose to describe the micro and macro religious histories that their meetings implied.
I apply the term network in a pragmatic sense here. It is crucial that the communication happened in a defined space and time, occurred at different levels and included several friendship circles and personal networks. I found photographs of mixed (Jewish and Muslim) couples at iftar meals, New Year dances, and marriage parties. I read letters that described their friendship and student circles, and in the course of my research I learned about personal networks, work contexts and regular places of meeting. The exploration of shared interests showed in every document.
Assumptions presented themselves. With each meeting and each private archive, it became increasingly obvious that the encounters between Jews and Muslims in the interwar years had encompassed visions of the world at large and had been given shape in the participants' private lives. In its different activities, the group seemed to encircle the same amalgam of topics, in which religious renewal, reform of the self, political independence, and equality between civilizations were central. While trying to realize those aims in their personal lives, the protagonists embarked on an adventure to transcend borders, geographies, religious traditions and conventional expectations to achieve cross-border cooperation. Focusing on a future in which injustice, discrimination and unequal treatment (of people and of civilizations) would have disappeared, they not only discussed and developed all kinds of projects, but also took part in sporting events, arranged dances and had love affairs. In other words, they behaved like any international student group would behave today, except that at that time there were no precedents to follow.
By including their landladies, neighbours, doctors and dentists in their circle – in Lucie Hecht's case even her parents and their friends – over a period of approximately sixteen years, from 1923 to 1939, Muslim émigrés in Berlin and some of their Jewish neighbours formed a network, albeit a somewhat fragile one. Although the world outside this network seldom appears in the documents, in 1933 it was clear to all involved that their meetings had been taking place in the shadow of other, larger happenings in Berlin. As Jews became threatened, their friendships with Muslims gradually moved underground. The catastrophe took its course. After the war, the network existed only in the memories of those who had survived it; the magnanimous dream of a cosmopolitan group of avant-garde people ready to change the world had evaporated. Afterwards, they even found it difficult to explain what it had all been about to their children.
Call for Reviews
If you would like to review the book for the Arab Studies Journal and Jadaliyya, please email info@jadaliyya.com
Edited by Tuomas Martikainen, José Mapril, and Adil Hussain Khan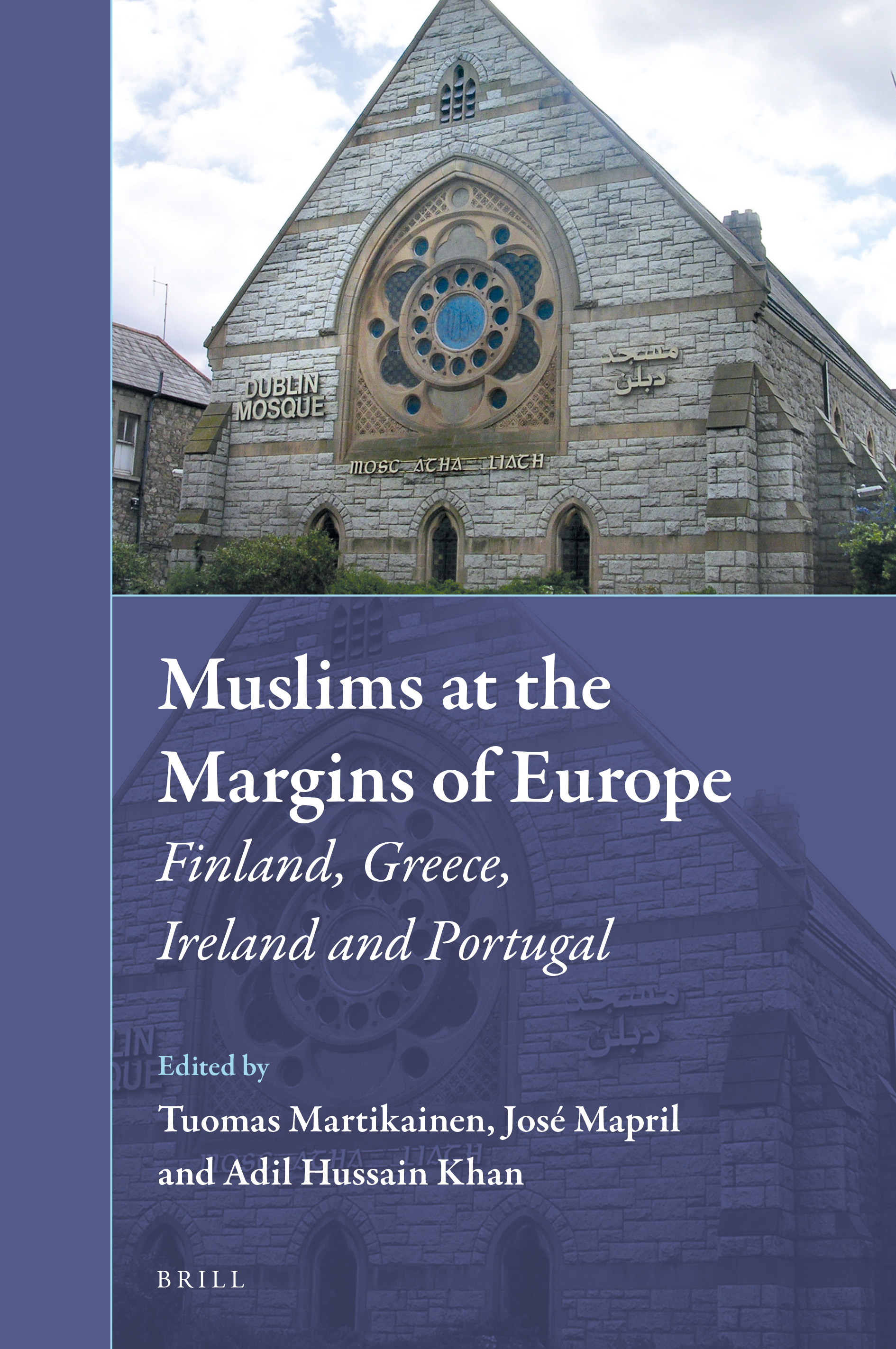 About the Book
This volume focuses on Muslims in Finland, Greece, Ireland and Portugal, representing the four corners of the European Union today. It highlights how Muslim experiences can be understood in relation to a country's particular historical routes, political economies, colonial and post-colonial legacies, as well as other factors, such as church-state relations, the role of secularism(s), and urbanisation. This volume also reveals the incongruous nature of the fact that national particularities shaping European Muslim experiences cannot be understood independently of European and indeed global dynamics. This makes it even more important to consider every national context when analysing patterns in European Islam, especially those that have yet to be fully elaborated. The chapters in this volume demonstrate the contradictory dynamics of European Muslim contexts that are simultaneously distinct yet similar to the now familiar ones of Western Europe's most populous countries.
About the Editors
Tuomas Martikainen, PhD, is director of the Migration Institute of Finland. His areas of interest include religion, migration and consumer society. His publications include Immigrant Religions in Local Society (2004, Åbo Akademi University Press) and Religion, Migration, Settlement (2013, Brill).
José Mapril, PhD, is assistant professor in the Department of Anthropology (Universidade Nova de Lisboa) and a senior researcher at CRIA-NOVA. Since 2018, he is the director of CRIA. His publications include Secularisms in a Post Secular Age (2017, Palgrave, edited with Ruy Blanes, Erin Wilson and Emerson Giumbelli) and The Sites and Politics of Religious Diversity in Southern Europe (2013, Brill, edited with Ruy Blanes).
Adil Hussain Khan, PhD, is Associate Professor of Islamic Studies at Loyola University New Orleans.
Additional Information
August 2019
Hardback (xiv, 331 pp.)
ISBN: 978-90-04-40455-7
E-ISBN: 978-90-04-40456-4
Price: €99 / $119
Where to Purchase
Excerpt
Introduction – José Mapril, Tuomas Martikainen and Adil Hussain Khan
On March 18th 2018, the Islamic Community of Lisbon, the leading representative association for Islamic issues in Portugal, celebrated its 50th anniversary. The celebrations took place in Lisbon Central mosque and among its guests were the Imam of Al-Azhar Mosque, from Cairo, the secretary general of the United Nations, António Guterres, the prime minister of Portugal, António Costa, the president of the Portuguese Republic, Marcelo Rebelo de Sousa, representatives of the Catholic church and other key figures in interfaith dialogue. The celebration lasted two days and had an extensive coverage in news reports, in mainstream media, reinforcing the visibility and centrality of this institution in all things Islamic.
In November (2018), in Athens, a procession celebrating the mawlid-unnabi, the anniversary of Prophet Muhammad, was organized, departing from Omonoia Square, while the negotiations continue for the construction of a central Mosque in the city to serve its growing Muslim population. This is an old claim that, for one reason or another, was never fulfilled since the 80s, in spite several plans to conclude it.
In Helsinki, on the other hand, the polemics around the construction of a central Mosque continue. In spite of dozens of small mosques, several Muslim associations, including the Finish Muslim Union, have been claiming, for years, the construction of a central Mosque in the city, therefore giving equality of place to Islam in relation to other religions. As soon as the project became public though, it was strongly contested by extreme right-wing movements that mobilized several Islamophobic/racist arguments against it.
On Christmas Day last year (2018), the Muslim Sisters of Eire organized the distribution of survival bags (with food, tents, warm clothes, sanitary products, and others) called "Bags for Life," to homeless women and men in Dublin. The objective was to lighten the load of those in need, in this period of the year, and included Muslim and non-Muslim women, with very diverse backgrounds and histories. With this campaign, the association also wants to increase public awareness about the role of Muslim women as Irish citizens and as key actors in promoting the wellbeing of the wider society.
These four initial vignettes hint at the larger objective of this edited volume: all of them address common issues about the public recognition of Is- lam, claiming a place for Muslims, making citizenship claims through care, and manifestations of Islamophobia and racism, in four different countries, Portugal, Greece, Finland and Ireland. The objective of this edited volume is precisely to address these and other issues about Muslims and Islam focusing this time in the margins of Europe. Discussions and research about Islam and Muslims in Europe have tended to focus on a small number of Western European countries due to their large Muslim populations and their social and political significance. Most notably, much of the research concentrates on the experiences of Muslims in France, Germany, the Netherlands, Belgium and the United Kingdom. The exact size of the European Muslim population remains disputed, but data provided by The Future of the Global Muslim Population and the Yearbook of Muslims in Europe3 suggests that between 17.5 and 19.1 million Muslims were living in the European Union around the year 2010, which is 3.5 to 3.8 per cent of the total EU 28 population (500 million people). French, German and British Muslims constitute alone, over 11 million and, thus, two-thirds of all European Muslims.
Whereas there are legitimate and worthwhile reasons for the great interest in Muslim lives in these countries, it is nevertheless important to broaden the study of Islam and Muslims to other European countries. For example, Larsson and Račius argue for the inclusion of Muslim experiences from the Baltic rim to balance the view that Islam is a new religion in Europe by reminding us of the need to bring forth the manifold Muslim experiences from different European societies. Many others have also lamented the lack of information from smaller countries, despite its importance. While some steps in that direction have already been taken, including the Yearbook of Muslims in Europe, we feel that the study of the diverse experiences of Muslim(s) Europe(s) require more attention on countries with smaller and comparatively understudied Muslim populations in order to continue broadening the picture of European Muslims and Islam. It is precisely with this objective in mind that this edited volume focusses on Muslims at the four corners of the European Union today, namely, Finland, Greece, Ireland and Portugal.
The reader might wonder why we have chosen these countries – after all they are quite distinct. This is certainly true but it also somehow true that they share certain common features: first, all had a link to nineteenth and twentieth century imperial and colonial histories – the Russian, Ottoman, British and Portuguese empires – that in turn led to colonial and postcolonial mobilities and migrations, some of which Muslims (although not exclusively), and, as we will see further ahead, influenced incorporation dynamics. Second, during the great population movements following decolonization and, especially, the Second World War, the four countries were overwhelmingly marked by emigration to Central and Northern Europe, where other migrants, among which of Islamic religion, also found their way. This is distinct from much of the re- search on Muslims in Europe, which is framed in the context of post-WW2 economic development and labour migration. These four cases only recently – the last four decades – became (also) immigrant destinations and this seems to have an array of consequences for the immigration regimes, the place of non-dominant religions and the creation of minorities. As a consequence, and this is the third common characteristic among them, these countries received increasing numbers of migrants only from the mid-1970s onwards, and especially since the 1990s following the advent of new population movements in the larger contexts of the post-Cold War developments, including new forms of cultural, economic and political globalization, and the globalization of migrations.
Finally, not only have the four countries "lagged behind" for decades in the national immigration experience of growing economies, but they have become part of the same discursive realm, both as receivers of information of "migration issues" via media and later through growing immigration and EU collaboration. Thus, in this edited volume, we aim to expand and contribute to the study of European Islam and Muslims by addressing these cases, which have, for one reason, or another, received less attention.
In the remainder of this introduction, we will discuss how different national histories can broaden our understanding about the complex places, locations, predicaments and lived experiences of European Muslims. Having said this, we want to escape the trap of methodological nationalism and therefore we will draw attention to the articulations between particular national histories and more general European or global developments (see for instance, how the political economy of European development – e.g. the application of austerity measures – the global war on terror and the global expansion of Islamophobia and racism have impacted on our interlocutors' lives). In the first section we will briefly present the Muslim history and populations in Finland, Greece, Ireland and Portugal, including the processes of institutionalization and legal regulation of Islamic organizations. The second section of this introduction will focus on the main debates and research on European Muslim and Islam, explaining how the cases addressed in this volume engage and contribute to such discussions. At the end of the introduction, we will present the organization of the chapters.
Call for Reviews
If you would like to review the book for the Arab Studies Journal and Jadaliyya, please email info@jadaliyya.com