Smadar Lavie, Wrapped in the Flag of Israel: Mizrahi Single Mothers and Bureaucratic Torture, Revised Edition with a New Afterword by the Author (University of Nebraska Press, 2018).
Jadaliyya (J): What made you write this book?
Smadar Lavie (SL): Since I submitted the first edition of Wrapped in the Flag of Israel for publication in February 2013, I have continued to research the interrelationship between Mizrahi feminism and the Israel-Palestine conflict. Between the two editions, Mizrahi feminists were the germinating force behind Mizrahi social movements and other NGOs, most notable being Heart at East and the New Black Panthers (HaLo Nehmadim in Hebrew). For summer 2014, the New Black Panthers planned to flare up Israel's ghettos and barrios. The 2014 Gaza War made this eruption impossible. The interplay between Gaza 2014 and these social movements is the root of the book's second edition. The new edition's afterword, published July 2018, dialogues with the first edition's critics and offers detailed analysis of how the recurring wars on Gaza cannot be separated from Israel's ever-resilient Mizrahi-Ashkenazi racial rift.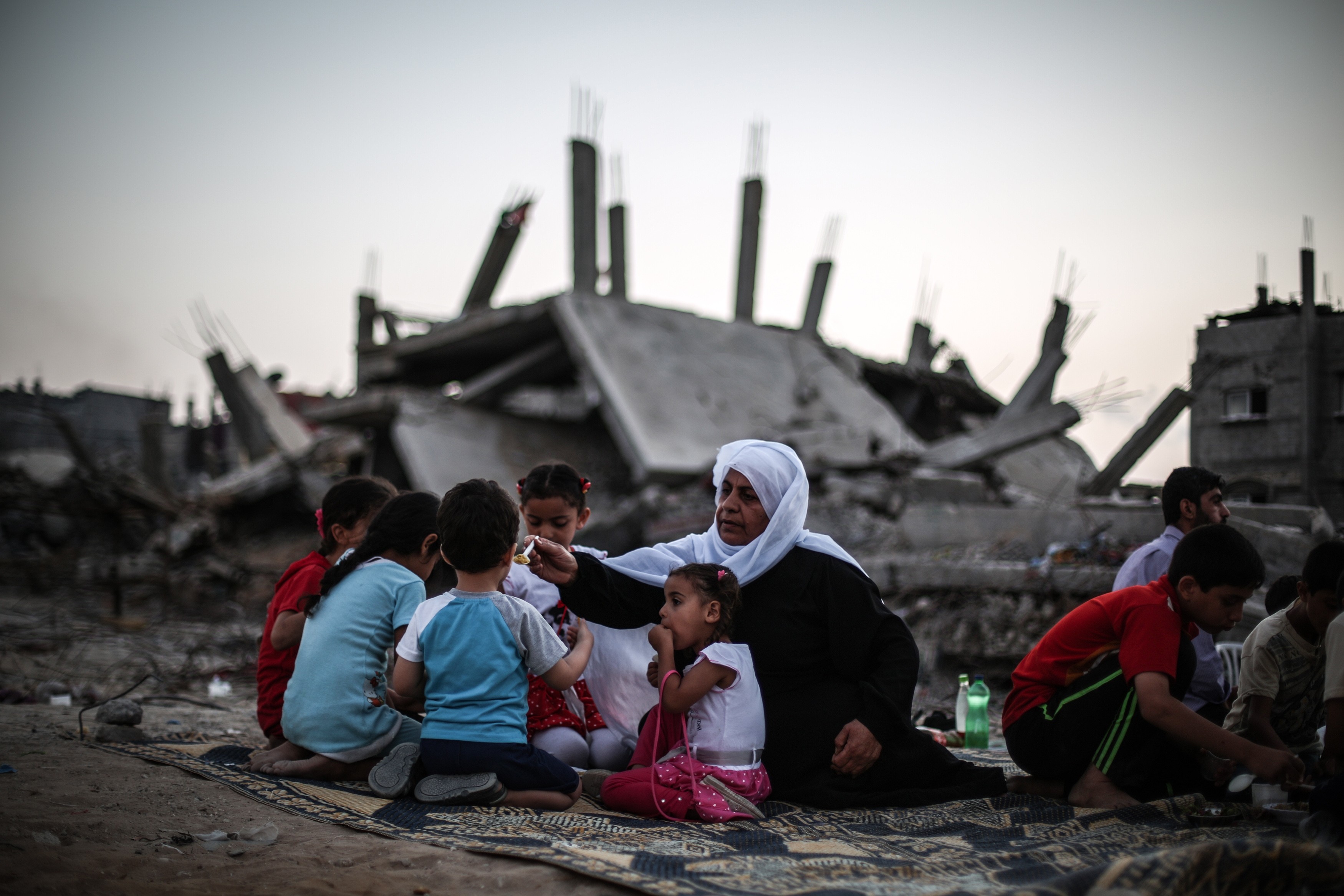 A Palestinian family celebrates the feast of Eid al-Fiṭr during Gaza 2014 ceasefire. Photo credit: `Ali Ḥassan/Anadolu, 2014.
The second edition presents a new analytical toolbox by challenging assumptions that the domestic socioeconomic gender politics of intra-Jewish racism and the (inter)national aspects of the Israel-Palestine conflict are mutually exclusive. Wrapped argues that the plight of Israel's Mizraḥim and the plight of the Palestinians are complementary. Both are subject to the state of Israel's deployment of war as a unifying force to divert attention from domestic issues of racial and gender justice through the sanctity of the "chosen people" in their "chosen land."
While Mizraḥi feminists stage protests against the neocon restructuring of Israel's economy and society, this all but disappears when Israel undertakes a new cycle of violence against the Palestinians. They do not challenge their communities' ultranationalism. As a result of the Jewish state's unity against all goyim (non-Jews, Hebrew; enemies, colloquial Hebrew), the Mizrahim, Israel's demographic Jewish majority—racialized and minoritized—increasingly vote for right-wing, authoritarian politicians.
J: What did the publication process of the second edition entail?
SL: Wrapped's first edition saw print in April 2014 through a family-run press that has respected lists in cultural anthropology and Israeli studies. Because finalized pages to be indexed arrived as I was recovering from a car accident, and due in short order, I outsourced the task.
I called the first indexer for an update, only to be told the manuscript went against everything she was raised to believe about Israel. Indexer number two used the index as a tool of censorship. Categories such as "apartheid," "Zionism," "Palestine," and "race" were nowhere to be seen. She insisted her categorization improved the book, refusing to change them before sending me a pricey invoice via her attorney. It took the third indexer, who had no expertise in Middle East studies, to treat the manuscript with the professionalism it required. He sent me the finished product only seventy-two hours after receiving the pages. This man, and his work, were truly a gift. He said he found himself so engrossed in the book, so enraged at the previous indexer's prioritization of her politics, that he worked around the clock. He even refused my offer to pay extra for the rush.
Promotion of the book was also a trial. After a year passed with only one JPS review, my colleagues suggested that I write to the major journals' book review editors, to whom the publisher said they would send review copies. Many editors wrote that they had not received the book. Eventually, the publisher's administrative assistant admitted that they hesitate to send review copies of books about Israel to periodicals that focus on the Arab world, my academic specialty, or to editors known for criticizing Israel. I used my author discount to purchase copies and mail them out to editors who were willing to consider the book for review.
Wrapped was eventually reviewed in top-tier journals such as American Anthropologist, Affilia, American Ethnologist, and Cultural Studies. The book won the honorary distinction of the Association of Middle Eastern Women's Studies competition and was one of four finalists in the 2015 Clifford Geertz Book Award Competition of the Society for the Anthropology of Religion (thanks to copies submitted on my own dime). I was invited to many academic seminars and colloquia. Jewish Voice for Peace organized readings at independent bookstores that coincided with the book's academic sojourns. It thus came as a surprise when the publisher signaled they might allow the book to fall out of print after its second run and sell the copyright back to me. Nevertheless, a third and final hardcover run was issued that was still not able to meet reader demands.
In July 2015, I received a letter reverting the rights back to me. My book was axed in a short, passive aggressive paragraph. Through the venerable tradition of pathologizing women of color without directly psychologizing them, the letter connoted trouble. Wrapped was on a roll and due for a paperback. By giving me back the rights like this, the initial publisher broke the book's momentum. My colleagues once again stepped in and suggested a second edition, citing the significance of the data, and the book's evident popularity. Second editions are reserved for enshrined classics or academic celebrities. But I was neither.
In February 1999, Israel confiscated my passports, issuing a stop exit order against me right as the wheels were in motion for my tenured full professorship at UC Davis. Due to my color and politics, I was prevented from gainful employment or any form of professional and academic life. In August 2007, when I was finally back in the United States, the tenure avenues were closed. Nonetheless, I had to give it a shot.
I presented the revised and expanded book to all major university presses with Middle East series. The many reviews of the book's first edition indicated its textbook potential. Upon reading samples, however, they commented on the complicated nature of my empirical data. Anything that deviates from the Israel-Palestine binary does not sell. One university press requested sole review privileges, then held the manuscript for a lengthy period, further slowing the process.
In fall 2015, I received four progressive, non-university press contract offers for fast production. Anxious to get the book back into print, I chose what seemed to be the quickest. As the publication date drew near, it became clear that the publisher and I had irreconcilable differences of opinion. The line I had to draw was the publisher's insistence on using a lopsided Star of David, a caricature of the Shoah's Juden star, wrapped in shrouds of the Israeli flag on the back cover. Moreover, my careful text had been sensationalized without permission. This would have transformed my poetic ethnography into garish radical chic. The response I received from the publisher was bewildering: "Trust us on what sells. The Star of David is a religious symbol. You are Jewish, no? Are you antisemitic? We have read your suggestions. We rejected all of them. Such is life." So, with real difficulty (and legal help), I extricated myself from that contract.
In fall 2016, I proposed the book to acquisition editors at the AAA, MESA, and NWSA. The University of Nebraska, Lincoln (UNL) Press offered me a good contract, placing the book in their Expanding Frontiers: Interdisciplinary Approaches to Studies of Women, Gender, and Sexuality series. I found myself starting over, once again, from scratch. Now, the paperback edition is finding its way into the classroom and does well on Amazon. To my surprise, reviews of the book continue to appear. Both Tikkun and E3W recently reviewed it. Perhaps the adventures of Wrapped are unique. After all, I live on the margins of academe, with no tenure to help bankroll my publications. But from my conversations with colleagues, I have learned that I am not alone. While what my book underwent in its entirety is novel, many of my Middle East studies colleagues have encountered similar difficulties during the publication process.
 J: What particular topics, issues, and literatures does the book address?
SL: Wrapped in the Flag of Israel's point of departure is Israel's vulnerable population of Mizrahi single mothers and their entanglements with the state's labyrinthine bureaucracy. Since submitting the manuscript for Wrapped to the initial publisher, new ethnographies on bureaucracy under neoliberalism have appeared. The book's analysis has resonances with these accounts. But the majority of these studies rely on a Weberian-Foucauldian perspective. Others employ Marxist approaches of historical materialism. Wrapped does neither. It follows a groundbreaking model of bureaucratic logic that draws on religion, ritual, and the phenomenology of transcendental essences to examine neoliberal bureaucracy in times of austerity.
Through the lives and words of Mizrahi single mothers, Wrapped further challenges the Israel-Palestine binary and calls into question the viability of the Arab-Jew hybrid as a category in present day Israel. Most Mizrahim refuse to be termed "Arab Jews." This category is hyped up by post- and anti-Zionist Mizrahi intellectuals, many of whom are first generation to the mass 1950s migration of Iraqis and Moroccans. Mizrahim, however, is a coalitional term. Moreover, Iranian or Balkan Jews are not Arab, and because of their non-Yiddish speaking origin, they identify as Mizrahim. Nevertheless, the concept of the Arab Jew has become palatable to contemporary academics of the Arab world. Decolonial anthropology, however, avoids the imposition of terminology—it cannot superimpose labels over its subjects, let alone when they refuse. A new generation of activists dare to challenge this Iraqi-Moroccan construct head-on.  "The Mizrahi intellectuals can jabber until tomorrow on 'Arab Jews,'" writes Moran Habaz.
In my experience, it is possible to divide non-Zionist anthropologists on Palestine-Israel into three main groups:
(1) studying the effects of Israeli occupation on Palestinians in a colonial vein, (2) the unbalance co-construction of networks of operation between Israelis and Palestinians; and (3) the inner workings of Israeli society. How Israel's intra- Jewish racism corresponds with the Palestine-Israel conflict.
Wrapped falls under category three, and fell between the cracks—unfit for the well-funded discipline of Israeli studies, nor benefitting from the welcome boom of publications on the Israel-Palestine binary or the historical construct of Arab Jews.
J: How does this book connect to and/or depart from your previous research?
SL: My first book, The Poetics of Military Occupation: Mzeina Allegories Under Israeli and Egyptian Rule (1990) focused on the agency immanent in transnational identity politics. I studied the performances and ritualistic story-telling the Sinai Bedouin mounted as resistance to the Israeli occupation. Forty-five years have passed, and my relationship with the Mzeina Bedouin is not one of fieldwork but, rather, family.
After Poetics, in the early 1990s, I shifted my study to my own culture. "Hebrew as Step-Mother Tongue: The Lives and Works of Arabic Speaking Jewish and Palestinian Authors and the Rupture of Israel's Eurocentrism," was intent on examining the lives and words of Mizrahim and Palestinians who crossed borders by writing Hebrew literature and poetry even though their native tongue is Arabic. I argued that their agency sparks up at the border zones where identity and place grate up against each other and are forced into constantly shifting configurations of partial overlap. The theoretical framework of "Hebrew as a Step Mother Tongue" served as the basis for my collaboration with Ted Swedenburg on Displacement, Diaspora, and Geographies of Identity (1996). The institutional racism I suffered in Israel made it impossible to complete this project in due time. It survives now as uncited fragments in my Mizarhi colleagues' own publications.
Wrapped dissents from my old work by going against identity politics and the agency inherent in its enactment. Likewise, it challenges the feminist critique of binary logic as it analyzes how gender-race-class intersect with religion to form a space of primordial divinity. It follows Israel's clear line separating Jews from goyim. Integral to my discussion of Mizrahi single mothers is their distinct lack of personal and communal agency when dealing with the state bureaucracies they rely on for daily survival. The book delves into the process by which Israeli citizenship transcends the interstitial times and spaces that construct legal and experiential interactions around gender and race to become a debilitating essence.
The second edition illuminates the interplay between truncated Mizraḥi social protest, neoliberal economics, and heinous Israeli military violence in Gaza 2014. At the crux of these protests was the confluence of GendeRace—my neologism to analyze how the constructs of gender and race amalgamate into the foundation of Israel's ethno-religious nationalism and citizenship. The failure of Mizrahi protests in times of military conflict demonstrates that strategic resistance to intra-Jewish racism cannot be separated from the Question of Palestine. Likewise, Wrapped's second edition further explores the difficulties a Mizrahi ethnographer faces as she studies the Mizrahi victims of state racism, who, at the same time, espouse right-wing, chauvinistic ideologies and practices.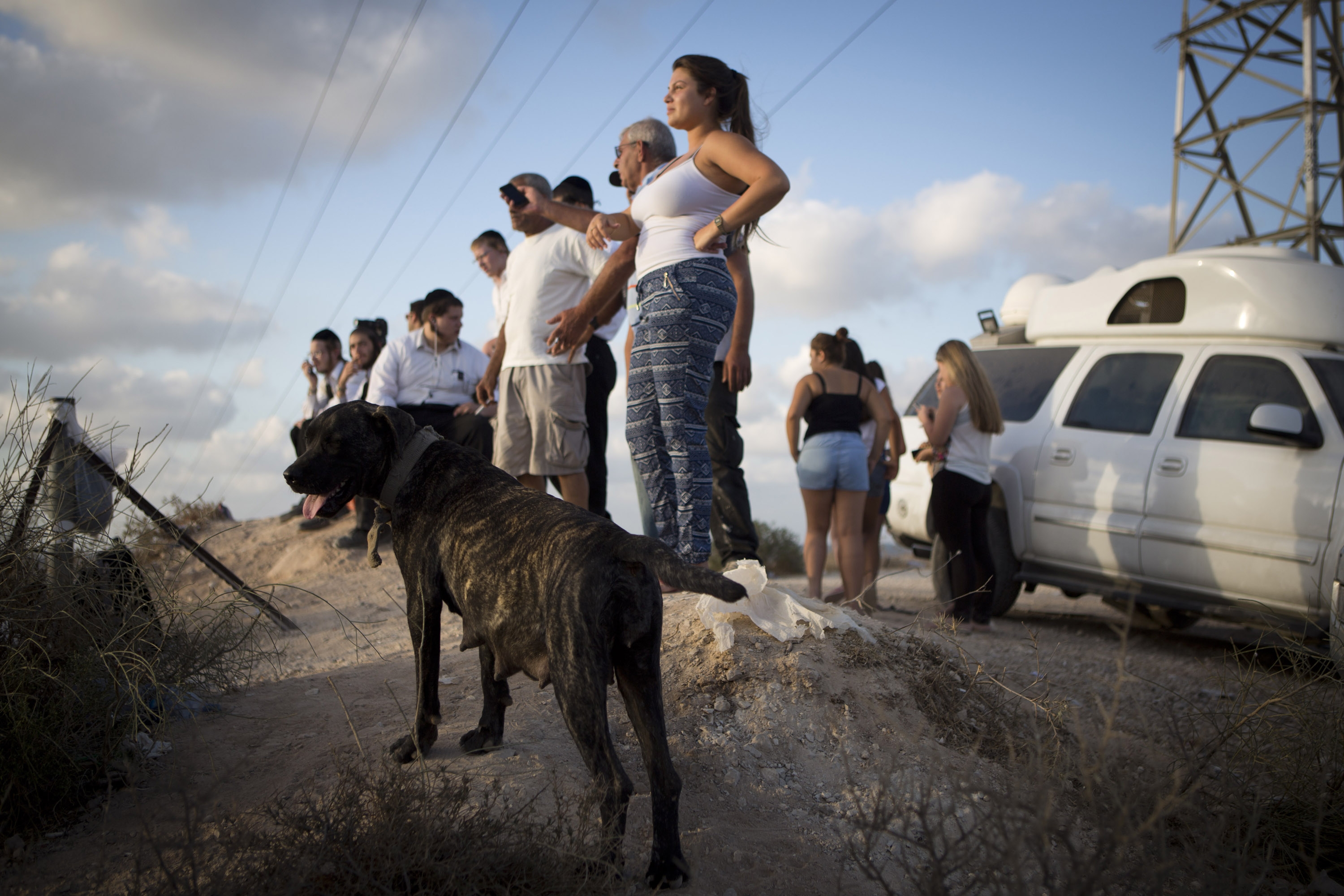 Sderot's Mizraḥi residents gather at dusk to watch bombings of Gaza Strip. Photo credit: Oren Ziv/ActiveStills, 2014.
Further illuminating the rift between the Mizrahi intelligentsia and Israel's Mizrahi majority, Habaz argues: "At her journey's end, the Mizrahi activist speaking in the language of the 'Arab Jew' stands in front of a broken square-one. On the one hand, she sits around the shabbat and holiday dinner table to witness the ultranationalist, messianic discourse of Arab hatred that has taken control over everyone around her. She knows and recites all the historical and class reasons for the Mizrahi identification with the right. On the other hand, she has no interest to educate her family through the deployment of the old Ashkenazi melting pot methods. After all, her family members are descendants of a grandiose Arab-Jewish dynasty, and such a pedigree excuses them from owning up to the meaning of their racist language. This is precisely the Mizrahi tragedy."
J: Who do you hope will read this book and what impact would you like it to have?
SL: The second edition (in paperback) is written with the high-school and college classroom in mind. I was touched that the book was not only reviewed by Palestine/Israel experts, but by academics researching in other regions of the world whose scholarship dovetails with theoretical issues in Wrapped. All reviewers wrote that the book is ideal for teaching transnational feminism, neoliberal kinship, welfare policies, the performance of ritual and religion, and the budding field of right wing studies.
Other audiences who might be drawn to this book include welfare policymakers, US and European-based Middle East foreign policymakers, NGOs whose coalitional platform expands from Ferguson to Palestine, and general readership interested in Israel-Palestine. I was moved the most by letters from single mothers and their children.
How painful that Wrapped has not been translated into Hebrew. Most Mizrahim, Palestinian-Israelis, and even non-elite Ashkenazim avoid English texts due to inferior schooling. Mizrahi grassroots intellectuals often self-publish with small Mizrahi presses. Their books, shunned by the academy, enjoy circulation in our communities. To publish with a Hebrew press, I would need to front nearly twenty thousand dollars for translation, production, and promotion.
J: What other projects are you working on now?
SL: In 2011, I was in the midst of working on a book of essays, Crossing Borders, Staying Put: Mizrahi Feminism, Palestine, and the Racial Formations of the Israeli State. It focuses on the paradoxical relationship between Israel's left-leaning Mizrahi feminists and their right-wing constituencies who propel the state's political spectrum farther to the alt-right. Wrapped was originally a chapter in Crossing Borders, but my colleagues advised that it should be a stand-alone book. So, I am back at my desk, brow furrowed, continuing to work on Crossing Borders.
I started exploring the Mizrahi alt-right in the early 2000s while stranded in Israel as a welfare mother. My community consisted of anti-racist women of color who supported Israel's alt-right. I ceased to register on my academic disciplines' radar, liberated from the trendy agendas set by the dons of academia. In 2011, drafting the text on how the log-jam in the intersection of identity politics blocks agency, I was seen as loony. Now, back in the United States, I am glad that the trends are catching up with me. I hope to complete Crossing Borders before they shift again.
Excerpt from the book
From "Afterword(s): Gaza 2014 and the Mizrahi Predicament"
The media focus on HaLo Nehmadim (the New Black Panthers) came to an abrupt end on 12 June 2014. An extremist splinter of Hamas kidnapped three Israeli teenagers, Naftali Frankel, Gilad Sha`er, and Eyal Yifrah, while they hitchhiked in the West Bank. This was in response to a series of IDF atrocities in Gaza that followed the Hamas-PLO reconciliation agreement.
Right after the Hamas-PLO signing ceremony, the IDF air force launched two missiles at a motorbike driving through Gaza. Israeli intelligence assumed that the driver was a high-up Hamas leader. The effort failed. Instead, the missiles severely injured seven passersby. In early June, the IDF continued these attempts to target Palestinian guerrillas with heavy-duty bombs, but managed only to kill a seven-year-old Gazan boy. In addition, Israel tightened the Gaza blockade in its efforts to break the Hamas-PLO coalition (Landau 2014b).
How did the Hamas splinter cell choose its targets? The decision might have heeded the recommendations of the 2010 Hamas "Kidnapper's Guidebook" (Channel 2 News 2010). The guidebook's author explains that the preferred target bears an Ashkenazi, nonmuscular phenotype because the Israeli regime has historically proven more amenable to releasing prisoners in exchange for Ashkenazi, rather than Mizrahi, hostages. A long-time grassroots Mizrahi feminist leader put it to me over Skype:
Yifrah, a classic Yemeni, he just looked it, and his last name. Make no mistakes about Frankel—it's the last name and color. No wonder his mom was all over the press. Sha`er looked white. I guess they asked him his last name. It's Arabic. Surprise, surprise. With two Mizrahim and one Ashkenazi you can't negotiate much.
GendeRace yet again—that calcified amalgamation of gender and race that happens in the blink of an eye. This instant typecasting has been one of the main arguments of Wrapped in the Flag of Israel. In the case of Israel, a foundational classification. GendeRace is a primordial truism. It petrifies the amalgamation of "the intersection." Rather than moving through it, people are stuck. They are therefore unable to construct racialized and gendered identities that lend themselves to enact political agency. Even the "Kidnapper's Guidebook" stays faithful to the racial formations of Zionism. They seem to work. Hamas resumed its place at center stage.