Sato Moughalian, Feast of Ashes: The Life and Art of David Ohannessian (Redwood Press/Stanford University Press, 2019).*
Jadaliyya (J): What made you write this book?
Sato Moughalian (SM): Feast of Ashes: The Life and Art of David Ohannessian is the biography of my maternal grandfather, who mastered the art of Ottoman Kütahya ceramics and achieved renown in the Young Turk era before World War I. He survived deportation to Syria in 1916, during the period of the Armenian genocide, and, under the most improbable circumstances, resettled in Jerusalem in 1918 to participate in a planned British restoration of the Dome of the Rock. Over the years of the British Mandate in Palestine, Ohannessian left his mark on the face of Jerusalem with his sumptuously glazed architectural tiles and the iconic pottery his workshop produced and exported around the globe. Fleeing the violence of his west Jerusalem neighborhood in April 1948, he became a stateless person, survived the 1952 burning of Cairo, and died in Beirut the following year. Throughout all these historical epochs, he continued, even under the direst circumstances, to continue to create, advance, and teach his art.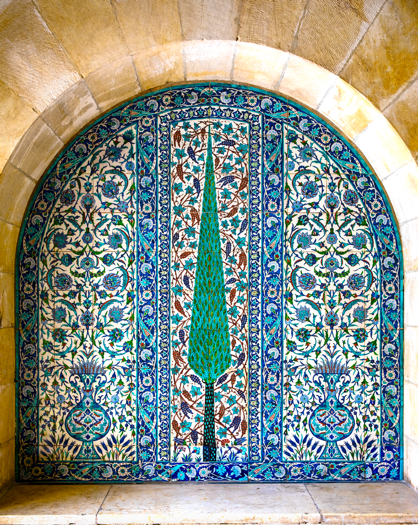 Ohannessian ceramics, St. John Ophthalmic Hospital, Jerusalem. Photo: Orhan Kolukısa.
Although Ohannessian's story had been told, cursorily, in various art histories, those texts generally contained significant errors about him and portrayed him as a voiceless, powerless artisan, a "humble craftsman," dependent on the benevolence of British Mandate patrons. This was a grossly incomplete depiction. Although he died before I was born, I knew my grandfather had been a person of enormous drive and agency. His career bridged two schools of ceramic making—Kütahya and Jerusalem, the former acknowledged to be the inspiration for the latter. Each had been surveyed by specialist art historians, but a yawning gap remained over the question of how exactly the art transferred from one locus to the other. I understood, as his granddaughter, that the answer to that question was bound to Ohannessian's arrest and deportation from Kütahya in 1916. And since that fact has remained largely overlooked by the British, Turkish, and Israeli art historians who have written about his work in Ottoman Turkey or Mandate Palestine, I wanted to draw a clearer line from the first half of his career to the second, and foreclose the possibility that that crucial part of Jerusalem Armenian ceramics history might be permanently obscured in the future. And, finally, I wanted to frame his narrative within the context of his intimate life, as a means of illustrating how one ordinary Armenian family lived, educated itself, and forged kinships in the years before the massive Ottoman Turkish deportations began.
My extended family collectively held an abundance of previously unexamined materials. Once I assembled them, formerly puzzling items shed unexpected light. Before my mother's death in 1995, she transcribed the ancestral narratives she had learned as a child in Palestine. An aunt had safeguarded a trove of documents concerning her father's workshops in Kütahya and Jerusalem. My archival research—in England, France, Turkey, Israel, Palestine, Armenia, and the United States—also yielded surprising new discoveries. Given the wealth of surviving materials, I felt compelled to bring this book to fruition. As I began to write, I also thought it necessary to provide some context for those readers unfamiliar with the chaotic and tumultuous eras Ohannessian survived. And at this moment in history, with unprecedented numbers of migrants, refugees, and internally displaced persons around the world, I was also painfully reminded of the value of preserving fragile individual histories.
Ohannessian led a fascinating and difficult life. Notable figures including Mark Sykes, Ronald Storrs, Prince Muhamad Ali Tewfik, and Charles Ashbee played pivotal roles in his history. Understandably, in the existing record, their voices tend to predominate. In writing Feast of Ashes, I sought to present a different perspective; I wanted to frame those interactions from Ohannessian's point of view. I also re-read familiar British Mandate sources and critically examined the accuracy with which the references to Ohannessian had entered the secondary record and were then adopted unquestioningly.
Finally, Ohannessian's life mirrors the disruptions and dislocations of so many Armenians in the first half of the twentieth century—the traumas and upheavals wreaked by the Armenian genocide and the Nakba. Piecing together my ancestor's past was also a central element in my own coming to terms with the legacy of grief and loss that had remained unresolved through several generations of my family. I was fortunate to find a wonderful editor, Kate Wahl, of Stanford University Press, who has a particular interest in the history and rich cultural life of the Middle East and supported me as I wrote this book.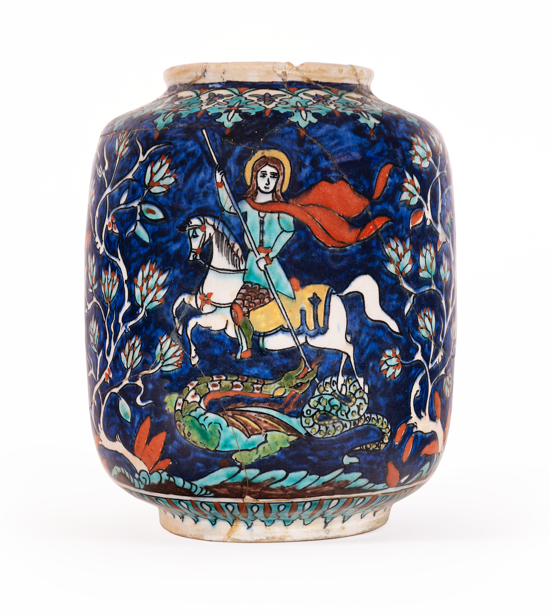 Ohannessian vase, St. George and the Dragon. Photo: Olympia Shannon.
J:  What particular topics, issues, and literatures does the book address?
SM: Feast of Ashes depicts the life of an artist struggling to preserve a localized idiom despite forced migration. It also tells parallel stories of exile and renewal—of a man and of his artistic tradition, one that emerged from the clays and other minerals indigenous to western Anatolia. The art Ohannessian established in the Holy City one hundred years ago is today so well integrated into the urban fabric that it is often used by art directors as a kind of visual shorthand for Jerusalem. Yet in spite of the popularity of Ohannessian's Jerusalem ceramics, their origin story had not yet been told. The book also addresses the immense trauma and dispossession of Ottoman Armenians in the period of the genocide, the refuge they found in Palestine, and their subsequent dislocations in 1947-48.
I also hoped, through my grandfather's life story, to illustrate how these large waves of history were not monolithic. Rather, they were composed of countless smaller individual stories of friendships and partnerships, competition, rescue, and sometimes, betrayal.
J: How does this book connect to and/or depart from your previous work?
SM: I am a musician by profession and artistic director of Perspectives Ensemble—a chamber music group that dissects, reassembles, presents, and records works of composers, contextualized by their cultural and historical environments. I have spent more than twenty-five years considering influences operating on composers at the time of creation and ways to integrate that understanding into our performances. This practice provided a good preparation to research and frame my artist grandfather's life and work. Although I have consistently written short essays about music, this is my first long-form work. Also, I felt it important to preserve at least some of the diction and cadence of my ancestral family's oral storytelling. I had never before faced the need to make those kinds of stylistic choices in my writing, but they became an integral aspect of this text.
J: Who do you hope will read this book, and what sort of impact would you like it to have?
SM: I hope that anyone interested in Jerusalem, Armenian culture, late Ottoman and Mandate Palestine history, ceramics, architectural history, or memory work might read it. The book illuminates a series of turbulent historical periods through the story of an individual. I hope it may encourage the trend of telling larger stories by means of smaller ones, or "microhistories," as academic historians like to call them.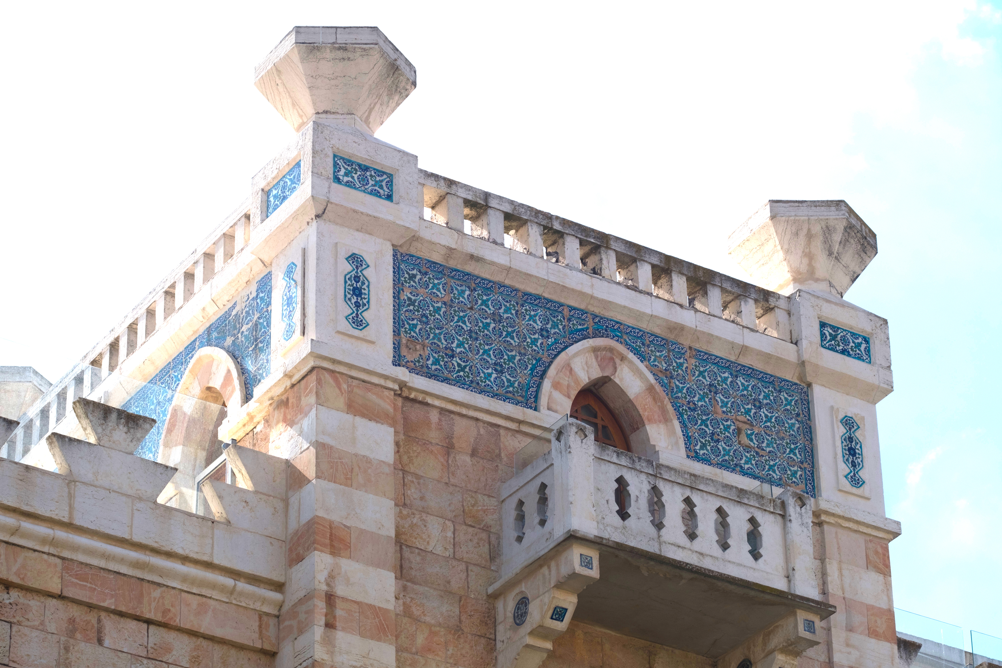 Ohannessian tiles, Villa Jellad, Jerusalem. Photo: Orhan Kolukısa.
J: What other projects are you working on now?
SM: I am currently creating a full-evening performance work with my great friend and colleague, the Syrian-Armenian artist Kevork Mourad. The piece is tentatively titled "Gav," (the Armenian word for clay) and will explore the seemingly universal impulse to shape and color this most common material and, in the process, express a concept of beauty.
J: How can biographies and microhistories enrich historical narratives?
SM: One illustration: The revered art historian Arthur Lane, in his 1956 volume, Later Islamic Pottery, rendered his judgment on Jerusalem's Armenian ceramicists. "After the First World War potters were brought from Kutahya to Jerusalem," he wrote. They "cater for tourists with wares in a debased Isnik style."
Was Lane correct? Perhaps. But did he recognize that some of those wares had been made by children, orphaned in the Armenian genocide, who were striving, amid general conditions of poverty and hunger, to attain a skill and a livelihood? Or that the Jerusalem Armenian ceramics masters were themselves refugees struggling to replant an Anatolian art in a place that lacked almost every natural resource essential to it?
For me, that contextual understanding transformed my perception of the small, loosely painted but brilliantly glazed pieces, the reddish clay seeping through the slip, that characterized the post-war period of Jerusalem pottery. I came to see a new beauty and poignancy in this "imperfect" color and execution. I doubt Lane was aware of the circumstances, but his disparagement entered the record and was echoed by other art historians.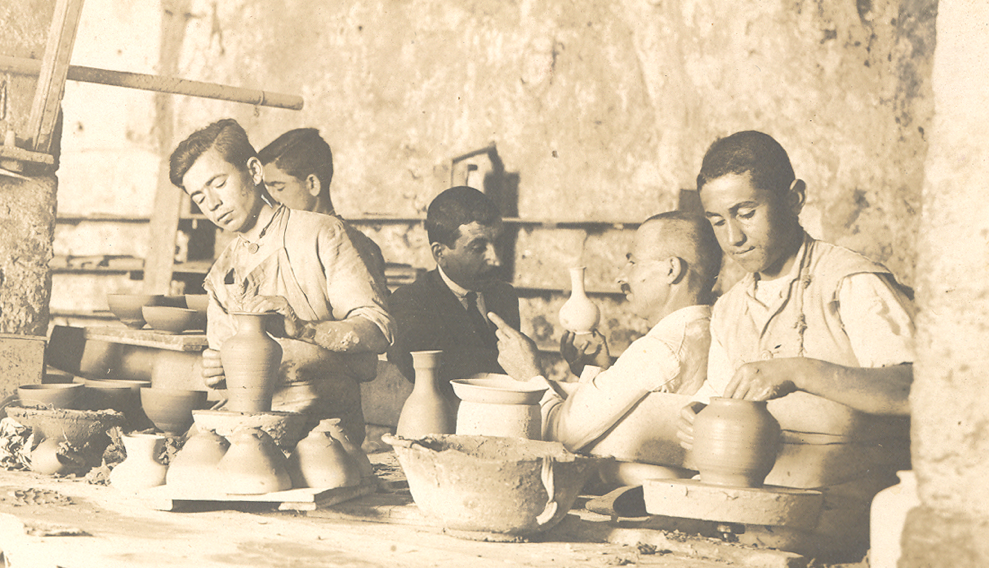 Orphaned apprentices at work (Krikor Zatikyan, front left; Ohannessian, rear right), Jerusalem, ca. 1922. Photo: G. Terunian, (c) Armenian Genocide Institute-Museum, Yerevan.
Excerpt from the book
From Chapter Six: In the Mountains, Aleppo, and Meskene
While the Mudros Treaty was in negotiation, Mark Sykes proposed to the War Cabinet's Eastern Committee that he embark on a three-month Special Mission in Palestine and Syria, reporting to General Allenby. He would observe conditions in the former enemy territories, meet with Arab leaders, investigate the state of Armenian survivors and the possibilities for their repatriation, and recommend administrative reforms for Palestine and Syria—now under Allied occupation. The mission would be based in Aleppo; he would compile commentaries to present at the upcoming Peace Conference in Paris.
Sykes and his aides left London on October 30, stopping in Paris, Rome, and Port Said, Egypt. After visiting the Armenian refugee camp on the east bank of the Suez Canal, Sykes traveled to the British base camp in Kantara, where he met with General Allenby.
On the twelfth of November, one day after Armistice was declared, the delegation proceeded to Jerusalem. There, Sykes billeted with his close friend and fellow Cambridge man, Ronald Storrs, now the Military Governor of the city. Over the course of a week in Palestine, the two men walked through Jerusalem and discussed the condition and future custody of the Christian, Jewish, and Muslim holy places—the Church of the Holy Sepulchre, the Wailing Wall, and Al-Aqsa Mosque with the Dome of the Rock. Both men—each devoutly religious—expressed apprehension over the challenges of governing the spiritual and pilgrimage center of three great religions. With the collapse of the Ottoman Empire and Great Britain's new dominion over some of the formerly Ottoman Arab lands, England would now rule over a vastly larger Muslim population.
The Dome of the Rock—held to be the site where the Prophet Muhammad had made his mystical Night Journey to Heaven—formed the most distinctive profile in the landscape of Jerusalem. Equally remarkable was the gleaming array of tiles cladding its surfaces, their luminous effect heightened in contrast with the structure's marble base and the elevated limestone platform on which it rested. Even after the war and the severe weather of the last year, it had retained its spectacular countenance, but some of the elements needed urgent attention. Beneath the noble lead-covered dome, water seeped through in several places and worms grubbed into the supporting timbers. And on closer inspection, the resplendent surfaces of the octagon and drum revealed themselves to be a patchwork of fragile, and in many cases, broken or missing, turquoise, cyan, black, and yellow glaze painted, cuerda seca, and mosaic cut tiles. The Military Governor had read Classics at Cambridge, studying art history and archeology, and shared a fervor with Sykes for the decorative and fine arts. In spite of the thousands of missing and mismatched tiles, both men found the Dome of the Rock to be astonishingly beautiful.
Storrs had stayed at Sledmere House on several occasions after Ohannessian's tiles were installed in early 1914. Other British officials remembered the tiles as well. Sir William Ormsby-Gore, like Sykes, an Assistant Secretary in the War Cabinet, added a handwritten note to a circulating copy of a Foreign Office report on the condition of the Dome of the Rock, or the Mosque of Omar, as the British often referred to it:
As to the new tiles which are required, Sir Mark Sykes got an Armenian to make him a tiled room at his Yorkshire place of modern tiles imitating the old Damascus tiles very successfully. If he has not been massacred in the interval he might provide the necessary tiles.
After Sykes's stay in Jerusalem, his party pressed north through Damascus, driving on roads his adjutant described as "strewn with the wreckage of Turkish war material, dead horses, broken limbers, and ammunition wagons, motor lorries and ambulances, Circassian carts and all the appurtenances of the recent flight of the Turkish Army." When the motorcade arrived in Aleppo, the diplomat and his contingent took up residence in a large rented house that would serve as headquarters for the provisional British administration.
In the first days of December, Sykes met with large numbers of Armenian refugees. He and his secretary opened the doors to them from early morning through the middle of the night. None were turned away. Over many grim hours, Sykes heard accounts of a deportation caravan that began with eighteen thousand marchers and ended with thirty. He took the sworn testimony of a girl who watched thirty-five children thrown into the Khabur River by gendarmes, who threw back the strong swimmers until they drowned; recorded an eyewitness account of a Turkish soldier present at massacres in Roumia, Diman, Shinoa, Van, Bitlis, Zagart, and Akhlat; and heard from a witness who reported that four thousand Armenians—including two thousand invalid women—had been doused with kerosene and burned alive in Jurjab. Other refugees presented Sykes with detailed accounts of their own deportations, painstakingly handwritten in English or French. On December 4, the President and Secretary of the Union Armenienne des Déportés submitted to Sykes a typewritten list of formal requests and pressed for Allied proclamation of an independent Armenia. The two officials signed the letter on behalf of the fifty thousand refugees currently in Aleppo and "in the name of one and a half million massacred Armenians." Sykes received a committee of six Armenian women who had themselves been abused and violated. They pleaded with him to find a way to liberate the thousands of young Armenian girls, women, and children who, they related, were being kept as slaves, servants, wives, and concubines, even in Aleppo at that very moment.
Sykes's scribbled notes distilled the horrors of the narratives:
Burnt children.
Little girl.
15,000.
Gold teeth.
Disemboweled and entrails examined for gold.
Crucified men.
During those harrowing days, amid the stream of Armenian survivors, Sykes encountered Tavit. Both men were strikingly leaner and more careworn than they once had been. The Englishman told Ohannessian about his conversations with Jerusalem Governor Storrs, the condition of the Dome of the Rock, and the pressing need for new tiles.
Sykes wrote to Storrs and quickly received a reply that concluded: "Thank you for your tile researches, from which I hope to profit in the near future." Sir Mark suggested that Tavit travel to Jerusalem to assess the needed renovations and meet with Ernest T. Richmond, the consulting architect whom Storrs had brought to Jerusalem. Sykes provided Tavit with the introduction and arranged the necessary transit documents.
Victoria strongly supported the family's move. While Tavit savored the unexpected promise of resuming his work as an expert in historical restoration and the possibility of reviving his art in Jerusalem, Victoria intended to make the journey as a pilgrim. She would fulfill her vow to travel to the Holy City and give thanks to God for her family's survival.
* Longlisted for the 2020 PEN America Literary Awards Jacqueline Bogard Weld Award for Biography